Most people use garages to keep their vehicles and store their old furniture, garden tools, and lawn supplies. So much clutter can make the garage extremely dusty. To top it, garages have big doors constantly opening and closing, making it easy for the dust to get in.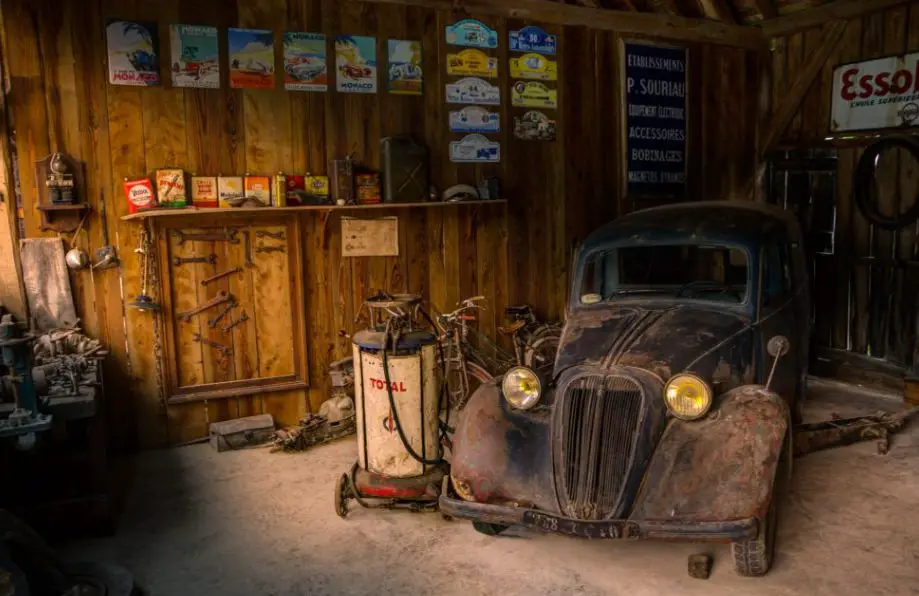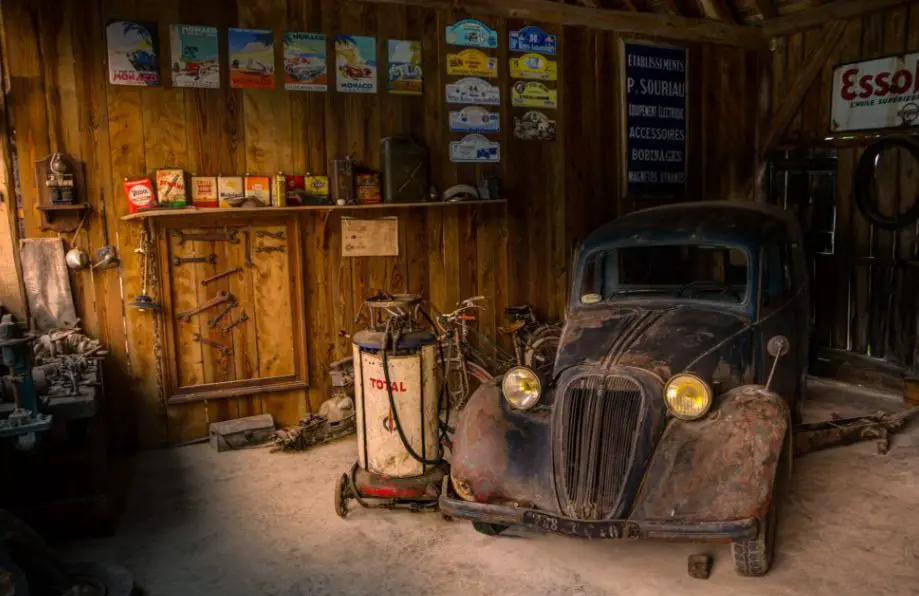 Exposure to so much dust is highly unhealthy, and breathing the same can lead to respiratory issues. But how to stop dust in the shed? This article has covered some fantastic pointers regarding "how to keep dust out of the garage?". I have tried the following things for dust-free garage. 
---
Why is My Garage so Dusty? Things to Consider to Keep it Clean
Many causes lead to a dirty garage. Apart from dusty garage floor, moisture oil and grease can sleep inside concrete cracks and produce cement dust. Following this, the  excess dust can disrupt and cover things stored in the garage while walking or driving your car in and out of it. Here's some advice about how to keep garage clean.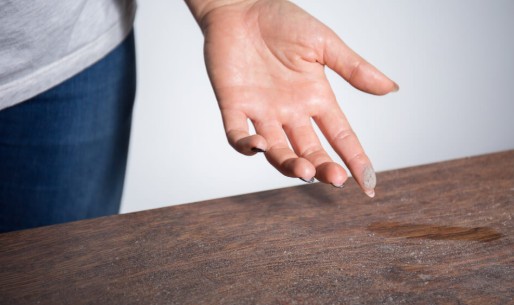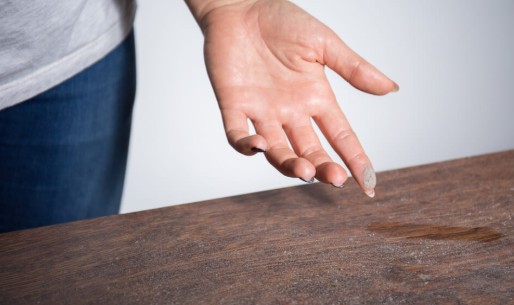 Thankfully, you can keep dust out of the garage by doing a thorough cleaning, sealing any cracks on the concrete slabs and doors to remove source of dust, using vacuum cleaner (not sweeping), and using lawn equipment and garden tools like leaf blower.
Even if you choose to mop or dust manually, it's advisable to use a slightly damp piece of cloth. The dampness gets the dust a little loose allowing you to collect it easily. 
Besides these cleaning methods, many people have also benefited from the use of air purifiers. Air purifiers are designed to get rid of big dust particles from the air. Some of them also have a mechanical filtration system which makes dust removal effortless. While these are some mechanical methods, you can take the natural route, too, like so many others. 
Many individuals have cleaned their garages using natural means like houseplants, activated charcoal, and installing proper ventilation. It is arguably one of the best cleaver dust cleaning method.
---
How to Keep Dust out of the Garage?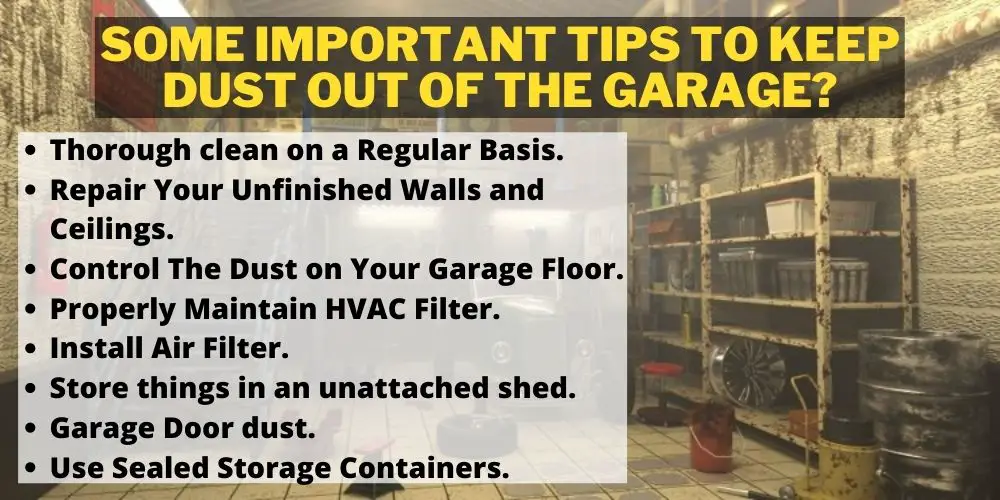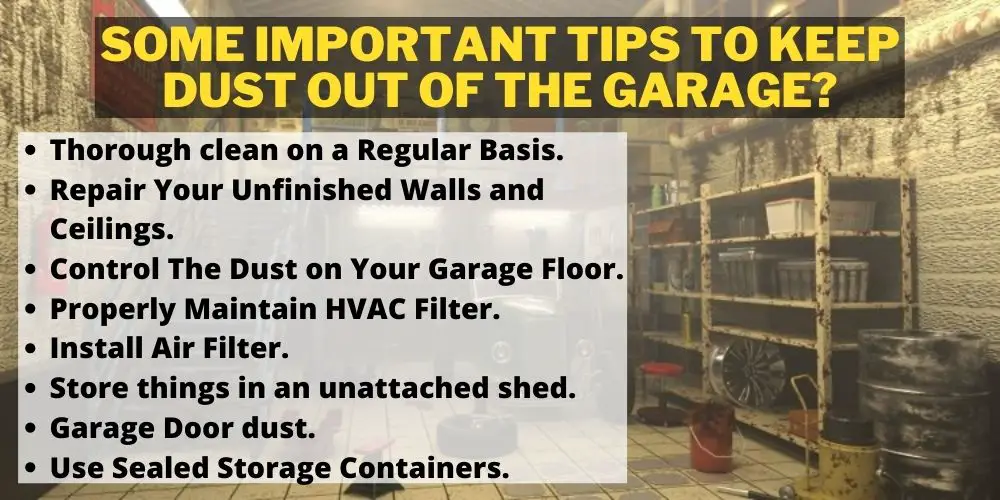 💁

Thorough clean on a Regular Basis

:
A dusty garage needs a thorough cleaning. For daily cleaning you can use garage dust mop or any microfiber dust cloth. However, the approach should be systematic, starting from the high shelves through the workbench surfaces, cleaning the dust and debris, and then finally to the concrete floor.
A three-tier approach to cleaning will give better results. So, first, start by sweeping the debris and dirt (garden dirt, outdoor dirt etc.), then vacuuming all the surfaces, and finally using a damp microfiber cloth to clean the remaining dust particles. 
If you are cleaning after long time pressure washer may make the job easy. Always use dust mask while cleaning. 
You May Also Find Useful: How to Clean Out a Hoarders Garage
💁Repair Your Unfinished Walls and Ceilings:
Dust and dirt gets into any room or corner and thus become difficult to clean. Your aim should be to stop the spread of the dust accumulation, and one way of doing that is by repairing any damages or unfinished walls or ceilings.
💁

Control The Dust on Your Garage Floor:
Dust proofing garage floor tiles is another way to control dust. You can also opt for high-quality PVC or other durable material to create a resilient floor. Though they will not be able to seal the concrete, they will cover the concrete surface, thereby dust-proofing it. Besides, if you have the budget, you can also opt for floor coating.
These are not only durable but include decorative designs that are visually appealing. And they keep away the dust! You can also opt for DIY epoxy floor coating if you are bootstrapped, but the professional ones are far better.
Concrete garage floor sealers are also another option that you can consider for dust control. You can opt for roll-on garage floor concrete sealer that slow down the concrete deterioration.
However, it's advisable to opt for industrial-grade sealants, not the ones available commercially, as they don't penetrate the surface well. Since the bond is not strong, your floor protection and durability might be compromised. 
💁

Properly Maintain HVAC Filter:
If you have any heating or cooling system in your garage, check the internal filter regularly. Dirty air filters attract dust particles out of the air, which can damage the HVAC system. Thus, it's essential to retire these filters periodically.
When the filters are too clogged, they are useless, it's time for a filter replacement and dust particles start to build up over the things in your garage.
💁

Install Air Filter

:
If you don't have any HVAC filter installed, you can opt for a basic air filtration system. Even a dust containment system like those used at wood shop also works. Many people have also used the electrostatic filtration system to pull dust particles from the air.
💁

Store things in an unattached shed:
The amount of clutter in your garage will determine the level of dirt and dust it gathers. Thus it's advisable to keep your garage as clutter-free as possible to ensure that things don't get dusty. One way of doing that is by placing your extra stuff, or barely used dirty tools in an unattached shed. You can also opt for dustproof garage storage solutions.
💁Garage Door dust:
One of the most effective ways of cleaning your garage is through a garage door dust seal. A considerable amount of dirt gets into your garage through the underneath of the doors that lack sealing.
Thus it's essential to check the sealing periodically and apply garage door seals when required. If something is loose, make sure you reattach them immediately.
💁

Use Sealed Storage Containers:
Many people store things like potting soil, playground sand, clothing, and gardening equipment in the garage. However, it's essential to keep such things in convenient plastic storage container to avoid garage dust. If any dry material is loosely stored, it might lead to dust.
💁

Miscellaneous

:
Besides the tips mentioned above, it's essential to keep the car engine off at all times to avoid attracting dust.
Additionally, while you can store your smoking and grilling equipment in the garage, using them in the garage can lead to dust spreading all around. Finally, it's essential to clean tools and store things effectively by covering them to keep out dust and dirt.
---
---
 Frequently Asked Questions (FAQs)
1. Does vinegar purify the air?
Since vinegar is acetic acid, it does neutralize alkaline odors. Many users place a simple bowl of white vinegar right in the middle of the room for several hours. This process traps any bad smell and keeps the room smelling fresh and purified. Others also use a spraying method to purify the air with vinegar. 
2. Do humidifiers help with dust?
It is known that low humidity leads to dust gathering at home. Thus, it's important to strike the right balance of humidity that is neither too high nor low.
Though using a humidifier, you may not be able to eliminate dust; however, they help understand the home's humidity level based on which you can determine whether or not to increase or decrease it. 
3. How do you get rid of dust floating in the air?
It's possible to get rid of dust from the air using the following methods:
👉 Using an air purifier.
👉 Dusting regularly.
👉 Vacuuming or using electric leaf blower.
👉 Washing sheets periodically.
👉 Replacing AC filters.
👉 By reducing clutter.
Conclusion
Though garages run the risk of getting incredibly dusty, there are some quick and easy fixes you can use to keep out the dust and dirt, and in this article, we have covered it all! So follow some of these tips and keep your garage squeaky clean and dust-free. I hope I have been able to answer "how to keep dust out of the garage?", if you still have any confusion, let me know in the comment box.