While you may be saving up your best creative ideas for Christmas, you could bring out the best of yourself on Halloween. Halloween provides the most opportunities to go crazy with creativity and imagination.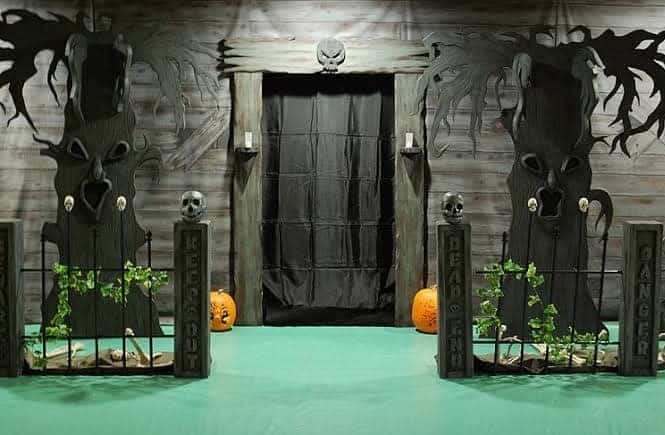 Most people stick to putting out a few lights and hanging a few characters, but you can pick a scary theme and create a whole spooky scene around it. So this year, try something different instead of decorating just the window and the porch- spook up your garage! 
In this article, we have covered a handful of out-of-the-box Halloween theme decor ideas for your garage.  
Halloween Garage Ideas: Overview
Spiders and Webs
Spooky Shadow
Garage of Mausoleum
Crime Scene
Monster House
Projector
Scary Alley
Kid Decoration
---
Halloween Garage Ideas 2022: Explained
💁

Spiders and webs
For starters, stick to the basic scars like the web and spiders. Go for the classics, get a giant spider cut out, and cover your garage door to give a feel of a big web. Surely the look will scare off tricksters.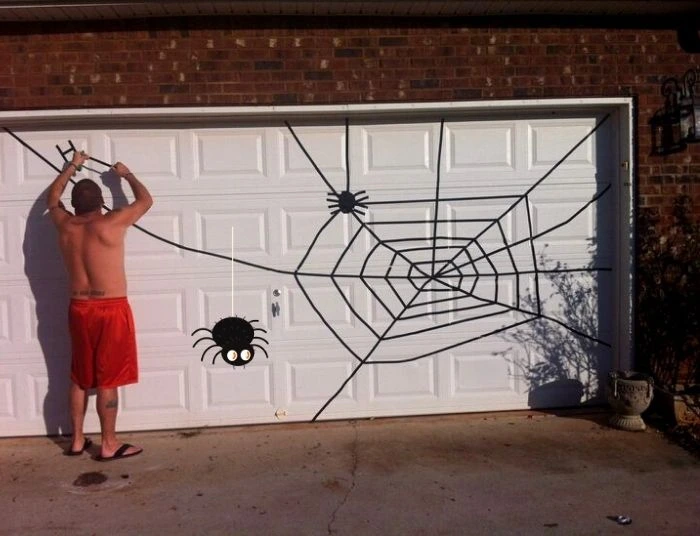 For this decoration, all you need is a Halloween-themed decal. These are easily available in both offline and online stores. You can also opt for ghouls, monsters, ghosts, and many other characters. Be sure to get a decal to match your exact door size. 
---
💁

Spooky shadow
If your garage has windows, use them to your benefit and have some spooky shadows installed to send a chill down the spine.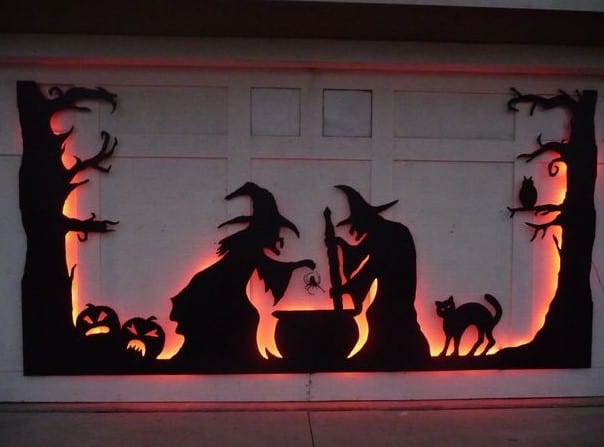 These are easy to create – simply make cutouts, stick them to the back of the window, and turn on the garage lights to create a spooky effect. Take it a notch up and use window paint to create blood drops. 
---
💁

Garage of Mausoleum
If you want to take your creativity to a whole new level, this is the one for you. While others will be turning their porch into a cemetery, you can go for the ultimate scare and turn your garage into a fake mausoleum.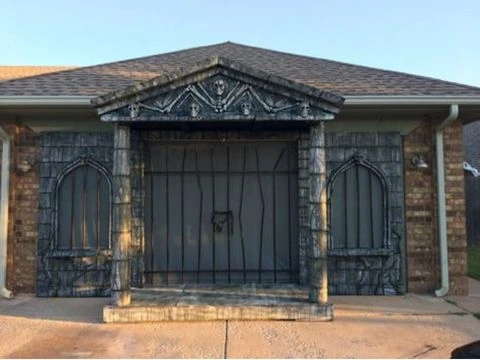 You can go about it in multiple ways, but the most common is by using an insulated foam board. Use a knife to cut out the shapes of tombs and skeletons, and use grey paint for effect. 
---
💁Crime Scene
Surely you have seen many people simply putting a police tape or a caution sign near the garage door as decoration. Why not take it up and have a crime scene set up?!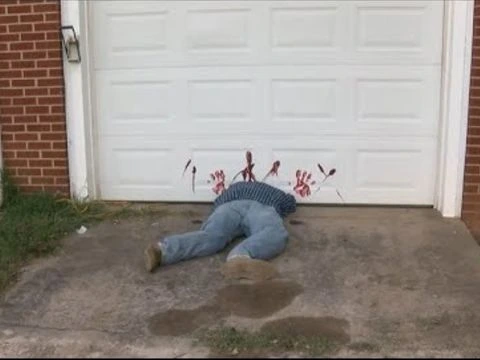 You need not do anything much- just add a fake dead body to the caution and police tapes – and you have a realistic crime scene garnering a lot of attention. Add a fake bloodstream if you are a perfectionist and into many details. 
---
💁Monster house
Your garage door can do so much! You can use it to show the bigger picture- the mouth of a big monster, which can be your house. All you need is neon poster paper and tapes to make the monster's glowing eyes.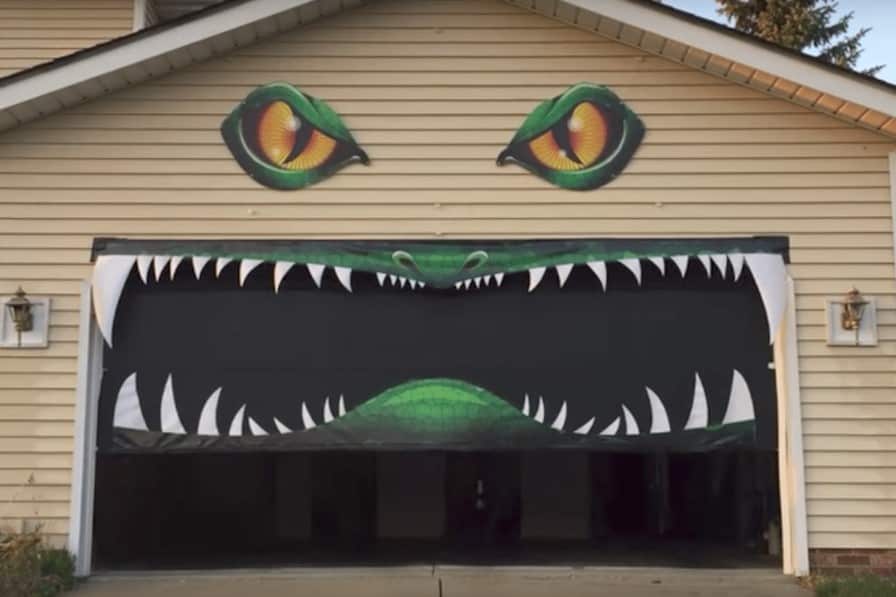 This stands out at night. You can add a white foam board to create the monster teeth and set it up atop the garage door. Now step back from the house and have the scare! 
---
💁Projector
Small, powerful projectors can do wonders! To try this decoration, you will need a small projector that inputs from a USB or SD card and plays holiday theme animations. However, projectors are not water resistant so keeping them outside is not a good idea unless you keep them under a proper shed.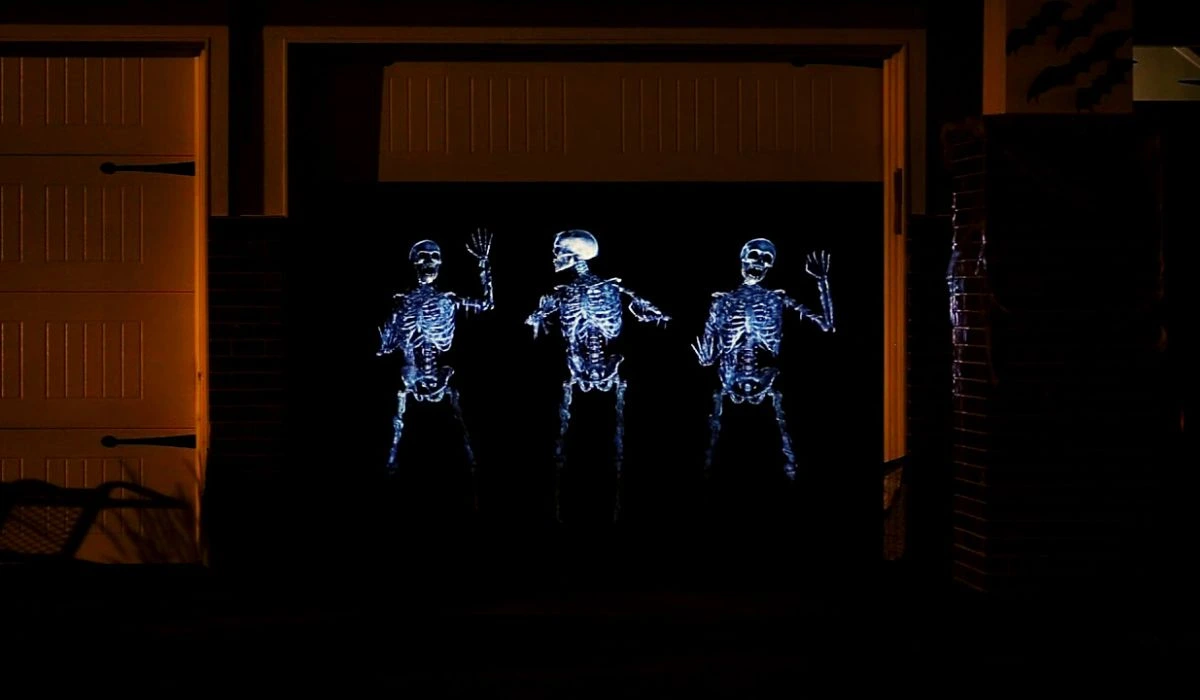 Unlike the other themes mentioned so far, this trick will only work if you have a white-painted garage door. Besides, the effect will be better at night. 
---
💁Scary Alley
Don't want to let the tricksters access your whole garage? No worries, create a scary alleyway. All you need is a large roll of black plastic sheeting and hand them over your garage door rails.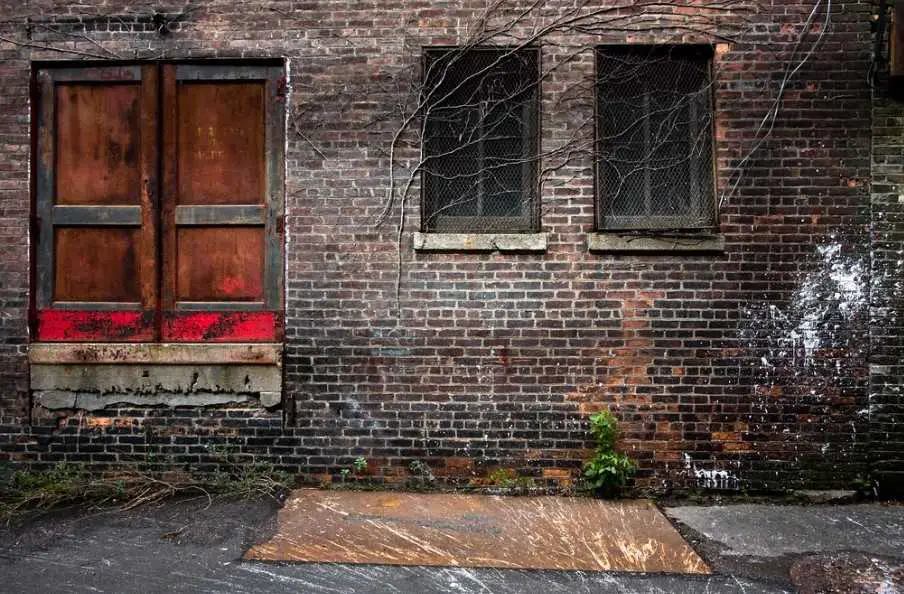 This will create a frightening alleyway and lead the tricksters to the treats at the end of the maze. You can add different decoration items along the way and scary elements to the alley. Many people also choose to add monsters and extra scares in the blind spots. Hang props from the ceiling, have scary music, and you are set! 
---
💁Kid decoration
If you have kids in your area, you might want to keep a decoration a bit fun and not extremely scary. You must add a few cartoonish monsters, vampires, and witches for that purpose. You can lean on pumpkins and inflatable skeletons and ghosts.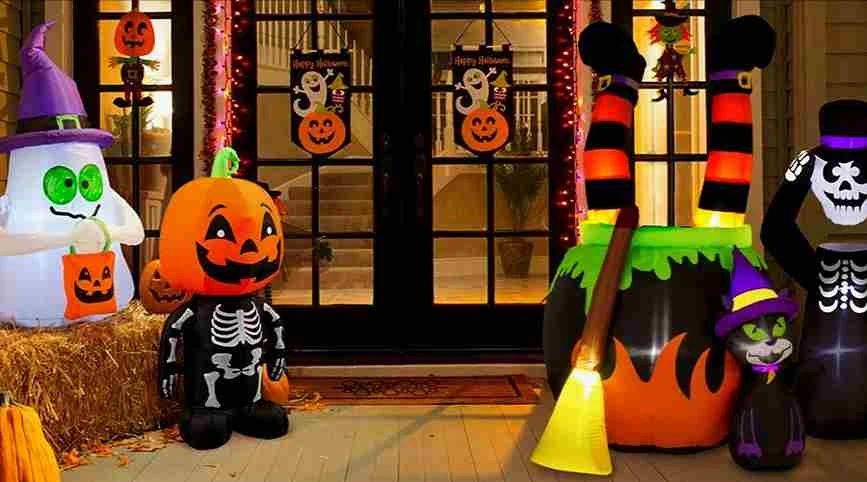 Many kid-themed garage door Halloween covers are available, so pick any that meets your theme. The door covers look nice on houses that have a light color. However, if your exterior paint is dark, have a light-color garage door cover to create contrast.
---
💁Additional things to remember
While we have added a bunch of out-of-the-box fantastic Halloween-themed decoration ideas for you above, we want you to remember a few things before proceeding with those ideas. 
You can keep it affordable: Yes, there is no need to go all out on your budget to decorate your house on Halloween. Come up with themes and decor ideas that will allow you to use your last year's decorations or items available at your home. Use as many DIY props as possible to add a unique effect to your decor- they are much better than store-bought decorative. 
Don't damage the garage door: Some garage door decorations require permanent modification. It's best to avoid them. But if you still want to opt for such adornment, make sure changing them back doesn't cost you an arm and a leg. Avoid nailing the decorations to the garage door as it may damage the door panels. You don't want to incur a costly repair bill at the end of the season. 
Cleaning: Some decorations require extensive and costly cleaning after all is done. Again, make sure the after-cleaning does not break your bank. Thus, stay away from decoration ideas that will punch a deep hole in your pocket. For instance, don't use red paint as blood on the white walls.  
If you Want to Change The Look of Your Garage: How to Replace Garage Door With French Doors?
---
Conclusion: 
The whole illusion and Halloween decoration is lost if your garage does not match the rest of the house. So, once you pick up a theme, make sure the garage is a part of the whole scheme of things to complete the look.