An empty garage is an ideal location for a personalized man cave. It gives you a place to unwind, relax and entertain after a hard day of hustling. 
Well, it's a wise decision to turn your garage into a man cave because the most expensive aspects of construction like the walls, floor and roof have already been done. These fundamental construction elements allow you to easily transform your garage without planning approval.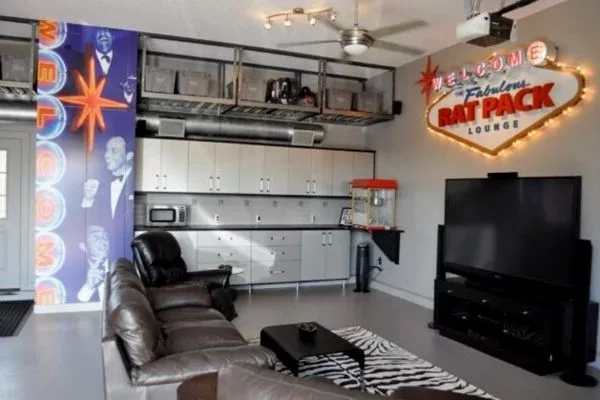 By following the instructions given in the article, you can modify your garage and still use it as a garage in the future. The procedure is way simpler than you would imagine!
---
Basic questions to answer to turn garage into a man cave
💁What is the best flooring for man caves?
Flooring made of Luxury vinyl planks and tiles is a great choice for man caves and has numerous benefits. To start with, it is extraordinarily sturdy, commendably durable and resistant to water.
💁What are good colors for a man cave?
Neutrals related to masculine hues like brown, grey and black or accent colors like green or blue are generally used for coloring man caves. When selected as the main paint color, these shades convey a strong mentality without being too overwhelming.
💁

What should I put in my man's garage cave?
Start with creating compartments in the garage. Following this, designate a tool area in one of the corners of the garage. Additionally, furnish the area with a comfortable couch, TV and mini-fridge.
You can also decorate the remaining area with an air hockey table and a personal gym. Well, a garage provides you with enough space to showcase your creativity virtually unlimitedly.
---
Choosing the floor for the man cave
Choosing the best floor adds great value to your man cave. It intensifies the area's overall appearance and makes the place worth living in. 
Well, according to us, the best floors for man caves are:
💁Luxury vinyl plank
Choosing luxury vinyl plank and tile flooring for man caves has several benefits. This is because it is water-resistant, highly resilient and fiercely durable. 
Being a top choice among interior designers, vinyl flooring can withstand minor spills. Therefore, it's best for not-so-careful men with an easy-to-clean surface.
💁Laminate flooring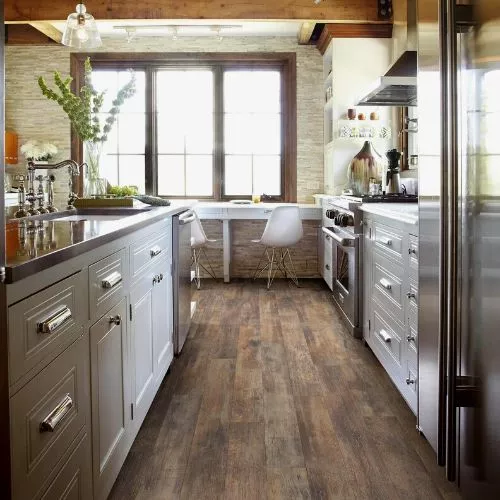 A great alternative to luxury vinyl flooring is laminate flooring. It is obvious because this flooring is mostly used in man caves, given its excellent longevity.
With laminate flooring, you can have a beautiful aesthetic that can stimulate the overall appearance of your room. Moreover, it can be installed very easily and quickly within a week. 
💁Rubber flooring
The fact that rubber is incredibly dense and robust makes it a great choice for flooring. This flooring made of tough composite rubber materials can be installed in all types of man caves. 
Rubber flooring is ideal for a room gym setup as it withstands the fall of heavy tools. Besides, it can also be put in garages which consist of greasy cars.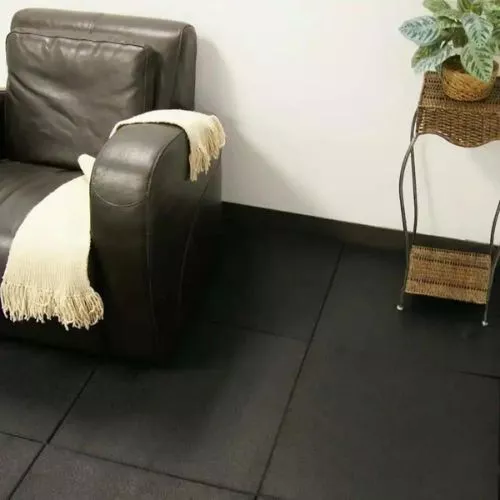 💁Hardwood flooring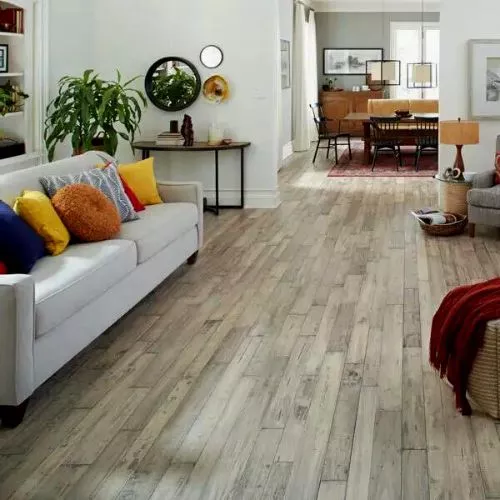 It is a classic alternative for a man cave that is exceedingly extravagant. Hardwood offers a timeless look for man caves with the added advantages of being sturdy and cleanable.
Some varieties of hardwood, such as heartwood, are resistant to water. Also, it can survive topical spills without any damage.
You May Find Useful: Ways To Protect Your Garage Floor
---
What are good colors for a man cave?
When it comes to the visual appearance of a space, color is everything. They aid in giving a home's interior personality and evokes sentiments. In essence, coloring does have an impact on how we feel in a place.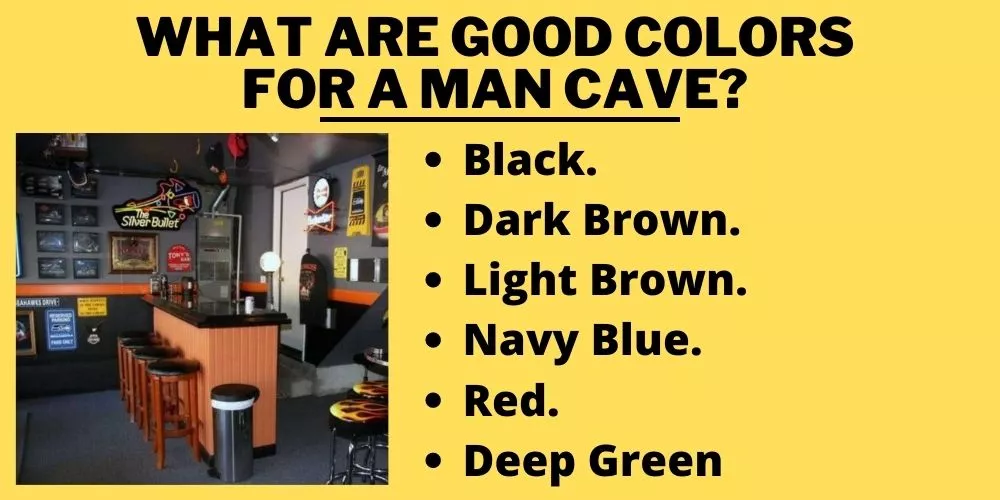 Therefore choose the ideal hue for your home. Whether it's your bedroom, living room Or man cave, it must be treated seriously.
💁Black
Man caves have long used black as a common color. Most males are drawn to black because of its powerful presence in the room. Besides, black is enigmatic, lavish, beautiful and masculine.
💁Dark brown
Earth tones make us think of the great outdoors and nature. The best thing about brown colors, in general, is how they bring warmth and natural coziness to the room. Hence, it is a good fit for man caves because it is strong, brave and bold.
💁Light brown
You can definitely go for light browns to create a well-balanced color layering. Tones like light mocha and coffee brown are used to build an effective monochromatic color scheme for man caves. It provides depth, variation and contrast to elevate the room's visual appeal.
💁Navy blue
Men tend to gravitate towards blue as they frequently associate it with masculinity. However, not all blues are appropriate for man caves. Well, a hundred shades of blue range from dark navies to rich cobalt. And man caves look best with colors on the medium to the dark end of the spectrum.
💁Red
Shades of red and rich burgundy is another option for those who want to stray from neutrals. Well, a common option is a deep burgundy. This is because it excites the space yet creates a formal and muted atmosphere. 
💁Deep green
Deep greens are ideal for man caves as they symbolize development and healing. Moreover, deep green is an ideal choice if you want to add a burst of colors without being too dramatic. 
Therefore, the best option when designing a small man cave is to use a light neutral or warm color that enhances the general aura of the room. 
---
What should I put in my man's garage cave?
Each of us would have a different definition of what our man cave would look like. While sports fans would adore a man cave with a giant TV to watch their preferred teams, film enthusiasts will need a stadium-styled cinema with proper sound. 
Moreover, musicians will also require a room with sturdy walls and soundproofing elements. Although there are several things to keep, So, if you want to Turn Garage Into A Man Cave, you should look at best themes for man caves.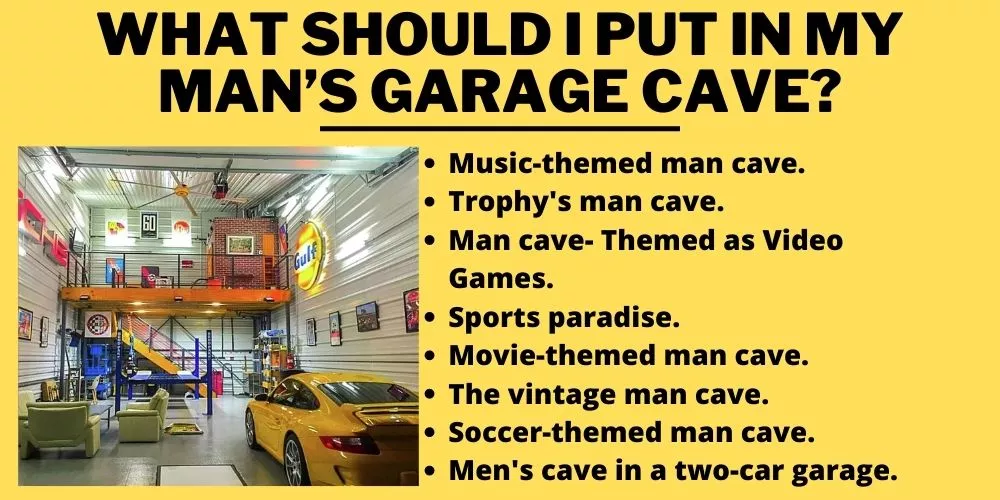 💁Music-themed man cave
It's a fantastic chance for record collectors to transform their garages into a music listening room. You can install a record player, stereo sets, turntables, expensive headphones and comfortable seats. Also, you can decorate the cave with your favorite concert posters, souvenirs and music books.
💁Trophy's man cave
First of all, consider framing all your achievements. Place them perfectly on the walls of your man cave. Moreover, you can also include wood pieces for a rustic vibe and decorate with some of your souvenirs.
💁Man cave- Themed as Video Games
Activate your inner gamer in a garage game room equipped with soundproof panels, a gaming chair, multiple screens and top-notch speakers. Well, you'll only need a small portion of the garage for this fantastic design idea.
💁Sports paradise
This is a great idea for every sports lover or enthusiast commentator. To design it accordingly, you will need a giant TV, mementos, cozy leather chairs and commendable lighting. 
Once done, you and your buddies can make the most of this sports paradise.
💁Movie-themed man cave
Movie fans, take note! 
With this movie-themed man cave, you will be well-prepared for the upcoming web series. A home theatre-sized screen, posh leather seating, and perfect speakers make this an ultimate movie-watching destination. 
However, to transform your garage into a cinema hall, choose simpler lines, canister lighting and subtle décor. 
💁The vintage man cave
With this retro-inspired man cave, you can embrace your inner retro-man. Grab some themed seating for your man cave shaped like a vintage car. Also, a vintage jukebox can be used to start your party and add to your extravaganza. 
💁Soccer-themed man cave
Similar to the sports-themed man cave, the soccer cave is a variation to it. When designed accordingly, it can be an ideal location to watch Monday matches and settle in for a Sunday bowl. 
Well, for optimal watching experience, configure the television perfectly. Moreover, to get the best of every season, install a projector on the ceiling.
💁

Men's cave in a two-car garage
In this case, think about creating several sections in the garage. Set up a tool area in the corner and furnish the rest with a cozy couch. Also, you can fit in a TV, mini-fridge and an air hockey table.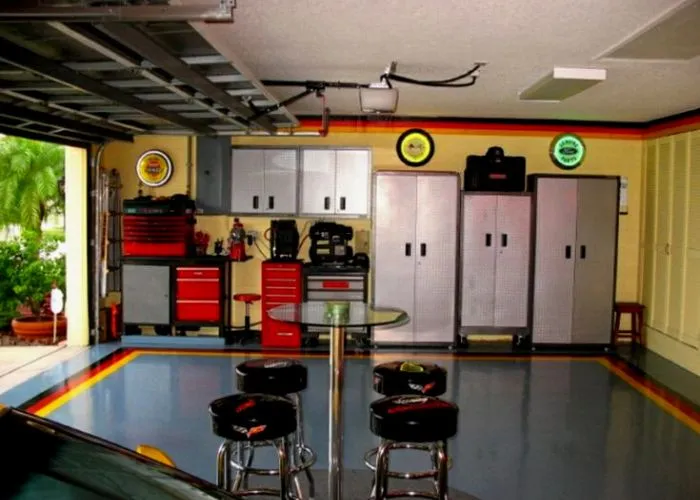 Apart from these, A/C, heating, electricity and plumbing are additional home systems that need to be covered. Make sure to avail them from prominent service providers to shield your appliances from damage.
---
How do I make a game room in my garage?
Nowadays, homeowners are increasingly embracing game rooms. This is because a game room offers your family a place to hang out and have fun. Moreover, it also allows you to expand the possibilities for entertaining visitors.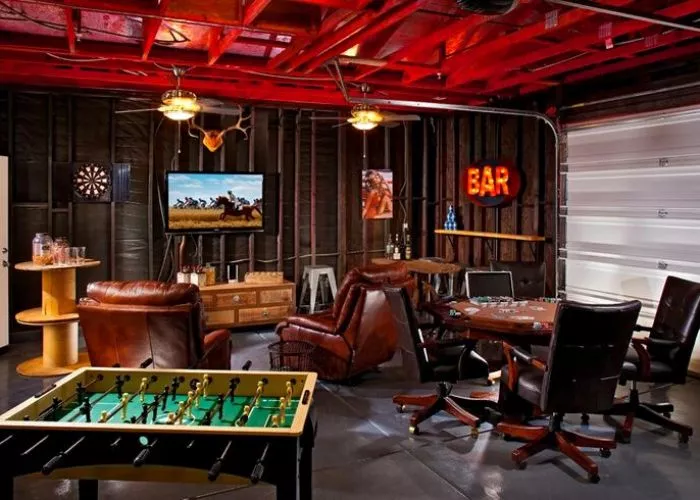 Well, if you have dreamt of transforming your garage into a game room, then here are the steps:
💁Assess your area
Look around as you enter your garage and think about the furniture you would like to install in your game room. Following this, consider taking some measurements instead of relying on your intuition and guesswork.
💁Clean up your garage
Your garage probably has debris that needs to be cleaned out. Also, remove the harmful chemicals like paints, insecticides are automotive fluids you might have kept in the garage. 
Make sure to completely clean up any spills and scrub the concrete floor before installing new flooring.
💁Select a proper floor covering
Decide how to fix your garage flooring because a dirty and cracked floor is not ideal for a living space. Well, you may even choose to paint or seal your floor with an acrylic sealer. 
Further, set up an epoxy floor, put down sturdy matting and cover the rest of the area with carpet.
💁Plan for storage
When converting your garage into a gaming room, you don't have to worry about storage. Garage rooms are spacious enough to fit gaming chairs, big video game screens and jockey support.
💁Obtain necessary permits
Permission could be required if you plan to install a new heating or make a few structural changes. In this case, contact the community development office in your jurisdiction and get your work done. 
💁Choosing a color
Lastly, picking an appropriate color for your gaming cave is very important. Therefore, to create a cool gaming vibe go for subtle colors like blue, purple and green. 
---
Frequently Asked Questions (FAQs)
How much does it cost to turn a garage into a man cave?
Although it varies from designer to designer, the average cost of transforming a garage into a man cave is $5000 to $10 000.
Does converting a garage add value?
Yes, a well-done garage conversion can increase the value of your house by 20%. Well, the highest increased value is typically found when your garage is turned into a man-cave Or a she-shed.
What is the female version of a man cave?
The female version of a man cave is She-shed. Being the female equivalent of a man cave, she-sheds also add huge value to your house.
Can a bedroom be a man cave?
Yes, everything can be transformed into a man cave from the garage to the bedroom with minimal effort.
Conclusion 
You must update your home inventory after your man cave is furnished with all the necessities. However, when discussing your house's insurance coverage with your agent, use this extensive list of possessions. I hope I have been able to give you necessary information to turn garage into a man cave.