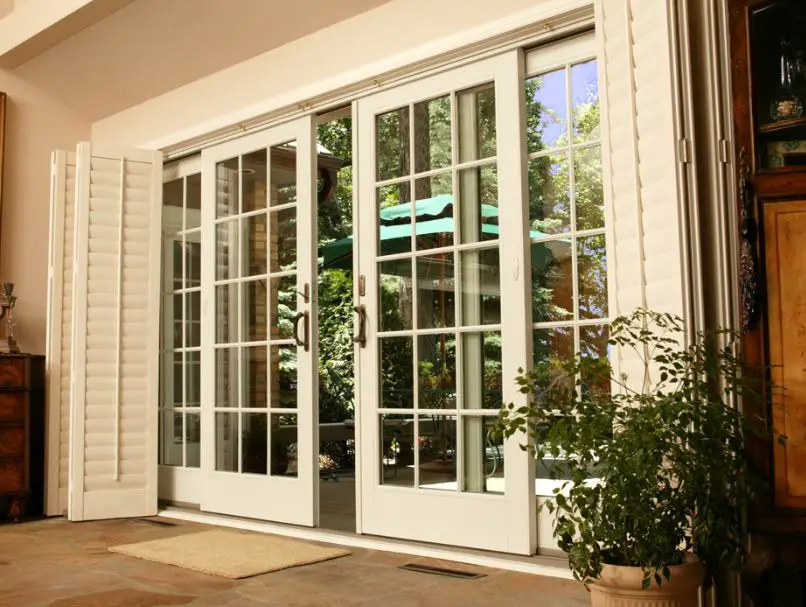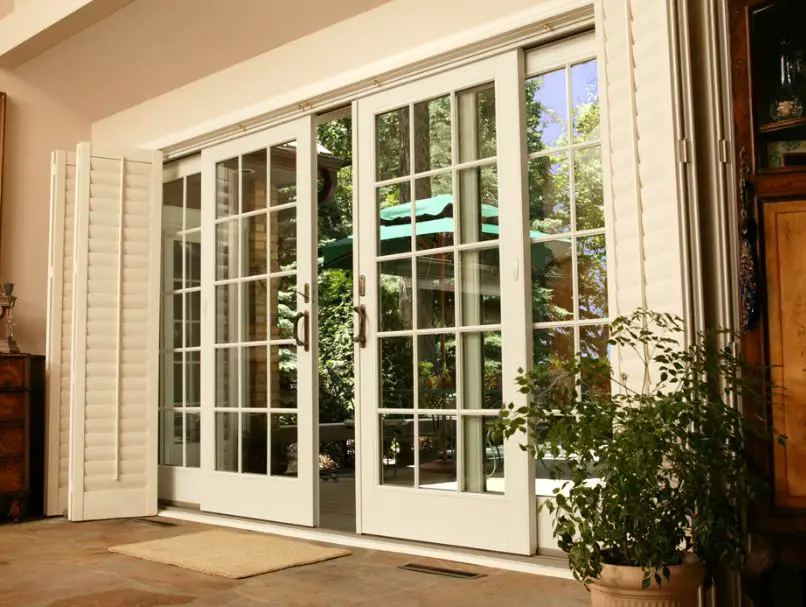 Remodeling your home is always a good idea, and if you are planning similar activity in your garage, installing French doors should be your first step. 
It's not difficult to change existing garage doors with French doors, but the remodeling requires a permission from the local authorities.  Once you have all the formalities done, we will tell you how to go about the process in this article. 
---
What are French doors? 
Before starting with the how-guide, requirements, and pros and cons, let's cover the basic- understanding of French doors. French doors are classic that have a pair of doors and usually have windows.
French doors operate using the hinges placed on the frame's left and right sides. The doors simultaneously open and close in the middle. When the door is accessed, the entire doorway becomes an open space.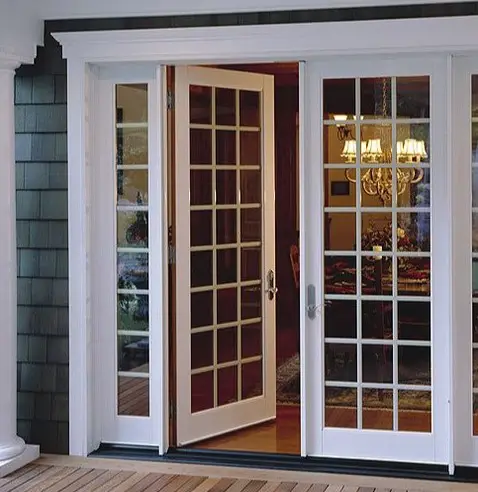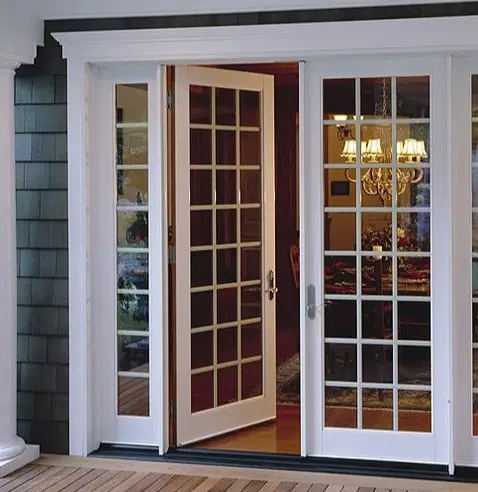 French doorways are most popular for the combination of functionality, style, and the way they infuse natural lights. Though French doors can be used in multi ways, it's often used as entrances to patios and outdoor areas. 
Most often, when people renovate their garage to make it into a hangout spot, or an extra guest room, French doorways are used to create a transition.
---
Can you replace regular garage doors with french doors? 
Yes. But to install French doors replacing garage doors, you need to take some steps. 
💁
Permission from local authorities
The step will be to let your local authority know that you want to replace your garage doors. Usually, an application is filed for that purpose. Once the application is submitted, a civic inspection will follow. Once the inspection is over, a permit is issued.
If you are new to this, this article is maybe helpful: A Newbie's Guide To The Permits Needed For Remodeling
💁
Creating a blueprint
After getting the permit, you need to create a blueprint to successfully do the remodeling. It's advisable to seek professional help for this.
💁
Wall insulation
Wall insulation is crucial if the garage will be a part of your home. You might require to do some electrical work as well. Besides, you might have to redo and repaint the garage walls if they are not in proper condition.
💁
Plumbing
Though this is not a necessary step, it will depend on your usage.
---
How to Replace Garage Door With French Doors? 
Now, it's time to check the process you will be using to do the switch. Though the process does get a bit complicated at some stages, thankfully, most DIY installers have been able to follow the process successfully. 
Here is the list of things you will need for the same: 
Miter saw.
Foam sheets.
Adhesive.
Power drill.
4×4 header.
10D finish nail.
Studs.
French door set.
Level.
Once you have all the things required as listed above, you can proceed with the replacement process: 
💁
Step 1
Firstly you will have to uninstall the garage doors. Begin by removing the motor. You may also require additional track chains and pulleys to remove the door.
💁
Step 2
Take your time, and unscrew the panels on the garage doors and work your way up while doing so.
💁
Step 3
This step is a bit technical. You need to measure the distance between the garage doors opening and the French door width. You may have to install a new wall or cut out a space for the new French doors depending on the width of your original garage door. 
But if the actual garage door was for a single vehicle, you only need to measure the garage opening length and the French door. To get the single French door distance, you simply need to substrate the two lengths and then further divide that number into half. 
💁
Step 4
At this stage, you need to build a door frame; for that purpose, you will require a bottom plate, studs, and a still plate. Attach the still plate to the floor using a power drill. 
💁
Step 5
You need to cut some parts of the top plates you have installed earlier. Use a miter saw for this purpose. This should provide enough space to place the studs on either side of the door. 
💁
Step 6
The studs should be placed and leveled well between the still plate and the top plate. It's often advisable to use a spirit level to check the alignment of the studs. Check the door frame to ensure everything is in order. If there are height issues with the frame, it will become problematic later. 
💁
Step 7
You might have to use a nail or a three-inch screw on the studs. If you have opted for pre-hung French doors, you might get some screws in the assembly pack. You can use shims too.
💁
Step 8
Measure and cut the 4×4 header and attach it to the door frame top. If you are having trouble determining where to place the header, temporarily attach the door to the frame. You can use three-inch screws or nails for this. 
💁
Step 9
Add the foam sheets to the still plates or beside the header if insulation is required. The foam sheet helps to keep the moisture under control in the garage. The foam sheets should fit perfectly into the wall; thus, cut them with a knife. 
💁
Step 10
Use some adhesive or sealant at the frame bottom.
💁
Step 11
The French door should have an installation manual to install the doors properly. Ensure you use the hinges, screws, and other hardware properly to complete the installation process. 
💁
Step 12
Once the doors are installed, operate them to check if everything works. The doors should not brush the frame. 
💁
Step 13
Attach the studs to the top plate and header so that the French door stays in one place. 
💁
Step 14
Use a trimmed baseboard to the place where the old and new garage walls connect. You can also use cement or wood to finish the look of the renovation. 
---
Other articles regarding garage doors that you may find helpful: How Do You Diagnose A Garage Door Problem? | How to Quiet a Garage Door Opener | Are Roll Up Garage Doors Good?
---
Advantages and disadvantages of French doorways
In the how-to guide above, we have highlighted all the steps you need to take to make the transition in your garage. However, before you get on with the process, it's essential to understand the pros and cons of the same in detail to make an informed decision. This is must read if you want to to replace garage door with French doors.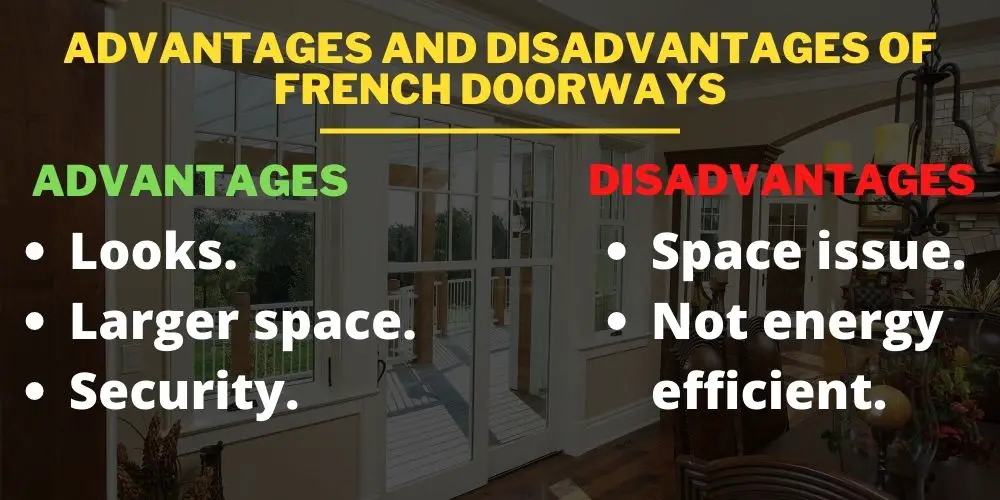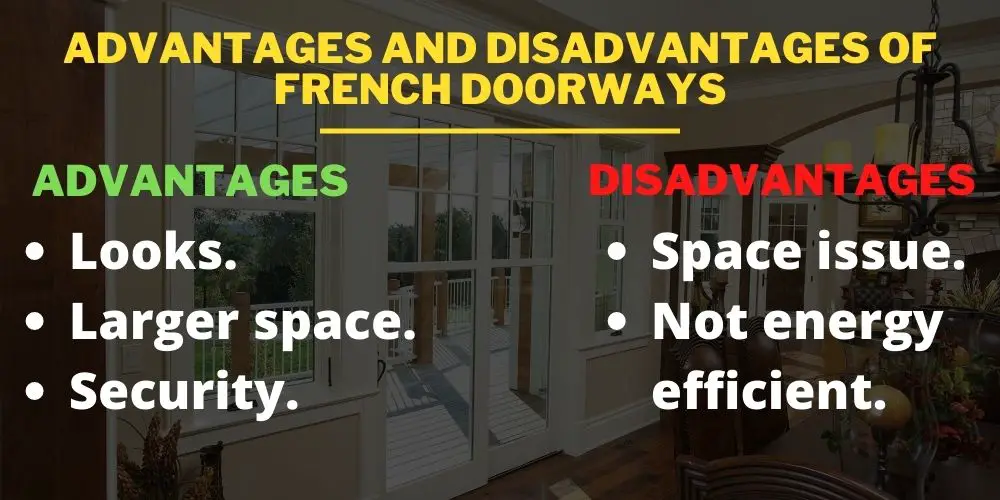 💁
Advantages
Looks
French doors provide a certain level of elegance and beauty to your home. Besides, French doors increase the property value to some extent. 
Larger space
Since French doors make way for natural light, they make a space seem bigger. With a patio or outdoor space, the amount of light available indoors increases. Any outdoor space can function as an extension to your room. 
Security
Doors are primarily used to provide security, and French doors do an outstanding job at that. Unlike glass doors, the panels on French doors are smaller, and the frame is big, which leads to added security.
💁
Disadvantages
Space issue
French doors often have hinges and thus require a bigger area to open. Thus these types of doors may not be ideal for small rooms or in spades with a lot of furniture. 
Not energy efficient
French doors cannot help you be more energy efficient at your home. Since they are difficult to seal and have bigger gaps, heating and cooling homes take more energy. Additionally, unlike sliding doors, French doors open wider thereby allowing the heat or cooling to escape. 
---
Frequently Asked Questions (FAQs)
1. Can French doors be customized? 
Yes. They can be fit in many types of door frames and designs when customized. 
2. What framing materials are used in French doors? 
Often fiberglass, steel, and aluminum are the most commonly used materials. 
3. How much do French doors cost? 
Standard French doors cost between $400 to $500. But the premium quality ones are pricey and are around  $4,000. 
Summary
In this article, we have covered all the necessary things you will need to know to replace your regular garage door with French doors. Indeed the swapping might take a bit of effort, but the results will be worth it. So give it a shot and set a new look for your garage.