Hot tubs are relaxing, especially after a long day; you simply want to chill in your hot tub and ward away all the tiredness. However, it's often difficult to do that outside, especially if you have nosy neighbors killing your vibe.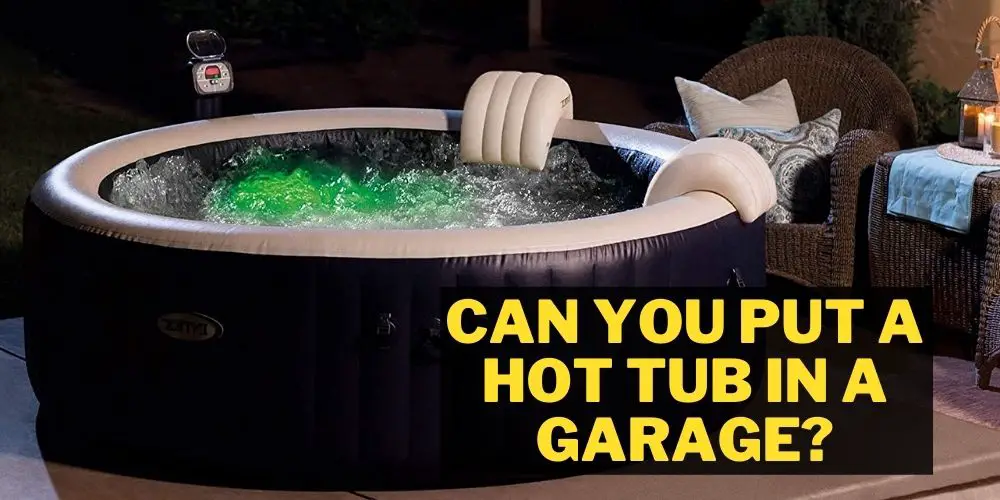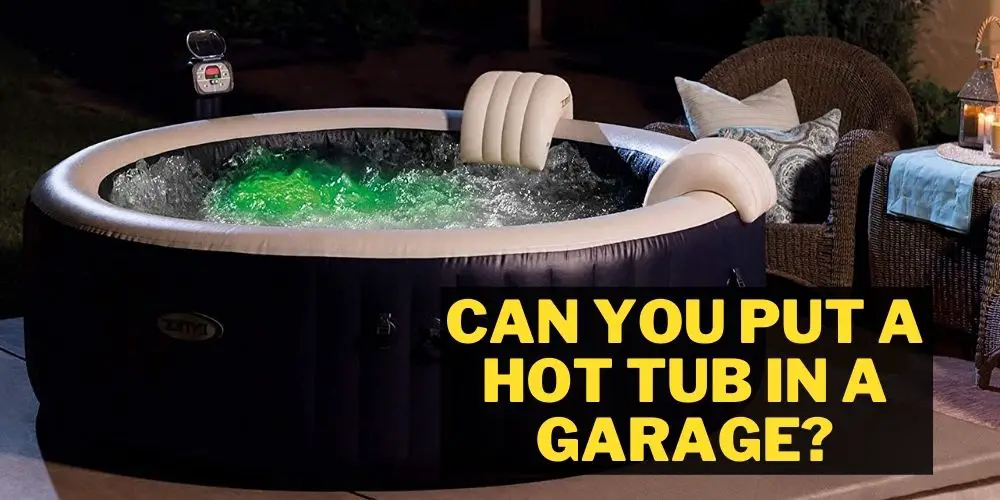 But can you put a hot tub in a garage? 
Yes, you can do that and enjoy your dips within closed doors, spending some quality time with yourself privately. 
The process is straightforward; you will mostly have to take the ventilation, drainage, and a few other factors that we will discuss in-depth in this piece. 
Though moisture buildup and mildew growth are a few pitfalls of a garage-bound tub, you can get by most of it with proper precaution and care. 
---
Can you put a hot tub in a garage?
It is indeed possible to install a hot tub in the garage. However, you will have to ensure that your hot tub has enough space to achieve satisfying results. 
Besides, there should be a steady water supply, electrical points, and proper drainage to make your tubing experience worth it. It's also advisable to have some form of mold and mildew protection. 
Most people opt for hot tubs in the bathroom to get better privacy. It's also a perfect arrangement for those who enjoy taking a dip in the evening. Even though many set up the hot tub outdoors, in cold places, such a setup can damage the tub's plumbing. 
---
10 Factors to Consider Before Installing Hot Tub In a Garage
Hot tubs are expensive; once you buy one, you want to ensure it is installed in a well-protected place, and finding the ideal spot is challenging. 
People commonly have their hot tubs set on decks and backyards, but you can add a twist and install it in the garage. A hot tub in the garage enhances the privacy factor and protects the unit's plumbing; thus, many people prefer it.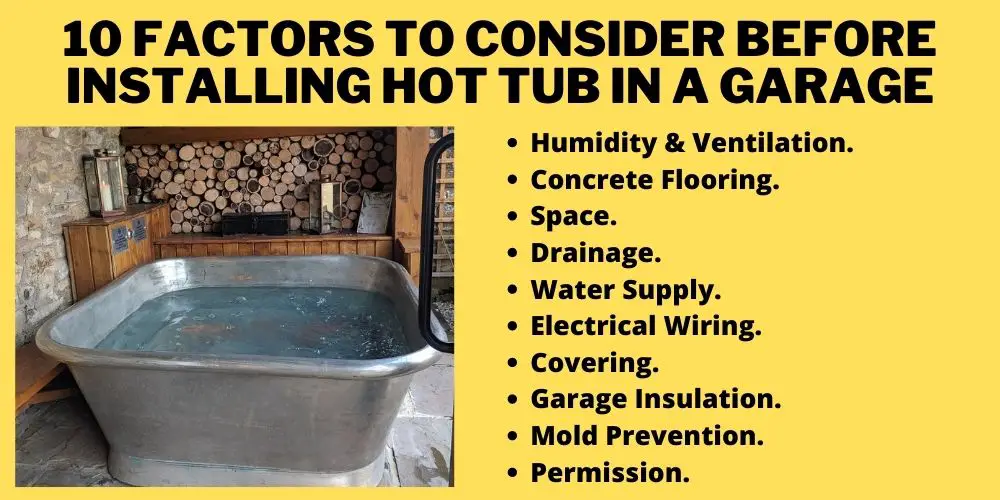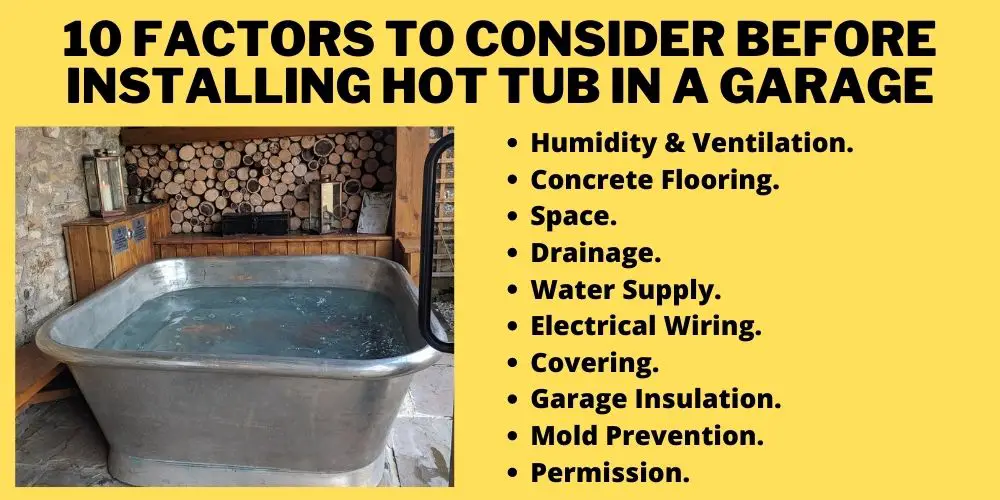 However, before beginning the installation process, here are a few things that you should consider.
Humidity & Ventilation
Generally, humidity levels in garages are high, leading to significant moisture buildup and high humidity levels. A hot tub will only add to the already high humidity levels due to the evaporation from the tub's surface. 
Thankfully, there are a few ways to minimize humidity levels in the garage even before you set up your hot tub. One of the effective options is using a powerful exhaust fan, which eliminates high humidity levels. 
Depending on your garage size and the power of your exhaust fan, you can get an additional dehumidifier or a ceiling fan to expedite the moisture reduction process. 
Though many people think of ventilation as a small problem, in reality, it is not and leads to mildew and mold formation to unrepairable levels. 
Concrete Flooring
As a rule of thumb, you should install your hot tub only on a solid and steady base. Since most garages are built on a concrete slab, this is not a problem. However, if you have a dirt floor garage, you will require an additional concrete base to place your hot tub. 
As for the flooring, it's advisable to have a waterproof one if you want to install your hot tub in the garage. You can also make it slip-resistant for added safety and protection. 
But there will be some water on the floor even if you are extra cautious. Some splashes might occur while getting in and out of the tub, thus ensuring that the flooring can handle extra water spillage.
Space
Space is yet another critical factor that must be considered while installing a hot tub in the garage. The focus should be primarily on the tub size and the extra foot around the tub for maintenance. 
You can consider having one of two chairs, steps, towel rail, and other facilities. Space consideration is crucial as it determines whether you can get the tub in the garage in the first place. Thankfully most garage doors are big enough to facilitate easy passage.
Drainage
Proper drainage is essential for two reasons.
Firstly, you do not want stagnated water on the garage floor every time you empty the tub after cleaning. Ideally, the floor drain of your garage should be accessed with ease when the need arises. 
Secondly, you and your friends and family will always spill water on the floor while getting in and out of the tub, no matter how cautious you are. If the drainage is poor, water will be all over the floor. This can lead to significant damage to the tub and the garage floor if not maintained well. 
Water Supply
Your garage hot tub is nearly useless if it does not have a steady water supply. You can fill the tub with a garden hose or tap at the garage corner if you have close access to it. 
For filling the hot tub quickly, it's recommended to use a tap near the garage. This will reduce the other challenges like transporting the water in buckets from the garden or using hoses to supply water. 
Besides, cleaning the tub draining the water properly will also be required; properly connected sewer lines or a recycling system are needed.
Electrical Wiring
If you don't have a steady central power supply, you can opt for the "plug and play" models of hot tubs. However, most tubs are wired directly to 220v, 230v, or 240v. 
As known, the combination of moisture and electricity can be deadly; thus, you need to prevent a moisture-based short circuit in your garage by installing a proper ground fault circuit interrupter between your hot tub and power source. However, a professional electrician should do this. 
Covering
Your tub needs to be covered even when it's indoors. It's essential to place a cover on the hot tub when not in use as it minimizes the moisture and humidity levels in the garage. 
Besides, the cover also helps retain the heat and lowers energy consumption. There are many protectors available in the market, and after some basic research, you can buy one that suits your needs.
Garage Insulation
It's highly recommended to get your garage insulated before installing a hot tub. Mostly, garages do not have pre-installed heating systems. Thus, it's essential to protect the walls before installing a hot tub in the garage. Such an insulation layer minimizes the amount of consideration on the cooler surfaces of the garage, like the walls and ceiling. 
Besides, proper insulation eliminates the growth of mold and mildew. You can also use insulation foam panels on the doors. However, it's advisable to opt for moisture-resistant insulation on the garage surface.
You May Find Useful: Pros and Cons of Insulating Garage
Mold Prevention
Mold forms when air combines with moisture and any form of organic food resource. The moisture that evaporates from the hot tub's surface condenses on the garage walls, thereby leading to mold. 
Mold grows mainly on drywalls. But thankfully, you can prevent it from forming by properly maintaining the insulation in your garage after the tub is installed. 
Permission
A permission may not be required for installing the hot tub inside or out; however, there are some exceptions. For instance, if your home is rented, then, of course, you will require permission from the landlord. 
Issues often arise when a conversion happens in the basement or garage. Thus, building regulation permission is required to add party walls, lining the walls with cladding, or if there is a change of usage. 
Of course, the rules and regulations will differ from one place to another. 
So, follow these factors to avoid hot tub in garage issues!
---
What's The Best Size For a Hot Tub In the Garage?
Most hot tubs are square in configuration; 7 feet and 8 feet squared are the most sought-after option. However, a wide range of bathtubs is also available.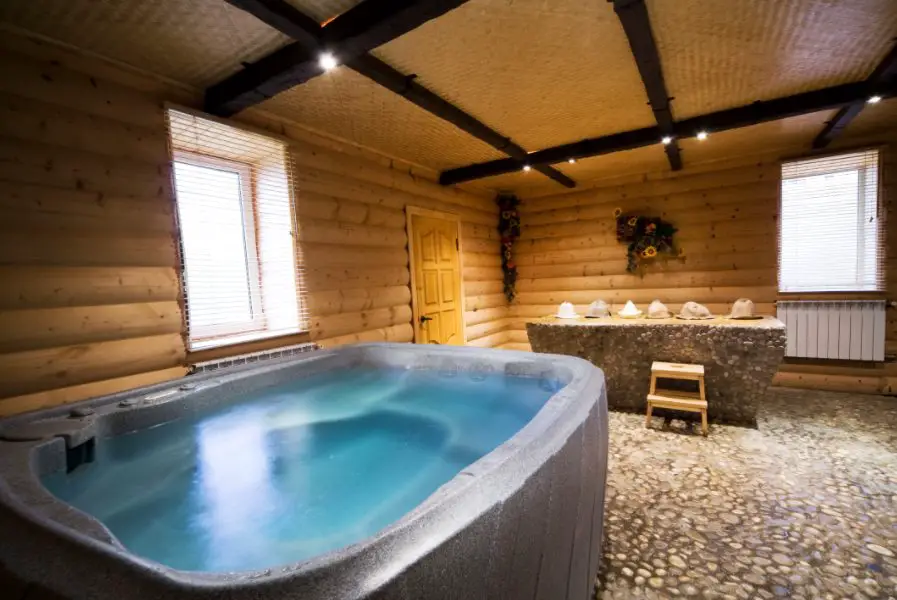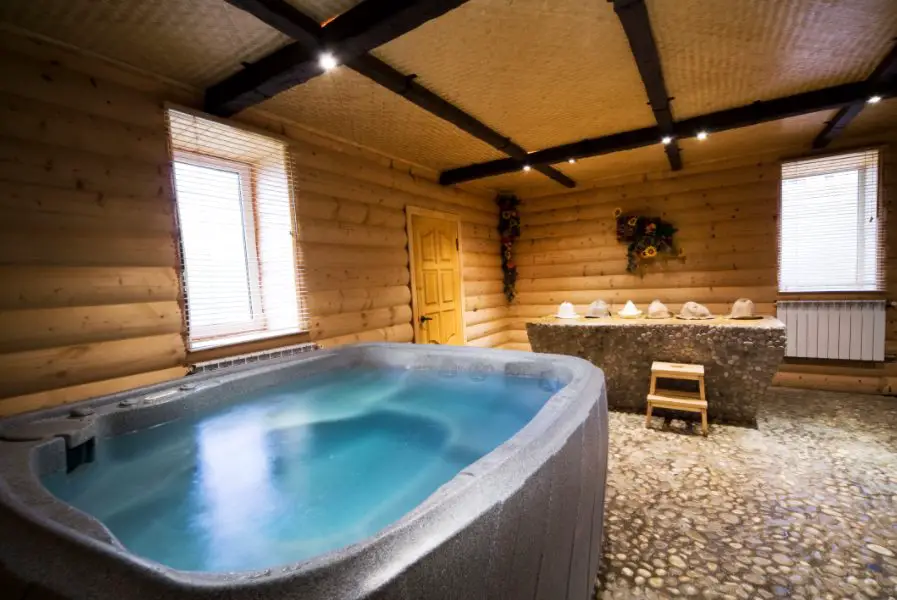 Ideally, installing a small hot tub in the garage is advisable as the primary objective is relaxation and hydrotherapy in your private space. You should opt for a bigger sized hot tub in your garage if you want to socialize in it.
| | | | | |
| --- | --- | --- | --- | --- |
| SIZE | CAPACITY | LENGTH (Inches) | Breadth (Inches) | Height (Inches) |
| SMALL | 2-4 | 64-84 | 64-84 | 30-36 |
| MEDIUM | 2-4 | 78-96 | 78-96 | 33-39 |
| LARGE | 7+ | 84-108 | 84-108 | 36-39 |
---
How to Install Hot Tub in a Garage?
Now that you know the answer of "can you put a hot tub in a garage?". Let's explore how to do it!
💁Step 1: Measuring the Space:
Before going about with the plan of installing a hot tub in the garage, it's important to measure the space. 
The aim is to check whether your garage has sufficient space to have a hot tub installed. Besides, there should be enough space for the tub maintenance and placement of other things like towels, chairs, or steps. 
Now, if the space is enough, you can go ahead with the further stages of installation.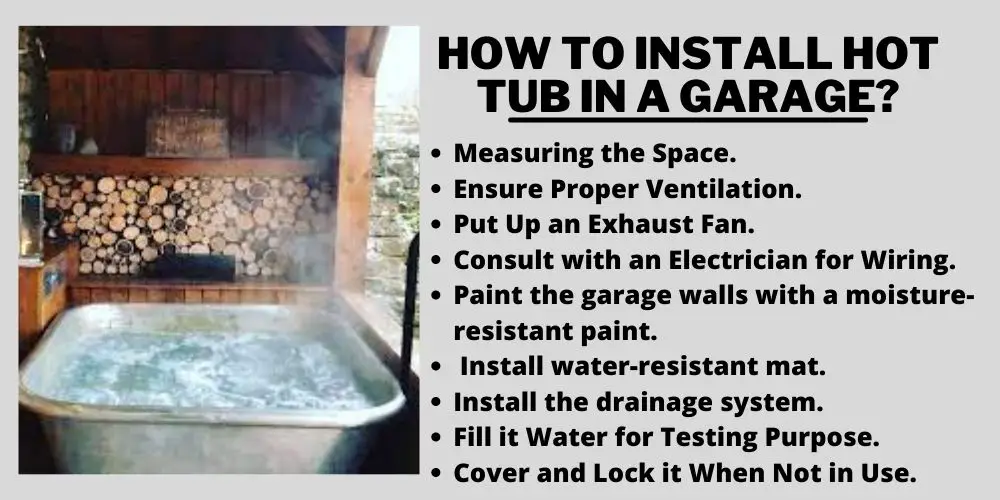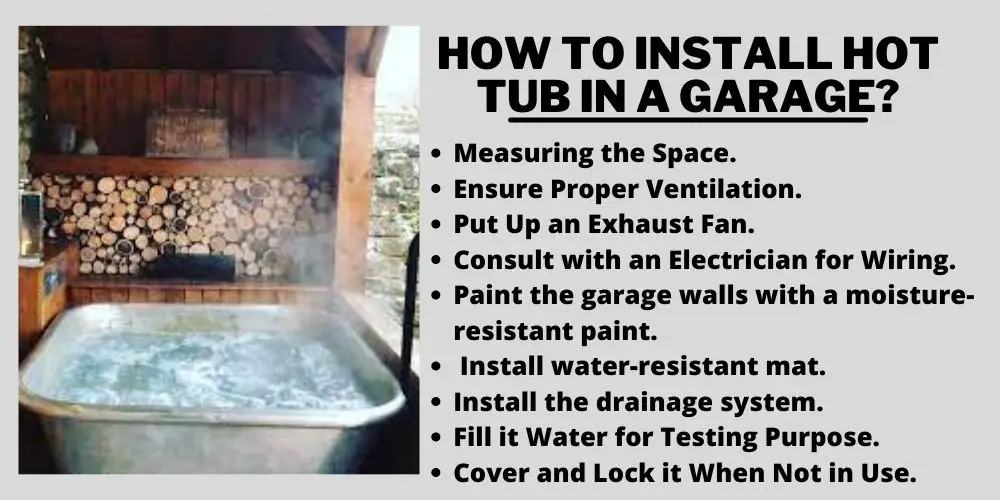 💁Step 2: Ensure Proper Ventilation:
If you plan to have a hot tub in your garage, you should be ready to handle all the steam, water, and vapor. 
Additionally, the humidity will condense on the room and lead to severe dampness in the absence of adequate ventilation. 
Thus, to manage the dampness issue, you need a good ventilation setup and test it well before setting up the hot tub. 
You can also use a hydrometer to test the humidity of the garage before installing a tub. Besides, the humidity should be monitored at regular intervals after the hot tub is installed to ensure that the moisture level remains safe.
If there is high humidity in the garage, the issue of mold and mildew will manifest and damage the building structure deteriorating wooden surfaces. 
Even the brick and plasterwork in your basement might also lead to permanent discoloration.
💁Step 3: Put Up an Exhaust Fan:
Get an exhaust fan installed in your garage to eliminate the excess moisture. Places like garages and basements tend to get moist whether or not you have a hot tub installed. 
An exhaust fan can help reduce the moisture buildup to some extent which in the long run prevents the growth of mold and mildew.  
💁Step 4: Consult with an Electrician for Wiring:
Once you have selected the ideal location for the tub in your garage, you need to contact an electrician for the connectivity. Many times, the wiring in the garage is not sufficient for a hot tub. In such cases, the plugging of the tub leads to problems. 
Thus it is advisable to hire an electrician for installation. A professional will be able to assess and reconnect the wiring to ensure your hot tub has enough voltage to sustain.  
💁Step 5: Paint the garage walls with a moisture-resistant paint:
A moisture overload can lead to cracking and peeling of the walls; thus, it's important to use moisture-resistant paint on them. Even if you have an effective ventilation system and an exhaust fan, moisture is a prevailing problem with garages that have tubs. 
Thus, if you plan on painting your garage walls or using wallpaper, select a water-resistant type intended for bathrooms.
💁Step 6: Install water-resistant mat:
In addition to the wall, you need to install water-resistant flooring like that of concrete and tiles. 
You can, of course, decide whether you want the material only around the hot tub or in the entire garage. As a rule of thumb, avoid any material that absorbs moisture, like carpets, for instance.
💁Step 7: Install the drainage system:
Once you have everything in place, it's time to install and check the plumbing and drainage system. The plumbing section covers the water supply to the tub and its drainage. 
It's impossible to fill up your tub with several buckets of water sourced in from the house every time you use the tub. Thus it's important to install a tap in the garage and have a sizable garden hose to fill the tub. 
After setting it up, make sure the faucet has water, and the garden hose is closer to the house. Like the plumbing, the drainage is also important to ensure that the water exists quickly. If your current drain is not working properly, relocate it to the lowest level of your garage.
💁Step 8: Fill it Water for Testing Purpose:
Your tub may be running fine, and you are enjoying your dips. However, if the water starts to look cloudy or somewhat greenish, you don't want to soak in that. 
In such cases, it's essential to run a test to determine the water quality. Thankfully, there are many ways to do that. You can use DIY testing kits or even hire a professional to help you out.
💁Step 9: Cover and Lock it When Not in Use:
It's advisable to cover and lock your tub when not in use. Do not be under the impression that the cover is for decorative purposes. 
Besides reducing your electricity bills significantly, a hot tub cover protects your kids and children from falling down in the tub. Thus locking it is essential.
---
Best Places for an Indoor Hot Tub Other Than the Garage 
💁Backyard:
Many people choose to install the hot tub in the backyard, which does increase the property value. It is, of course, a good idea. As long as you can get in the tub in the backyard in the first place, it's good to go.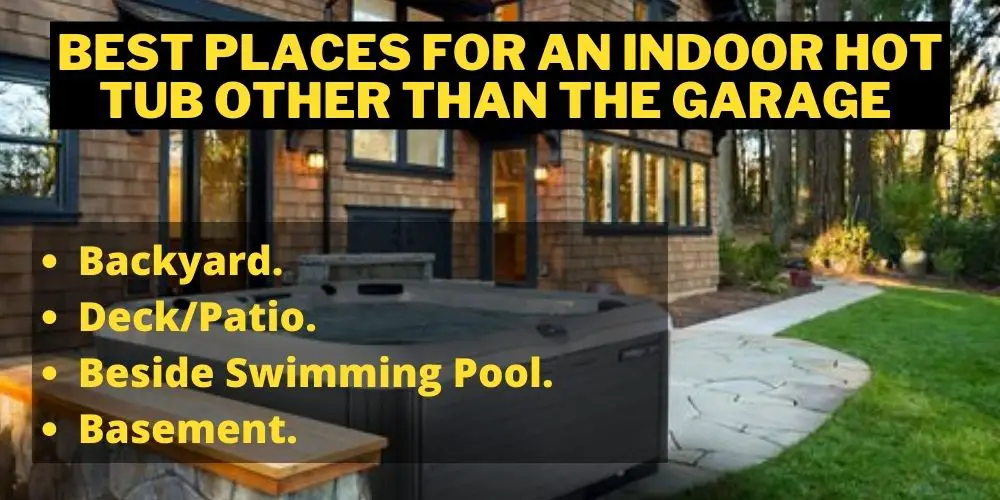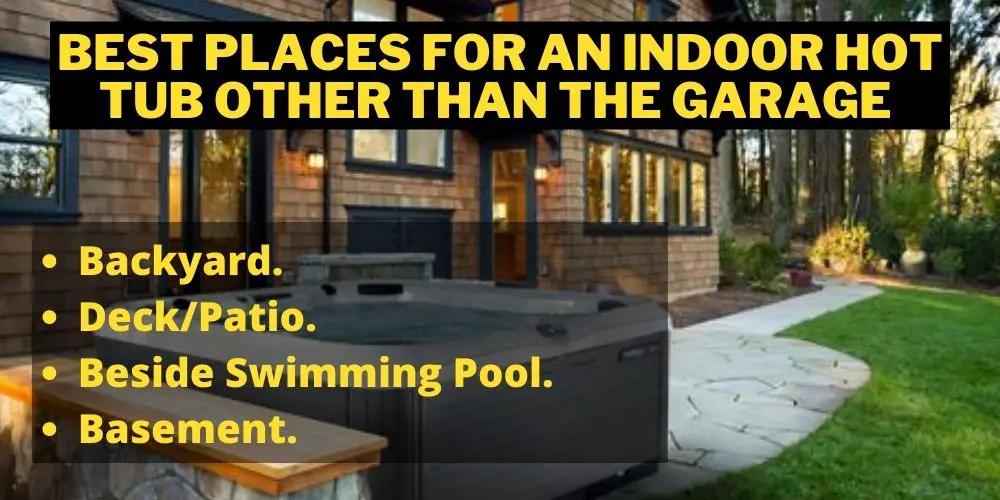 💁Deck/Patio:
Decks or Patios are intended for hosting guests and friends, and you can take it to the next level by installing a hot tub on the deck. If you choose to do this, you are sure to make the most out of your investment and have a nice personal space to relax and enjoy. 
💁Beside Swimming Pool: 
This is not an uncommon sight, and in fact, many people add spas or tubs to their existing swimming pools. If you have an in-ground pool adding a hot tub is possible. However, if your pool is vinyl or made from fibreglass, you may not have this option. 
💁Basement: 
Indeed it's possible to have a hot tub installed in your basement; however, the process will require some work. You may have to do some light remodeling to avoid any permanent damage in the long run. Those who have installed tubs in their basement opine that it's a large-scale project. 
---
 Frequently Asked Questions (FAQs)
Will a hot tub ruin a garage?
Installing a hot tub in the garage will not ruin your garage as long as proper precautions are taken. If you install proper ventilation outlets, exhaust fans, dehumidifiers and have water-resistant paint and flooring, the chances of your garage getting damaged due to moisture will reduce significantly. So, execute your hot tub in garage ideas without any worry.
Can I use a portable hot tub in my garage?
Yes, indeed you can. But even in your garage, the inflatable hot tub will require additional care, especially during autumn and winter. Since garages don't have sufficient heating systems, your inflatable tub can get damaged during the winter if you live in a cold climate. So If you are wondering can you put an inflatable hot tub in a garage? Go ahead!
Conclusion
So, as long as your garage has proper ventilation and offers protection for your tub during cold winters, you can have it installed in your garage. However, to make the most of your tub, it's important to install proper ventilation, flooring, drainage, and water supply. 
Besides, it's important to test each of the elements to ensure they are working in order. I hope I have been able to answer your question "Can You Put a Hot Tub in a Garage?", if you still have any doubt please feel free to comment.