Many people use their garages as an extension of their houses. The garage is then used as a storage for seasonal items or as a workshop. The garage can be made more functional by adding drywall. However, many people often struggle with installing drywall and how to finish it.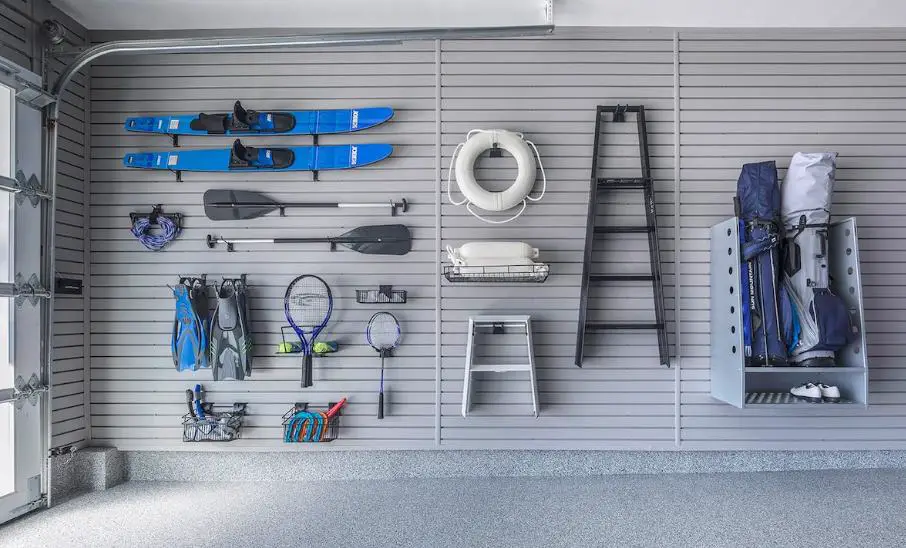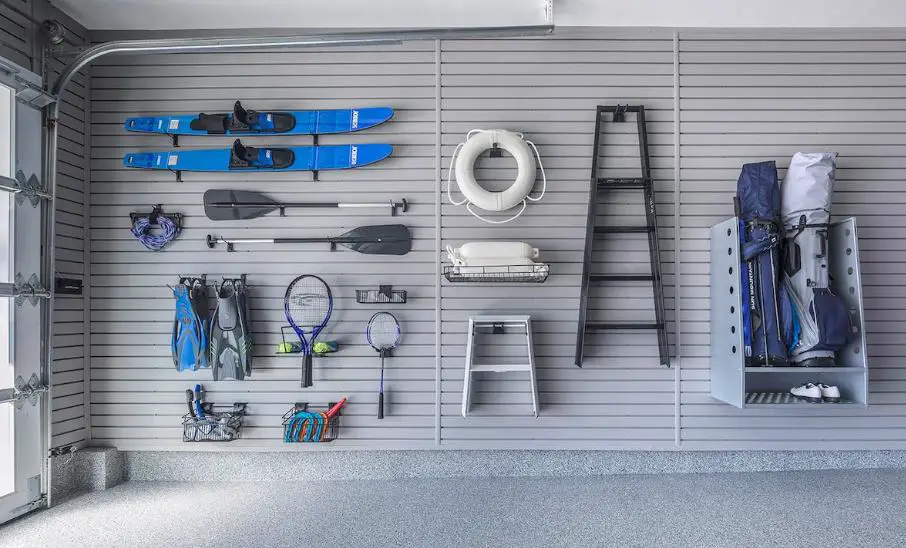 ---
How to finish bottom of drywall in garage?
Before explaining How to finish bottom of drywall in garage, I will look at what are the things that you require. 
Things you require to finish drywall in the bottom or Drywall edge: 
Masking tape.
Drywall knife.
Sandpaper.
Paint scraper and spackle.
Plastic sheeting.
Drop cloth.
Sandpaper rolls (120, 150, or 220 Grit).
Sheets.
Paint roller.
Finish the bottom of drywall in a garage
💁
Planning
Usually, sheet of drywall have a 4 feet x 8 feet dimension. So, if you have a bigger piece of drywall than the recommended size, you need to cut the panel to hang the drywall either horizontally or vertically. 
However, a cheaper way to finish the drywall edge is to hang the sheet horizontally, as it will reduce wastage.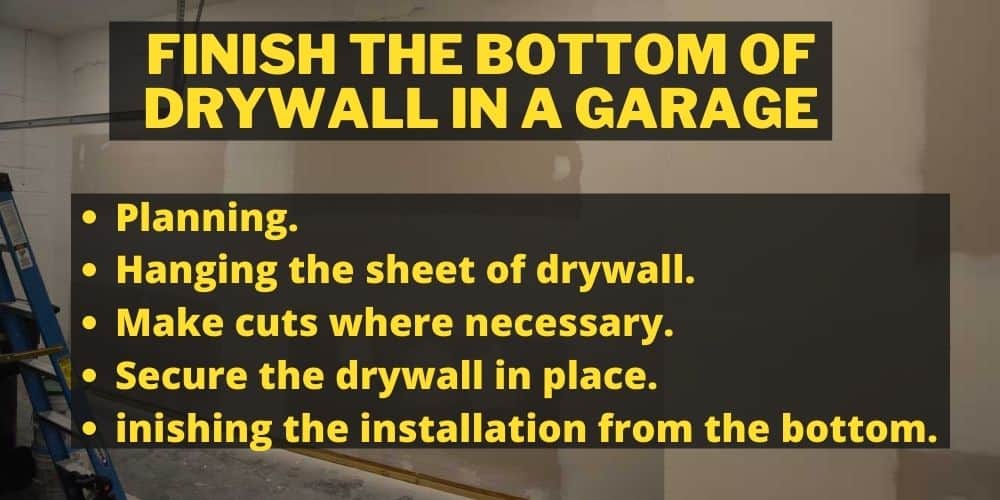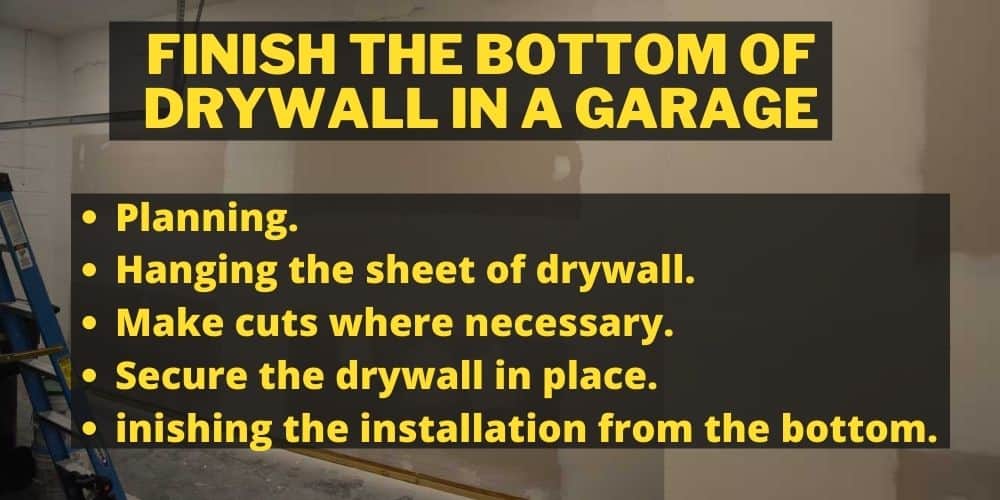 💁
Hanging the sheet of drywall
Before you begin hanging the sheet, you will have to decide whether you want to do it from the top or the bottom. In case the drywall sheets match the walls without any cutting, you can start working from the bottom. However, starting from the top is always recommended. 
It's always recommended to use longer screws than the drywall width. Additionally, the screws should be used every 10 inches apart to hold the drywall securely on the concrete wall. 
💁
Make cuts where necessary
Once everything is prepared, make a proper plan to determine where to have the cuts. Then using a manual drywall saw, start cutting the pieces to the desired size. Also, keep in mind that if you are tiling over the installed wallboard, you need to make corresponding cuts to install the panel. 
The garage flooring tiles are often wider than standard wall panels; thus, it's best to use a full-length tile before installing an alternate board on each side. 
💁
Secure the drywall in place
Your drywall must always be based on a secure substrate. So consider the floor's overall look once you are done putting the joint tape and correcting the imperfections. 
Please keep in mind that you won't have any carpet or other furniture in your garage to hide the ripples. Besides, many tiles have visible gout lines, which make such bumps and dips pop out to the naked eye.
Thankfully, you can avoid this issue by screwing each sheet securely from either side using a 1-inch pan head screw two feet across the width and length of the sheet.  
Now you can use joint tape either with garage drywall compound or the mesh-backed paper variety, making for a faster installation. 
You can use a narrow taping knife to apply a thin compound layer; however, you need more skill since they leave narrow ridges along the joint lengths. Thus if you are a beginner, it's advisable to start with a broader knife. 
💁
Finishing the installation from the bottom
Once the upper part of the installation is done, you can move to the bottom. While installing the drywall at the bottom, do remember to keep a slight gap between the wall and the garage floor. This will not require any garage drywall breaking for the base and not cost anything additional. 
However, if you plan on adding a water channel through your garage door or the bottom of the drywall, you need to install an L-shaped metal channel.
---
Precautions to follow during the process
While taping the joints, you need to be cautious to avoid creating openings and cracks. These are easier to fix before painting the drywall surface. 
Use a plastic drop cloth while working with the lime wash to prevent any form of discoloration.
Wear rubber gloves at all times while using lime wash to protect your skin.
If you use fiberglass cloth, use a respirator to avoid inhaling dust.
Avoid painting the drywall until dry.
Don't use lime wash as an undercoat for exterior paint.
Smooth out the wrinkles on the fiberglass cloth using a putty knife.
---
Why is installing drywall in a garage important?
With drywall installed in your entire wall, installing electrical wiring gets a lot easier. 
Unlike concrete walls, which you will have to break in certain parts to get the wiring in place, drywall does not cause such problems. Like concrete walls, the process does not get messy. 
Besides, drywall keeps the garage well insulated, especially in colder climate or northern climate. It keeps the pipes from freezing. Even in warmer climates, drywalls prevent hot air from the outside from coming inside to some extent. 
---
Can you complete garage walls without drywall? 
Though sheets of drywall installation is an excellent choice for covering garage walls, there are alternatives to drywall you can use. Methods such as wood paneling, fiberglass, painting, metal panels, storage panel, and plywood are also good options. It depends on your personal preference.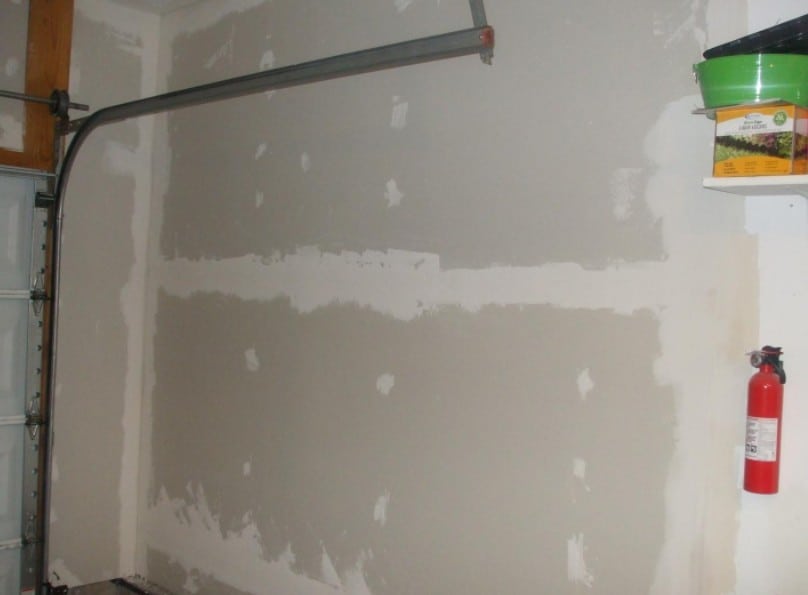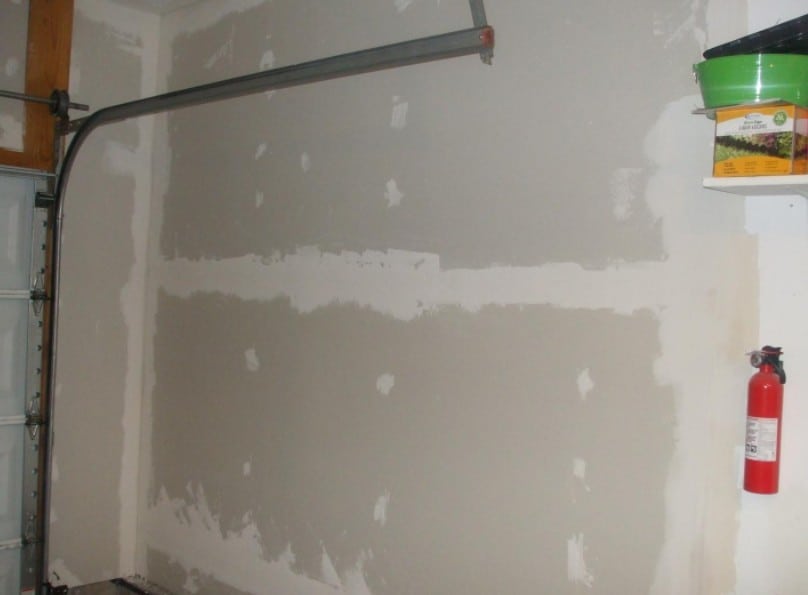 Each of these methods has its own set of advantages and disadvantages, so you will have to weigh them out and make an informed choice. 
---
Frequently Asked Questions (FAQs)
How to waterproof the bottom of the garage wall? 
Using slurry to prevent dampness is the best method for waterproofing garage walls. Besides, tanking is also a standard method used in cellars and basements to avoid groundwater entering. 
How much does the drywalling process cost?
The cost involved depends on the size. For instance, if it's a small garage, it should not cost more than $1000. However, for bigger spaces, the price goes up to $5000.
What to use between concrete and drywall?
If you use drywall panels, opt for moisture and mildew-resistant drywall. If you plan to insulate concrete walls in the basement, you can opt for a strong foam board. 
Should you use insulation before installing drywall in the garage?
For those living in an old area, or those looking to increase the comfort level of the garage space, adding insulation before installing drywall is necessary. 
Conclusion:
This article has covered all that you need to know about How to finish bottom of drywall in garage. The drywall seam is often left unfinished at the bottom of the garage. To complete the process, it's essential to have a longboard with a straightedge to install behind the gypsum plaster and boards. 
You can check for scrap wood at hardware stores near you. Most often, they have such prices available. I hope you find the article useful for your next drywall installation.