With a portable garage, you can keep your vehicle safe from the elements that might otherwise cause rust, dents, discoloration, and pops on your car. But why do you need a portable garage when you have an established one? 
The answer depends on how adventurous you are! If you frequent car camping or drive off unexplored places, it's advisable to have portable garage lest your car might take the hit.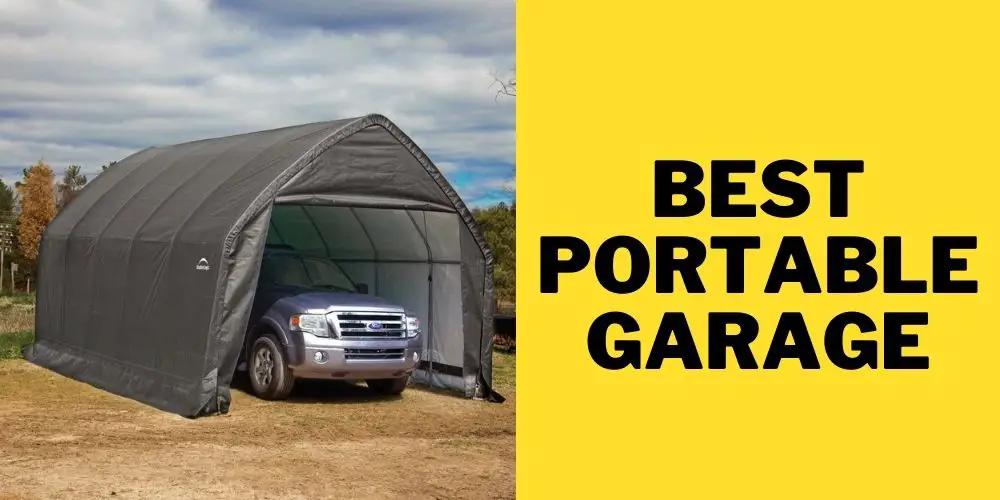 A portable garage or carport can be set up anywhere, on any surface type, and is extremely straightforward to assemble and set up. Besides, you can also store your tool and equipment in the carport. 
Overall there are multiple benefits of having one of these handy. However, choosing a best portable garage that will fit your needs is challenging. To that end, we have crafted this piece to answer all possible questions that you may have and help you pick the perfect portable garage.
---
What's the need to use a portable garage?
A portable garage is primarily used to keep bikes, boats, and other vehicles to protect against unpredictable weather conditions. However, many people use a portable garage as a workshop, bulk storage area, and greenhouse.
Many other people get creative with their portable garages and use carports to host parties and picnics. Besides, many campers use it for accommodation too. 
---
A Quick Summary
---
Best portable garage: A Detailed Review
Features
Includes heated sealed seams.
Water and rust proof.
Provides all-season protection.
It comes with a three-layered ripstop polyethylene cover.
Shelter lock stabilizers included for added stability.
This garage in a box is popular among users for multiple reasons. Firstly, the dimension of this portable garage is huge and genuinely can accommodate an SUV or a full-sized truck easily. The door clearance of this garage is 8.4″; thus, parking large vehicle in this is not a problem. 
Besides big cars, the manufacturer claims that this carport can even accommodate large boats and multiple motorcycles, making it an ideal choice for over-a-deck functions. 
Coming to the unit itself, its frame is steel-made and has a powdery finish that should keep the steel from rusting and corrosion. The coating also makes the frame chip resistant and reduces the chances of peeling. The door rafter combines bolt-together hardware, which provides added stability and strength. 
This carport is ideal for anyone living in an area prone to snow. The alpine frame features a steep slope, preventing a large amount of snow from sliding. Additionally, the waterproof polyethylene cover undergoes UV treatment on the sides and in the interior, ensuring maximum protection for your vehicles. The cover also has an anti-aging and antifungal coating which lengthens the cover's lifespan. 
Assembling the cover on the frame is straightforward; you only need to slide it up the frame while locking the unit. 
The package includes all that is required, frame cover, double zipped door, rear door panel, anchors, foot plates, and a roll-up kit. However, you may have to purchase additional anchors if you require them. 
Pros
✅ Relaxing interiors.
✅ It can withstand all weather conditions.
✅ Affordable and value for money.
✅ Customization possible.
Cons
❌ The cover is not very durable.
❌ Structure shakes when the winds get too strong.
Verdict
 The unit meets all the checkpoints and is ideal for those living in a place prone to snow.
---
Features
Ventilated with four mesh windows.
Easy to setup.
Multipurpose usage.
All weather-resistant cover.
Includes a heavy-duty steel frame.
The Wilrex heavy-duty carport features a strong, durable steel frame. The frame is highly rust-resistant and extremely sturdy. Featuring a 38mm 8 leg structure measuring 1.2 mm in thickness coupled with a 1.65in diameter connector and 16 steel nails, this portable garage will provide you the protection your vehicle needs. 
The cover has been made weather and fading resistant to keep your vehicle safe all year round. The top and the sidewalks of the garage are made from 180g PE. This specification should keep your car safe against the sun, hail, snow, and other natural elements. 
Though most often purchased as a portable garage, many users have used this carport for diverse purposes, like hosting wedding parties, fairs, and storage units for boats, trucks, and garden equipment. 
Unlike other carports, the Wilrex Carport Heavy Duty Carport includes four mesh windows that provide sufficient ventilation compared to other carports in the market. 
As for the setting up part, after talking to multiple users, we determined that assembling the unit is relatively easy. The unit includes a spring button that helps connect the poles to the corners. Besides, you don't need any additional tools to set up this unit. Overall, it's time-saving, fast, and easy. 
Pros
✅ Setting up is easy and fast.
✅ Heavy polyethylene cover.
✅ Large foundation, making the unit stable.
✅ Perfect price point.
Cons
❌ The velcro provided is not very strong.
❌ Setup instructions are not available.
Verdict
Overall, the carport is at an ideal price point and considers all the carport requirements. 
---
Features
180G heavy duty polyester cover
only 93 pounds
eight adjustable walls
Can accommodate big vehicles
Made from highly galvanized steel coupled with a 1.5-inch diameter steel tube, the ADVANCE OUTDOOR Portable Garage has earned many users' support. Like ShelterLogic Garage-in-a-Box, ADVANCE OUTDOOR Portable Garage also has a powder-coated finish to protect against corrosion and rust. 
The steel frame comes with a 180G polyester cover that is water- and UV-resistant. You can fasten the canopy with elastic snaps for additional durability. Setting up the unit is easy, and the six steel legs provide the required balance for the same. 
At first glance, this unit looks like any regular 10X20 ft carport featuring two big windows. However, the portable garage has eight adjustable walls using which you can adjust the total height between 9.5 ft to 11 ft based on your requirement. The sheer height of the garage makes it easy to store all sorts of items and large vehicles. 
Even while it has multiple uses and can accommodate big vehicles, it weighs only 93 pounds which adds to its portability. Its six feet long entrance provides ease of access which is highly desired. Setting up the unit is also simple since the various parts are marked perfectly, and detailed instructions are provided to ensure easy and effective assembly, even for first-time portable garage owners. 
The package includes all the things required to set up the unit, including stakes and ropes. 
Finally, the unit comes with a one-year warranty.
Pros
✅ Waterproof and UV resistant unit.
✅ Easy to assemble.
✅ Provides six legs balance.
✅ Features a robust construction.
Cons
❌ A bit expensive.
❌ It does not include many color options.
Verdict
The carport holds strong against rain and sandstorm. However, it may not be very effective in windy conditions.
---
Features
Waterproof cover.
Heavy-duty steel construction.
It includes removable sidewalls.
Lifetime warranty provided.
Features reinforced packaging.
The Quictent Carport Car Canopy is simple with its standard structure and polyethylene cover. However, don't let its basic look deceive you. The carport has a heavy-duty steel frame coupled with a UV-resistant cover that will protect your vehicle and other belongings even in the harshest weather conditions. 
Most users who have used the Quictent Carport Car Canopy opine that it's exceptionally sturdy and is something that you can consider for a permanent basis. 
The strength and the reasonable price point of the piece make it unbeatable among the many carports on the market. 
In addition to the sturdiness, durability, and strength of the product, the warranty offered by the manufacturer needs special mention. The product comes with multiple warranty levels that cover a wide range of materials on the unit, including ropes, connectors, poles, and covers. 
Overall the product is worth considering. 
Pros
✅ Excellent customer service.
✅ Affordable price point.
✅ Easy to set up.
✅ Sturdy and durable unit.
Cons
❌ It's a tad bit difficult to move the carport.
❌ Lots of sunlight might affect the cover.
Verdict
The unit is at a great price point and is super durable.
---
The PEAKTOP OUTDOOR Upgraded Heavy Duty Carport is a premium carport that provides great value and coverage to vehicles. The cover offers excellent protection for cars. Its premium design and spacious sizing protect your vehicle against damage by natural elements. 
Users also appreciate the heavy-duty rust-resistant steel framework of this unit that comes with a metal base. However, some users opine that it's not ideal for windy locations. 
Measuring 20′ x 10′ x 9′, the unit features a polyethylene cover with two removable walls and a transparent window. The unit features 38mm steel poles and double zipper doors on each end to ensure stability.
Most users have commended the usefulness and stability of the product. Overall, it's an affordable unit that meets the basic requirements of a standard carport. 
Pros
✅ Heavy duty.
✅ Well made.
✅ Easy to setup.
✅ Includes two removable walls.
✅ Double layer doors.
Cons
❌ It's not ideal for windy areas.
❌ The unit is not highly waterproof.
Verdict
According to some users, the carport is sturdy and durable, though it's not highly waterproof.
---
Best portable garage: Buying guide
💁
Material
The material you choose will greatly determine the strength and durability of the carport. Needless to say, the material should be strong and able to tolerate the wrath of the elements through all seasons.
Portable garage frames are often made from tin, steel, and aluminum. Of all these, steel is the most durable material and is the heaviest, and polyester is the lightest. 
Polyurethane and polyethylene canopies are often selected as they can withstand harsh climatic conditions. Polyethylene also provides protection against UV rays which leads to oxidation and discoloration.
💁
Weight
Weight is an essential factor to consider while buying a carport since it impacts the mobility of the whole thing. Obviously, if the portable garage is too heavy, its portability factor is lost. The material used in the construction determines the unit's weight.
As mentioned earlier, steel is the heaviest, while tin, aluminum, and polyester are light and ensure mobility.
Though light materials are preferred for portability, heavy material provides the required protection against heavy snow or rain. Your choice when it comes to the unit's weight should depend on the frequency of use.
💁
Ease of setting up
Ideally, your carport should be easy to set up and dismantle. It should not be extremely complicated, and anybody with no prior skills should be able to set it up. Most manufacturers provide guides, kits, and anchors to simplify the process. 
💁
Features
Frames provide the shape of the carports. The most common material for this purpose is steel, both galvanized and ungalvanized. If you opt for a steel frame, you need to consider the tube diameter. The thickness of the tube impacts the stability and durability of the frame. 
After all, it will be the frame that will protect the canopy from harsh rain, storm, and hail. But while determining the frame strength, make sure you consider the frame weight; otherwise, the carport might get too heavy to carry. 
💁
Style
The style of your carport will be determined by the location you want to set it up. However, if you can set up your garage in multiple places, you can decide whether or not you want a unit that's enclosed on three sides. You can also choose between a flat top, canopy style, or peak. The style you choose will also depend on how long you intend to use the carport.
If you want to use it all season and if you live in an area where it snows or rains a lot, opting for a peak style is ideal. A flat-top allows you to roll it up and down when required and is thus perfect for use throughout the year. 
💁
Anchoring
Anchoring is often dependent on the location. You need to determine what sort of terrain you will be using your carport on. If the area is cement or gravel, you need to make sure the carport remains firmly anchored to the ground.
However, if you will be placing it on the softer ground, you need to pick up a unit with stakes to anchor the carport. Of course, you can opt for a unit that can be set up on both terrain, but the legs must be versatile. Regardless of where you set up the carport, it should anchor well to avoid accidents.
---
Frequently Asked Questions (FAQs)
1. What's the longevity of carports?
The longevity of portable garages depends on the material used and the manufacturing. Ideally, a quality portable garage should last from 10-20 years. 
2. What do you need to set up a portable garage?
Generally, standard hand tools like measuring tapes, ratchet, adjustable wrench, and socket set are required to set up a carport.
3. Can the portable garage be used for multiple cars?
Yes. Not only for protecting car(s) from natural elements, many people use portable garages as regular garages for multiple vehicles. However, you will need a more extensive canopy with a larger space to keep multiple vehicles.
4. How long does it take to set up a carport?
The time required depends on the size and model, the type of help you get, and the tools you need. Generally, smaller portable garages can be set up in 2-3 hours; however, it takes 6-8 hours to set up bigger carports.
Other Articles You May Find Useful: Best Propane Heaters for Garage | Best Security Camera for Garage
Conclusion: 
This article highlights all the things you need to consider while buying a best portable garage and a few top-of-the-line options. We hope you find this article helpful in your endeavor to select the best portable garage. For more detailed review and buying guide bookmark.