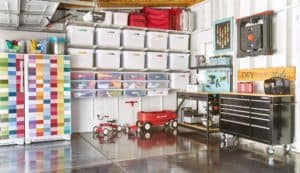 Several garages offer very little room for shelves, while others can house quite a lot. For those with a double garage and two cars, the space on the walls for shelves is a bit limited. However, in such instances, you can squeeze one or two Garage Shelves above the level of your head but beneath the ceiling.
Don't store heavy or regularly used items on the high shelves as it can be difficult to remove them. If you have a space on the floor, a strong freestanding shelf is the better option for strength and accessibility. Whether you have a high shelf, a freestanding unit, or cabinetry with shelves, how do you stack them?
Garage Shelving Materials
Garage shelving is an essential part of every garage. It helps keep your car safe and secure while also providing storage space for your tools and other items. However, there are many different types of garage shelving materials out there. Some are better than others.
In this section, I will go over the pros and cons of each type of garage shelving material so you can choose the best option for your garage.
Chipboard Shelving
This is the cheapest option and is made of pieces of wood glued together to make a solid block. It can be easily broken by water, so will need a protective veneer to protect against this. It can be found at different densities, and can be more affordable than real wood, but may require extra reinforcement if you plan on using your board for heavy loads.
MDF Shelving
MDF is a great material for making custom furniture. It can be easily painted and staining. It's very smooth and has rounded edges. It's also easy to work with. It doesn't splinter easily and is great for jigsawing or rounding off corners.
Plywood Shelving
Plywood is a popular shelve material. It is durable and water-resistant but carries a higher price tag. It often has a natural grain, making the stain easier to apply. If desired, the edge can be covered with a thin veneer or wood lining.
Ways to Stack Garage Shelves
Garage shelves are essential. They're part of your Garage Storage System. Besides hanging, shelving is the other most common and practical method of storage. Open shelves are ideal for storing large and heavy items like iceboxes.
With Open Shelves, you can easily see what you have. Shelves can be used to keep things in plain view, and also behind closed doors in cabinets. It's a perfect solution for storing non-visual and visual storage preferences.
Related: 10 Best Shelves for Garage (Reviewed 2021)
Though it's easy to find a shelving unit for almost any budget, you need to take into account these crucial considerations to get the most out of the shelving system that you finally choose. Keep reading!
Shelves should be sufficiently deep to store things safely. However, they should not be so deep that items hide behind each other. Garage Shelves that have a depth of 16 inches are perfect for storing large items while those that are 12-inch deep are good for smaller things
It's ideal to have more shelving units placed closer to each other. With that, you will not be tempted to arrange items too high on one shelf. Items that are stacked high can fall. Finding and organizing items in such stacks can be cumbersome.
Items that are frequently used should be stored at waist level where they are easily accessible. Things that you don't regularly use should be stored on the high or low shelves. Hefty things should be kept close to the floor so that if they fall, they are less likely to hurt anyone.
Newer items should be stored behind older things on the shelf, much like the way goods are displayed in a grocery shop. In this way, older items are the first to use.
The shelving unit should be 1 to 6 inches above the floor to keep the items stored on the Garage Shelves clean and dry. Having done that, you have a free space on the floor to store heavy and unwieldy items like vacuum cleaners and 5-gallon containers
If you want to keep your items clean, the shelves should be enclosed in a cabinet or similarly store your items in Garage Shelves with Doors. One way of doing this is by constructing a simple wall around your shelving system and building a closet that has sliding doors
How to Organize Garage Shelves
Keeping the shelves arranged over time is one of the biggest challenges in using any shelving unit. Shelf Dividers are useful devices in keeping your items separated. Nevertheless, nothing is more useful than storage containers. They maintain the tidiness of items on your shelves.
Square-Shaped Storage Containers with Lids work perfectly since they stack tidily and are available in different sizes. You can keep items such as plumbing, electrical appliances, and paints in these containers.
You can easily find what you're looking for provided the containers are well labeled. Rather than labeling the containers, you can label the shelves themselves if they have only one type of item. 
Related: 7 Best Storage Cabinets for Garage (Reviewed 2021)
Shelved Cabinets
One of the main benefits of using Cabinets with Adjustable Shelves is that items can be kept out of sight. This is because the items are not exposed directly to dust and dirt in the air, they're cleaner. If you want to keep foodstuffs that don't fit into your kitchen pantry or you've purchased in bulk, choose a closed cabinet rather than open shelves.
Safety is yet another crucial benefit of storing toxic substances that are potentially harmful in cabinets that infants cannot open. Lockable cabinets are ideal for storing poisonous chemicals, oils, fertilizers, mineral spirits as well as spray paint.
If the cabinet you have doesn't have a lock, you should buy a childproof lock and install it. When stacking Garage Shelves, you have to take into account several factors as we have mentioned above. They should be stacked neatly and orderly while considering security, accessibility and the device to be stored.
Top Garage Shelving Ideas
If you're looking for garage shelving ideas, then you've come to the right place. In this article, I'm going to give you some of the best garage shelving ideas out there.
Garage shelving is an essential part of every home. It's where you store your tools, bikes, lawnmowers, and other equipment. If you want to get the most out of your garage, then you need to invest in some quality garage shelving.
Here are some of the best garage shelves ideas that you can use to improve your garage storage space.
Wire Shelving In the Garage
Wall-mounted shelves can be one of the most effective ways to maximize your garage storage space. They are easy to install and require very little time or effort. You can use them to store tools, bikes, lawn equipment, gardening supplies, and other items.Vertically Stuck Bins
Storage bins are one of the most useful garage storage systems. They can be used to separate and organize your sports equipment by season. However, they often get stacked against a wall, making it difficult to reach the bottom bins.
Use different colored bins for each sport to help you find what you need. And use the sides of the wooden frames for wall-mounted accessories such as fishing rod holders and utility hooks for lightweight equipment such as golf clubs.
Shelves for Car Care Products
This simple shelf/work table is designed to hold your auto lubricants, oils, and other items. It can be mounted on a wall or on a work surface. We'll show you how to make a quick and easy hinge system that allows you to open the door without tools.
Hooks on the Wall
If you use screws, nails, bolts, etc., to attach hardware to walls, you're limiting your options for garage wall storage ideas, since you'll be limited to mounting things on studs. The best strategy is to add a layer of 3/4″ plywood over the drywall or bare studs. Then you can mount storage hardware anywhere you want, and you can arrange items in a space-efficient way. You can also cram more stuff onto the walls.
Overhead Shelves
A garage can be a great place to store things. But if you don't use the space above your garage, it can become a cluttered mess. Use this overhead garage storage shelf to free up some floor space in the garage and create additional storage space.
Floating Garage Shelves
A floating shelf is a great way to free up floor space in a garage. Before you install them though, be sure to measure the dimensions of your garage so that you can get the right size shelves. If you want to build this shelve, you need to prepare your tools, materials, and time. You can do this before starting the actual construction.
Garage Corner Storage
If you have any unused space in your garage, make the most of it with corner shelving. Corner shelving can be utilized for many things, including storing items such as tools, gardening supplies, bicycles, lawn equipment, etc.
Long Haul
If you have a large garage, you may be able to use it for storage. But if you don't have a large garage, then you can buy a unit that is designed to fit into a smaller space.
Conclusion:
Steel shelves have different purposes. You can use it to organize your kitchen, office garage or business area. You can also use it as a bookshelf and fly your collection. You can use it in the living room to display pictures or house plants, and it's an excellent way to help you organize your area especially in small places.
It also varies in the different styles and the ones made with medium density, fiberboards or wired ones. It all depends on your preferences and how you want to use it. Some also have rolling casters for easy maneuverability and some simply have feet levelers.