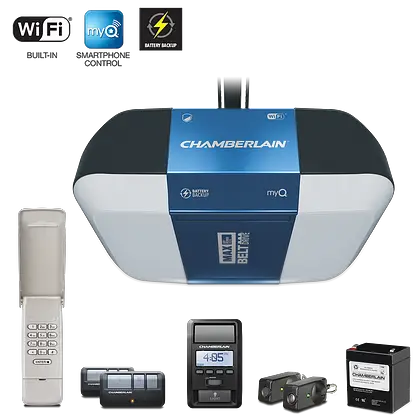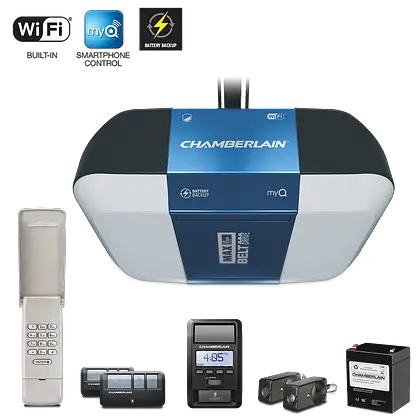 When it comes to some of the best Garage door openers in the market today, Chamberlain company is definitely a pioneer. From analog to digital, the company has always kept up with the ever changing technology and always making the best and smart garage door openers. This Chamberlain Smart Wi-Fi is one of such amazing gadgets you want to consider purchasing.
The accessories included with this kit are the outside wireless keypad, safety motion sensors, a backup battery an LED wall controller, built in MyQ Wi-Fi and two three button remote controls for your vehicle. Although the car features homelink, you can program them into your car and then you won't need the remotes anymore or you can just use your smartphone.

In regards to installation if you're a do it yourselfer, you'll be able to set this whole thing up in about four hours or so. Instructions are pretty straightforward and you can check the video below to help you along the way.
Main features of the Chamberlain Smart Wi-Fi Garage Door Opener door opener.
The first one would definitely be the ultra quiet 1/12 horsepower motor with the steel reinforced built. I've never used a belt driven open air before only the kind with the chain, and I was really blown away by how quiet this open air really is. My daughter's room is right above the garage and the last thing I want to do is wake them up if I'm getting home late.
It is really quite keeping in mind the creaking of the metal doors making more noise than the actual motor of the opener itself.  When it comes to vibrations and things like that, it's very quiet, very minimal and you can barely hear it when you're upstairs.
Also Check: Best Garage Door Opener Under 200
My second feature is the LCD opener and this isn't your basic garage controller. It displays useful info like the time and the ground's internal temperature. It also shows you how much battery is left in the back of battery, and it gives you access to lots of programmable options for things like time to close, for auto closing in case you forget to close the garage door or the options for the lights as well.
Speaking of light options, it features a motion sensor on it as well so whenever you walk into the garage at night, it automatically turns on and you don't need to mess with the switch.
That leads us to my third and favorite feature of this garage door opener which is of course the built in MyQ Wi-Fi which works with the app on your smartphone. If you're thinking why would I need to have the ability to open and close my garage remotely if it already comes with a remote for my car and also includes an outside keypad?
Also Check: 7 Best Garage Door Openers (Reviewed 2021)
Well, those things are fine if you're actually at the house. But what if one of your friends or neighbor needs to grab something out of the garage? I don't know by you, but I don't feel 100% comfortable just giving out the keypad pin to everyone.
With the app, you don't need to. You can easily open and closed from anywhere as long as you have data or Wi-Fi on your phone. The app displays info like whether or not the garage is open or how long it's been closed. It also allows you to sort of alert to the opener.
So for example, if you want to be alerted every time the door opens, you can set it up through the app and it will send your phone and even your Apple Watch notification letting you know it's been opened. You can also set up an alert to let you know if the garage door has been left open for a designated amount of time, so you can close it in case you or someone else productive.
Chamberlain have like six to seven drive openers to choose from some of which have Wi-Fi built in and some you would need to buy a home bridge to control it from your smartphone. And the same thing with chain drive openers. There's about six to seven to choose from.
Really, there's one main difference between the two types of openers. And you've probably guessed it it's sort of implied the name you're talking about using a belt versus a chain. Now, belt drive openers tend to be much quieter but they also are a little more expensive. Chain drive openers are louder but they are less expensive and our better choice for super heavy garage doors.
Also Check: Best Automatic Garage Door Opener: Reviewed 2021
The Chamberlain belt drive openers range from about $169 to $269, and the change IV openers range from about $129 to about $249.
What makes these Chamberlain garage door openers special?
Well, they have what they call their MyQ technology built-in, meaning you can open or close your garage door from anywhere with your Smartphone. All you have to do is download MyQ app and add your smart garage door by pressing these small yellow button on the control panel. From there, it's pretty easy to set up the whole system via the app. Just follow the steps on the screen. It shouldn't take more than just a few minutes.
Once it's paired, you'll be able to do a few things within that. First, obviously, you can check the status of the front door and either open or close it. You can do a history timeline and see the exact times the door was open or closed. You can set up custom alerts for example, I set up a push notification every time the doors open longer than an hour Monday through Friday.
Also Check: How to Quiet a Garage Door Opener
So yes you can get pretty detailed or you can just setup a predetermined schedule i.e. have the door closed every night at 10 p.m. And don't worry the opener comes equipped with safety sensors so it doesn't just close on a person pet or object. Also within the app, you can add other openers if you have two doors and also link accounts with other smart home devices.
And speaking of other smart home devices, Chamberlain does partner with some big names out there but there are a few catches. The openers do work with Google assistant. You can ask your Google home for example for the status of your door or ask Google to close your door but you only get a 30-day-trial. After that, there's a fee that applies. So that's kind of a bummer. Same thing with if it 30 days free then you have to pay a monthly fee.
The openers will work with Apple home kit as well, but you actually need to purchase the MyQ Home bridge separately in order to use Siri to control the door. And even if you do purchase the home bridge, you'll need an Apple TV with TV OS or an iPad with OSX in order to control it remotely.
Having a home kit is definitely nice. I actually do use it. All in all, I don't think it's necessary especially given all the extras you'd need to buy. Beyond that, the openers also work with Nest, Xfinity home and Wink among others.
Also Check: How do I Know if my Garage Door Opener Motor is bad?
Okay, so those are these smart features of the Chamberlain system but there are some other cool features as well. The openers are compatible with home links so if you have that system built into your car. I know a lot of newer cars have that. You're set you're good to go. If not if you're like me driving an older car, you'd have to get a compatibility bridge or just use the remote that comes with it.
And speaking of that remote, I actually found it to be quite effective. It definitely has a much longer range than my older remote. I had to be within about 100 feet for my old remote to work. With the new Chamberlain, I can open the door from about eight hundred and nine hundred feet out easy. It's pretty nice no more waiting for the door to open as I approach.
And lastly, the opener does come equipped with a backup battery in case the power goes out. All in all, I've been pretty impressed with the Chamberlain MyQ smart garage door opener. It's much quieter than my old system and it's also nice to be able to check the status of the door at all times.
I often forget to close my garage door so it's nice to be able to just open the app and close it even if I'm at work. And the app is pretty easy to use all things considered. And when I'm approaching my house, I do appreciate the increased distance of the remotes.
A little protip here, when you're installing the opener, let the antenna hang down like six to twelve inches and it will lead to a better signal. As far as the negatives insulation definitely has to be one. If you really don't know what you're doing, I can see this process being somewhat frustrating. And if not, if you don't know what you're doing, you're probably have to pay someone to help you which just adds to the final price tag.
The smart home partnerships are also a drawback in my eyes. It's nice that it works with Google and IFIT, but I don't think anyone is going to want to pay a monthly fee. Same thing with Home Kit even though it's nice to have you have to pay extra for a home bridge. And at the end of the day, I think most people will just use the MyQ App to control the opener so all the smart home partnerships are sorta just fluff
Conclusion:
I'd say from the market for a new garage door opener, maybe your current one is broken it's flawed, whatever the case may be, you'll definitely want to look into the Chamberlain MyQ smart garage door openers. Or if your system does work fine there's no issues but you just want to add smart capabilities, I'd say look into the Chamberlain my Q smart garage hub.
It costs less than $100 and it works. It's compatible with most openers that have been manufactured after 1993. So those are my thoughts on the Chamberlain ultra quiet Wi-Fi. Garage door opener I definitely recommend you check it out if these are the kind of features you're looking for in a garage door opener.
Best Garage Door Opener Under 200
Video on How To Install The Chamberlain Garage Door