Working in a garage or shop requires lots of focus and involves moving around, especially if you are working alone. Thus most mechanics prefer heavy-duty stools with wheels.
Such stools are used by architects, mechanics, and even enthusiasts. Not only are these tools ideal for sitting through the long working hours, but they also make it convenient for mechanics to get their jobs done.
The popularity of these stools has rocketed over the years, especially since they help in performing highly detailed work.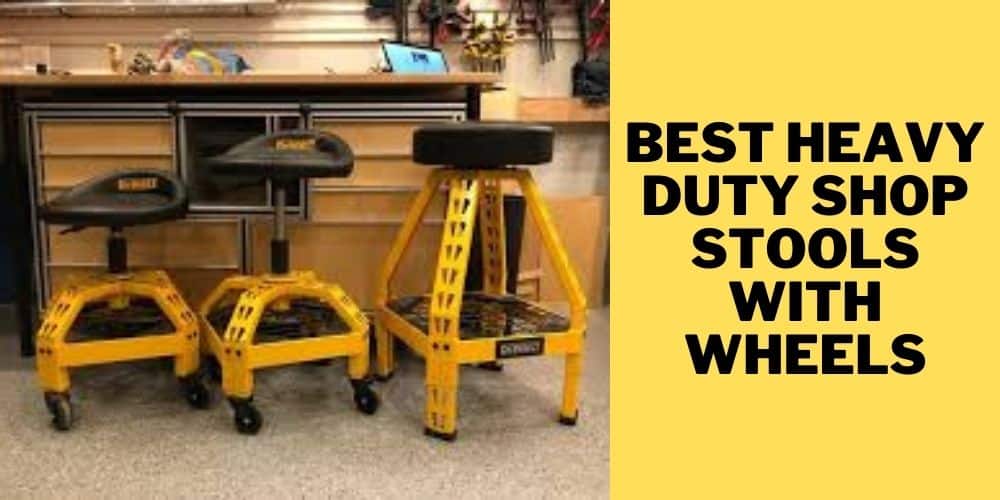 However, choosing the best brands of wheeled stools from the rest is a challenge thus, we have created this exhaustive piece to cover all the points you require to know to make an informed decision. Besides, we have picked the top seven stools that you can consider.
We have given special attention to the weight capacity and height adjustability of the stools. All the products have been selected after detailed research to aid your buying decision.
---
Best Heavy Duty Shop Stools with Wheels 2022, Quick summary
---
Top 7 Best Heavy Duty Shop Stools with Wheels 2022 Reviews

 
After much research and talking to manufacturers and users, I have curated this list of 7 tall shop stools with wheels. All the products have been handpicked after carefully determining the durability, build, ergonomics, and adjustability of the chairs.
The data and insight gathered here are mainly primary, supported by some secondary information received from multiple users and experts.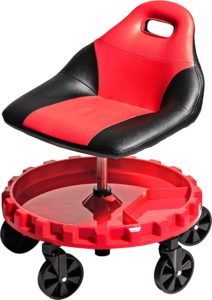 Features: 
It comes with a spinning gear tray
The stool features a weight capacity of 400 pounds
The 5″ Casters wheels are top grade
Comfortable race seating
This hoist creeper seat created by Traxion is highly recommended if you are looking for an adjustable creeper seat. The chair is primarily popular for its huge caster, which allows them to roll over rough terrains.
Traxion 2-700 features race seating, which provides additional comfort to those seated for a long time. The stool also comes with a built-in carry handle that makes of easy to take the chair from one place to another. Additionally, this adjustable creeper seat comes with a gear set too. 
Many users have been pleased with the mobility offered by the unit. Besides, the ergonomic backrest provides all the required support.
Traxion has really gone to great lengths to create a valuable product which is evident in the small detailing of the stool. For instance, the provided tool table spins, making it accessible for users. Additionally, adjustability of height can be easily achieved.
The chair has a weight capacity of 400 pounds which makes it ideal for well-built individuals.
Pros:
Height adjustability provided
Comfortable racing car design
Large caster wheels for easy rolling
Cons: 
Some users have faced issues with the height
The chair has thin padding
Verdict:
For those looking for thick polyurethane wheels that make way for easy movement, this chair is the best option.
---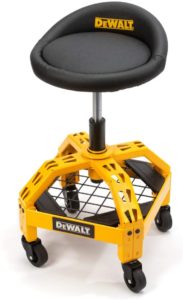 Features:
360-degree swivel seat included
Padded comfortable seating
Height adjustability option
Storage shelf provided
If you are into power tools, surely you have come across this brand. Fortunately, DeWalt makes rolling shop/garage stool with wheels as well, which are as good as the power tools of the brand.
We have picked up this option as DeWalt stools are one of the most adjustable and durable rolling stools in the market. To take the adjustability feature to the next level, DeWalt has included heavy-duty hydraulic pistons in these shop stools. Adjustable height anywhere between 22.5 inches to 26.75 inches.
However, it's important to note that the stool is a bit higher than many other products on the list. Thus if you are buying this to work on your car, you may have a bend down. One of the biggest positives of this stool is its stability, especially given its size. To make it convenient for users, the stool also has a grate below to keep all the tools while working.
This sturdy stool has a weight capacity of 300 pounds which is lower than the weight capacity of Traxion. Besides, the product also comes with a two-year warranty which goes on to show the brand's confidence in the product. That's why it deserves a spot in this list of best heavy duty shop stools with wheels.
Pros:
Premium quality built
Tool tray included
Extremely comfortable
It is easy to assemble
Wheels can be locked for additional stability
Cons:
The wheels are small and do not roll well on uneven surfaces
Casters are not very strong
Verdict:
The stool has a lot going for itself and offers great adjustability and durability.
---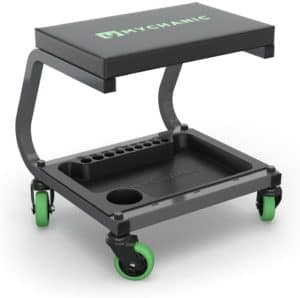 Features:
3-inch casters included
Features weight capacity of 350 pounds
It comes with padded seating
The tool organizer is commendable
The MYCHANIC Fastback Shop Stool is extremely easy to maneuver and offers a wide motion range. Many users have stated that it's pretty smooth and gives individuals the options to move around faster.
But it's not the rolling speed of the stool that keeps it moving; it's the storage bin of this creeper seat that has won hearts. The above two stools also include a tool tray storage, but the one on MYCHANIC Fastback Shop Stool is different. The tool tray included with this stool comes with a socket organizer and cup holder. 
Besides the tool tray, the 16 inches wide padded seat features a weight capacity of 350 pounds which makes it an ideal pick for heavily built people. But even though the chair can take a lot of weight, it only weighs 13 pounds.
Pros:
The chair can withstand heavyweight
It weighs only 13 pounds
Includes oversized speed casters for easy rolling
Organized tool tray included
Cons:
Wheels often function a bit too freely
Too tall for some tasks
Verdict:
This is the ideal option for those who work with a lot of tools and have to move around frequently. The organized tool tray and the easy gliding casters make this stool quite popular.
---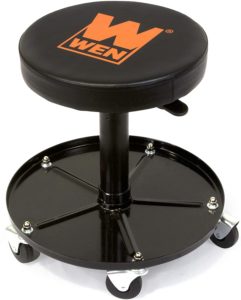 Features:
Thick vinyl-protected, padded seat enhances comfort
Adjustable seat height range between 15-20 inches
Casters provide omnidirectional movement
Tool storage space included
Steel frame construction
WEN is yet another popular brand that manufactures power tools and even a few workshop accessories like shop stools.
The WEN 73012 300 is both cutting-edge and affordable shop stool. The stool has a height range of 15-20 inches which is pretty standard.
Besides, the ergonomically made seat has five casters that measure 2-5 inches. Thanks to these casters, you can easily glide across your shop floor as well as other surfaces with absolute ease.
Like most other heavy-duty garage stools, Wen too has a 300-lb weight limit and also includes a tool tray below the pneumatic seat.
Finally, the steel frame of the stool makes it ideal for use both indoors and outdoors. 
Pros:
Absorbent and thick multi-layered padding
Includes a large tool tray
Excellent durability
Five casters provided for a good balance
Cons:
The seat has some functioning issues
It does not have a significant height range
Verdict: 
Besides being one of the budget options, the stool reduces pressure on the knees, and its durability is noteworthy.
---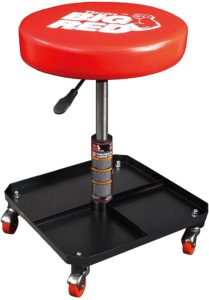 Features:
Working on the garage and workshop made easy
It comes with a soft padded seat
Segmented and large tool tray
Made out of heavy-duty steel
360-degree swivel casters
If you are looking for a budget garage stool, the Torin Rolling Seat is the perfect option. The Torin TR6350 has all the features that make it a great mechanic stool at a very affordable price point.
Besides the pocket-friendly price, the big red tool in your workshop is sure to create an aura of professionalism. You can use this stool to work on multiple vehicles, from SUVs to cars.
Similar to the other stools mentioned in the list, this stool too is equipped with padded seats for additional comfort. Made out of durable material, the stool has a weight capacity of 250 pounds even on the roll. Its 360-degree caster wheels make the rolling effortless.
The stool also has a pneumatic lever which makes way for smoother height adjustments. Functionality-wise the stool steals the show with its spacious tool tray.
Overall the stool is one of the best heavy duty shop stools with wheels you need to run your workshop in a pocket-friendly price range.
Pros:
Thickly padded seats
Easy to set up
Big tool tray
Ease of movement ensured
Durable and sturdy
Cons:
Not ideal for well-built individual
It is a low weight capacity
Verdict: 
The stool is ideal for doing multiple chores in the workshop.
---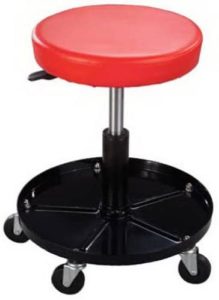 Features:
Features 15-20 inches adjustable height range
It comes with a convenient tool tray
Made from reinforced steel
padded Vinyl seat for added comfort
Pro-lift is a popular maker of garage equipment, and the brand has a wide range of products. From bottle jacks to mechanic seats, the brand makes it all.
The Pro-Lift C-3001 Pneumatic Chair is known for its height adjustability and well-built construction. You can adjust the range anywhere 15-20 inches. But don't worry, the height of the seat does not affect its range of motion. Pro-Lift C-3001 Pneumatic Chair has five caster wheels for easy rolling.
Made from sturdy steel frame, that chair has a padded vinyl cushion for added comfort. There is also a built-in tool tray that you can use to keep your tools or other essential items. The weight capacity of the chair stands at 300 lbs and has a 90-day warranty from the date of purchase.
Pros:
Excellent height adjustment
Five strong wheel
Made from durable steel
Cons:
The seat is not very thick
Verdict:
The varying height adjustment of the chair is its major takeaway. It is ideal for people who conduct a wide variety of work on the shop floor.
---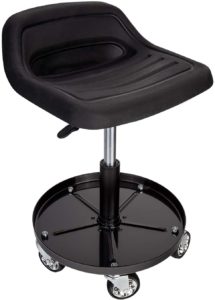 Features:
Effective height adjustment
Steel stool tray included
Ideal for heavy-duty use
Capacity 300 lbs
Easy assembly
Most architects and mechanics prefer tractor seats for their unique ergonomic design, and Sunex Tools 8514 is one such amazing pick. The seat has an air cylinder coupled with easy to access under-seat adjustment lever using which you can adjust the seat's height from 18 to 22 inches.
The chair has heavily built chrome casters which ensure that the seat won't get stuck easily, and there are rubber threads to provide additional grip.
Like all the best heavy duty shop stools with wheels in the list, this one too has a tool tray, 1-inch deep. Many users opine that the seat is extremely comfortable and was manufactured to be used for a long period of time.
Pros:
Heavy-duty chair
Ideal for well-built people
Excellent customer service
Highly comfortable
Cons:
The wheel spacing is not wide enough
Casters are not very well made
Verdict:
Most comfortable stool on the list, ideal for those who work in their shop for a long time.
---
Why use Heavy Duty Shop Stool with wheels?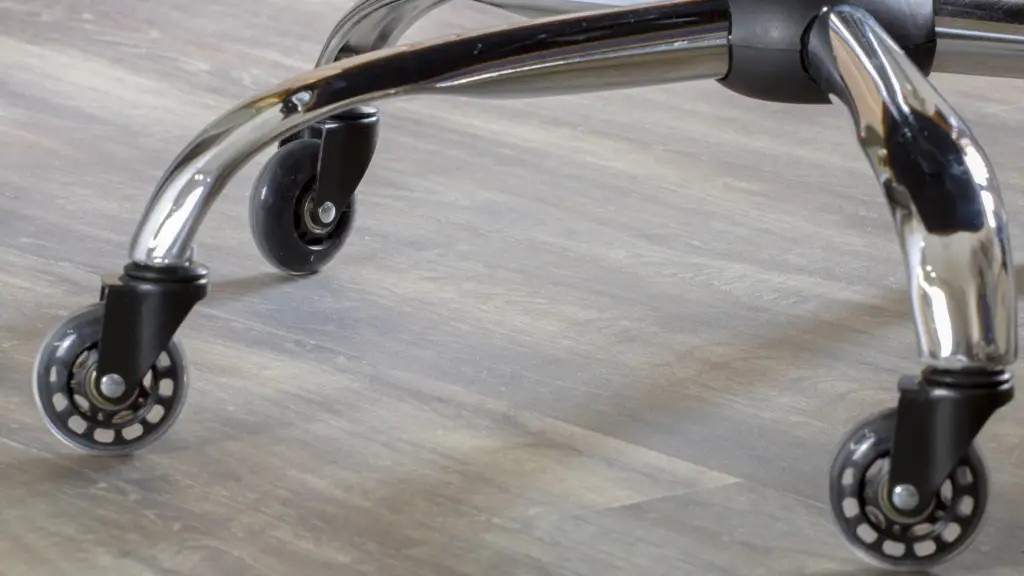 Such shop stools come in handy for various jobs. Often, car mechanics and even retailers are seen riding such tools from one corner of the shop to the other to address multiple jobs. Likewise, rolling shop tools have become a popular household product as well. Many use them at their homes to do various work, from laying cables along with dashboards to doing laundry.
Overall, not only in the workshop but a rolling chair can help you do multiple chores while eliminating the ache in your knees and back.
---
What To Consider Before Best Heavy Duty Shop Stools with Wheels

 
While searching online or even offline, it might be challenging to identify the best rolling chairs. There are many poor-quality rolling chairs in the market to make things harder. However, we have made a list of features for you to consider that will help you buy the best rolling chair.
Ergonomic design:
You cannot ignore ergonomics while buying a tall shop stool with wheels. This is especially important since you will be sitting on the chair all day long; thus, its comfort should not be compromised in any way. Some stools even come with an additional backrest for added comfort.
It's advisable to look for stools that have sponge seating; this will keep your bottom rested throughout the day. Besides, a footrest to relax your working feet is also a good option. Of course, you can look for other ergonomic features, but these are essential.
Sturdiness: 
The overall construction of the tool will help you determine its sturdiness. Ideally, opt for a firm steel frame stool that guarantees safe and sturdy seating. Additionally, a padded seat is desirable to enhance comfort and the durability of stool with wheels.
Height Adjustability:
In addition to ergonomics, height adjustment is yet another essential factor that must be considered. The tool's height has to be adjusted from time to time depending on what you are working on. The ability to make height adjustments to your stool will provide you with multiple conveniences.
Smooth 360-degree rotation:
Like height adjustment, a stool with 360-degree rotation too will add to your convenience. Owing to this feature, you can quickly move around your shop doing different jobs without leaving the chair. Overall a 360-degree feature will enhance your efficiency and profitability on the shop floor.
Tool Compartment Accessories:
While your rolling tool will make it convenient for you to do multiple jobs in your shop, you can use it to keep your essentials if it does have storage space. If you do any form of construction work in your shop, it's always advisable to opt for a stool that has storage options. This way, you can access the tools you commonly use very easily. Normally the storage compartment is located at the bottom of the stool or on the sides.
Weight:
The weight capacity of the stool ought to be checked to determine whether or not it can support your body weight. It is needless to highlight that the stool you choose should hold your weight and must be sturdy. Most rolling stools in the market have a weight capacity of 300 pounds. Of course, the higher the weight capacity the better the stool.
Smooth-rolling caster wheels
Before buying a rolling stool, you need to determine the type of caster wheels you want. You want the wheels to roll on the floor without being stuck. Though this will vary from one flooring type to another, opting for Nylon casters is a good idea if your shop floor is hardwood. These slide very easily without damaging the floor.
Cost:
Thankfully most rolling shop stools are pretty affordable. There is a vast price range in the market, and you can pick any that meets your requirements and is within your budget. Good quality rolling stools are mostly between $35- 300 dollars. However, it's not a good idea to opt for cheap stools, sacrificing durability and long-term usage.
---
FAQs: 
Can I assemble these stools at home?
Yes, it's possible to assemble these stools with wheels at home. Most of these tools come with instruction manuals from the manufacturer, and you can refer to that to assemble these stools. If the manual has been misplaced or not provided, you can check YouTube videos for the specific brand and model to assemble the stool.
Is it worth buying a heavy-duty shop stool with a backrest?
People may or may not choose to buy a rolling shop stool with a backrest. However, a backrest is a good option for those who lean over while working to relax.
---
Conclusion:  
This piece has covered the best heavy duty shop stools with wheels and backrest. All the options mentioned here are durable, have sound construction quality, and are highly comfortable. We have made the picks keeping your comfort in mind and have provided an in-depth buying guide for you to look into. Hopefully, you will pick a heavy-duty garage stool that will meet all your requirements using this article.