High traffic and pressure imposed on garage floors can make the floor weak hence the need of constant replacement and costly repairs. In case you're looking for the best flooring option to renovate your garage, then these five popular ones should be on your bucket list.
What should I put down my garage floor? The best flooring options you can put down on your garage floor are:
Concrete (stained or pained)
Epoxy flooring.
Garage tiles.
Vinyl flooring (wooden and pick and peel).
Garage roll out mats.
Each of these garage flooring options have pros and cons. Before deciding which one of these five would be the best garage flooring options would best fit your budget and needs of your garage.
Concrete stain for garage floor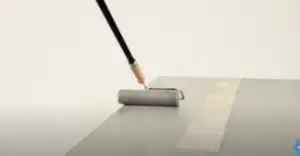 Concrete floor is one of the most common and the oldest type of garage floor. It is everywhere and used by many people. The main reason being it is very affordable compared to the other types of garage flooring options.
The best thing about using concrete as your garage floor is that it is available in different options. You can either opt for the oil-based concrete colors or even latex colors, the choice is yours.
Apart from being available in different colors, over time, if you need to, you can seal using a concrete sealer. Read this other article on the benefits of sealing concrete and also the best concrete sealers to use.
The application process is seamless. You do not need any prior experience or even need the help of expertise to apply concrete on your garage floor. Also, no special equipment will be needed. All you have to do is prepare the garage floor and pour the mixture.
Unlike other types of garage floors that need special preparation including etching and whatnot, applying stain to concrete is a breeze. It sinks almost immediately and you will not need to wait.
Another lovable feature about concrete is the maintenance process. Concrete is oil-resistant and also resistant to chemicals. You won't need regular cleaning and maintenance.
If you live in an area with high humidity that is prone to mold and mildew, then concrete should be on your bucket list of garage flooring options. This is because concrete does not retain moisture thereby inhibiting the growth of mold and mildew.
Check our review of the best concrete paint for garage
Pros:
Long-lasting.
Easy to apply.
Affordable
UV-resistant.
Non-skid and non-slip
Easy to clean.
Cons:
Takes time to dry.
Not environmental-friendly.
Beauty fades over time hence need of constant sealing.
Vulnerable to chemicals inside the garage.
Epoxy garage floor coating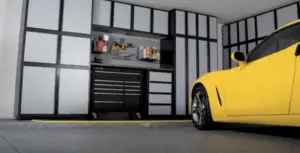 Epoxy garage floor coating is one of the best choices you can make for your garage floor as it offers a plethora of benefits for your home and comes highly recommended by most garage floor companies.
One of the many advantages of an a epoxy garage floor coding is that it is highly versatile coming in a variety of colors, patterns, designs and textures. Durability is another good benefit as epoxy florist can sustain the heaviest amount of daily wear and tear and foot traffic compared to any other area in your home.
They are also easier to clean than other types of flooring and are non-absorbent and non porous making them perfect for any room. Epoxy floor coatings are also highly adaptable and can be applied to most surfaces with little or no preparation.
Check our review of the best epoxy floor coating.
Pros:
Versatile
Comes in variety of colors.
Durable.
Affordable.
Easy to apply.
Cons:
Epoxy coatings don't breathe. They could potentially trap any moisture vapor coming up from the concrete slab.
Vinyl flooring (rolls and tiles and planks)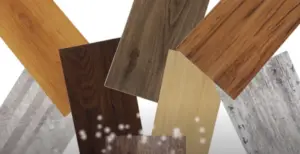 You probably already know about different types of vinyl flooring, rolls, tiles or planks but one you don't know is that final planks are most popular type of vinyl. That's because it's low cost but also super durable.
Luxury vinyl planks are a low profile choice. Their durability comes from a four layer construction: a wear layer, a printed layer, fill layer and backing. There are many luxury vinyl planks to choose from. So it's easy to find exactly what you want.
For garage floor choose waterproof vinyl planks which are typically four layers, but with a waterproof filter. The waterproof filler means it can be installed anywhere even in your bathroom. They're so strong because they're denser, thicker and more stable than any other vinyl place.
You can install final planks three easy ways glue, interlocking or floating and loose lay. If you're looking for a floor that's super permanent, a glued down plank is the way to go. It's great for high traffic areas and it won't ever budge.
One of the most common ways for insulation is interlocking or floating. Planks are made with an interlocking mechanism that snap together easily. Just simply lock your floor together plank by plank.
If you're ever worried about replacing a plank loose lay insulation does not require glutes, staples or any locking system to install. Instead each plank has a backing that grips the floor. You're only have to use glue or tape around the edges of your floor. This makes replacing a plank a breeze.
Check our review of the best vinyl flooring for garage
Pros:
Materials are inexpensive
Can stand harsh treatments and conditions.
Doesn't take a lot of time to install.
Durable.
Easy to clean and maintain.
Cons:
Requires prep work.
Floor leveling may be needed.
There are many benefits from choosing tiles for your garage. Because tiles are so durable, your tolling project will provide great cost effectiveness for your renovation and also help to enhance the value of your garage.
The great feature of tolls is that many styles and designs can be achieved through tiling. A wide range of tile types means that you can choose varying colors and detail in natural stone as well as fantastic style ideas from differing patterned and colored ceramic and porcelain tiles.
Even the patterns in which tiles are laid such as diamond, brick or square formations can all dramatically change the look and feel of a room. Apart from being expensive as compared to the other garage flooring types, they are long lasting and worth it in the long run.
Check out our review of the best tiles for garage floors
Pros:
Tile floors are non-absorbent.
Durable, tough and cannot crack.
Comes in variety of options.
Good looking on floor.
Easy to install.
Cons: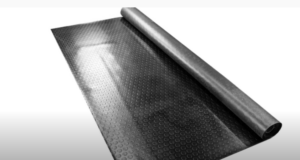 Most garage roll out mats are made up of 100% premium grade Polyvinyl with a design that maximizes durability. They come in commercial grade and standard grade thickness options so you won't have any trouble finding a gradual that holds up to your regular use.
Types of garage mats
First, let's go over mats designed to fit under your vehicles. You can pick specialized options that work from everything from cars to golf carts to motorcycles.
Motorcycle mats are smaller than the rest and they feature a no slip bottom to keep you and your beloved bike safe. There are also general parking pads that should fit whatever you're driving without a problem.
One special kind of garage mat is the auto floor guard mat also known as the containment mat. Auto for guard mats come in three sizes to work with your truck or SUV, midsize vehicle or compact vehicle.
Containment mats are great for places that get a lot of whether they contain excess water, snow or ice melt or even mud that might fall from the car. Your garage for remains protected from the elements and you can pull the mats out to hose down for easy cleanup.
Garage rolls come in a variety of textures and patterns.
Diamond and coin textures of the most classic styles and they're great for providing slip-resistant surfaces. Ribbed garage rolls. Offer some sleep resistance but they're mostly designed to channel water out of the garage or to a drain.
Texture rolls also called Levant or smooth rolls have more decorative textures allow you to easily roll wheelchairs and cabinets over the surface.
Pros.
Easy to install and maintain.
Non porous.
Cleaning garage rolls as easy as sweeping away the dust and debris.
Quite underfoot and comfortable enough to work on for long periods of time.
Cons:
Can have permanent tire marks.
Conclusion
Now that you are familiar with the five type of garage floor options, hope you will be in a position to choose the best flooring for your garage. Leave us a comment and let us know which garage flooring option you prefer and why.
Best Outdoor Lights for Garage: Reviews & Buyer Guide