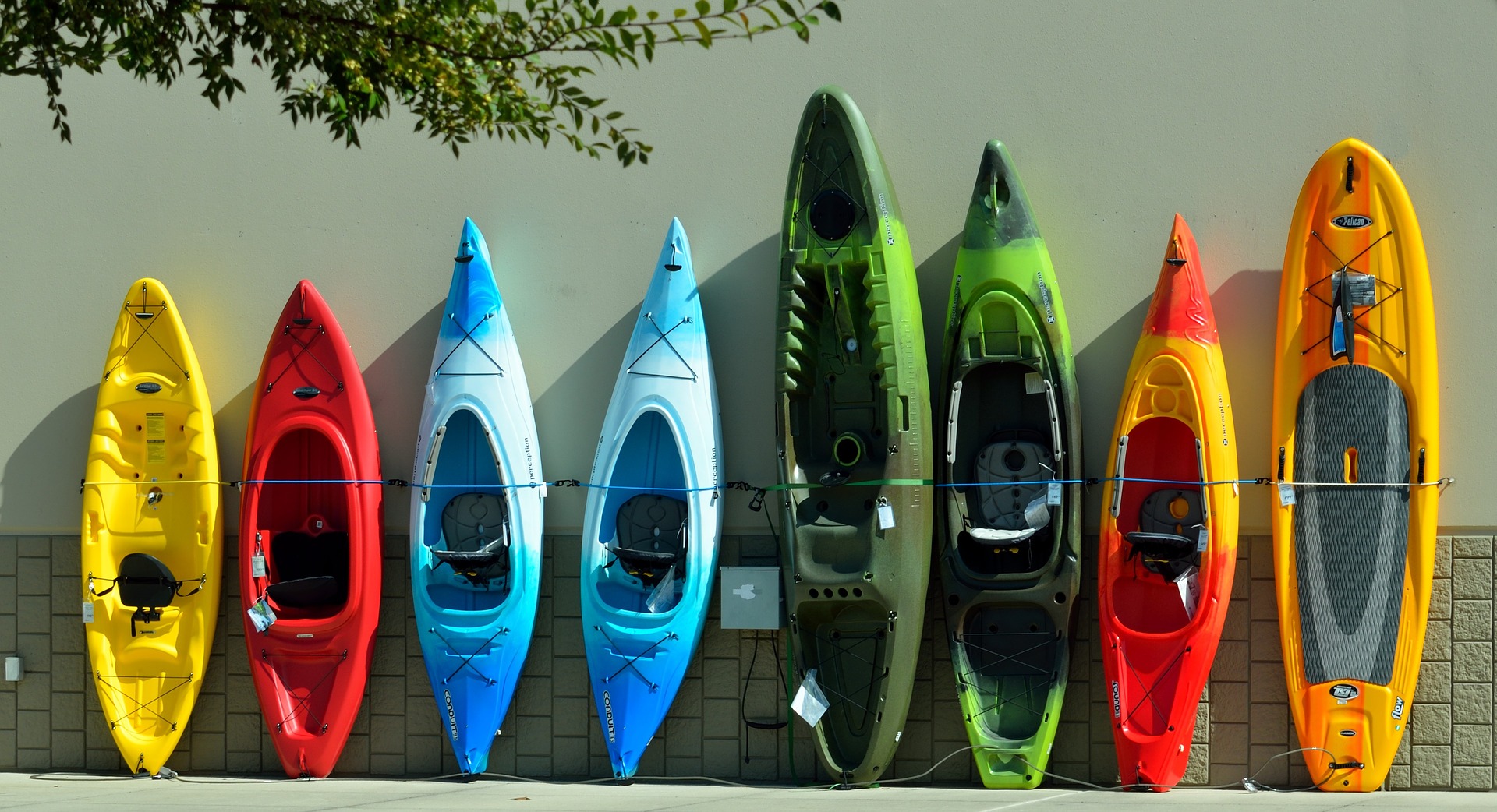 The kayak dates back to approximately 4,000 years ago when they were used by Inuit, Yup'ik and Aleut people as boats purposed to hunt on inland lakes, rivers and sometimes on the coastal waters of the oceans surrounding the areas.  They soon gained popularity all around the world especially America.
Today, these double-bladed paddle watercrafts are present in many households in the US. Unlike the traditional types, modern kayaks serve different purposes such as touring on placid waters for entertainment, fishing, sporting activities, etc.
It is highly recommended to store a kayak indoors to protect it from sunlight, and also store it in a way that prevents it from getting damaged. For homeowners who have this outdoor watercraft and don't have a place to store it after using it for family bonding activities, then the next reasonable place to store a Kayak in the garage.
Creative ways to store a Kayak in the Garage
But with so many things stored inside the garage, how would you safely keep this oddly-shaped watercraft in a way that is easily and readily available when needed? We've explored different methods and options that you can implement today to successfully store your kayak.
Mount it over the Garage Walls using a Sling System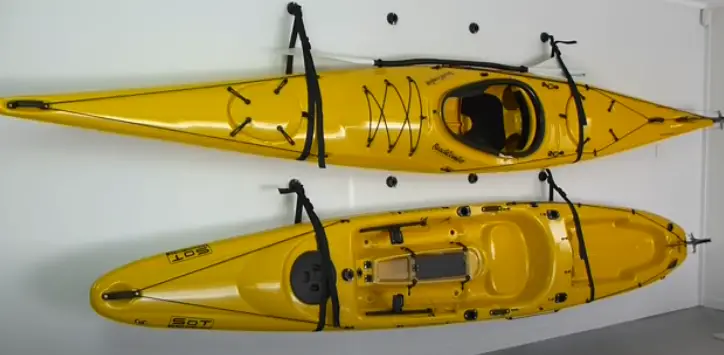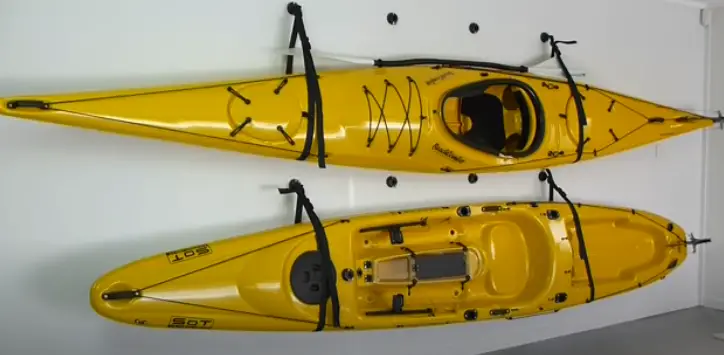 If you have a limited space inside your garage, then this is one of the most cost effective and easy way to maximize your garage space. It's relatively inexpensive and it stores a wide variety of kayaks.
To install, you just need a drill and a screwdriver. Each sling set is secured with one stainless steel screw. And this system is strong enough to hold kayaks up to 100 pounds. Keep one loop closed and one loop open. Take your kayak and slide it into the closed loop. Move to the other end and grasp the loop and buckle it around your kayak. That's it. You're done.
Recommended product overview (RAILBLAZA Startport Wall Sling)
The starport wall sling is an economical and tidy way to hold anything from kayaks to stand up paddle boards, to wind surfers and much more. The Starport Mount with one click slide lock is versatile and easy to use. It will allow you to transfer from your house to your holiday home just by adding extra Starport.
You can even use a star port walls link outside, but ease of washing down. Sold as a pair, the Startport Wall Sling is supplied with mounting fastenings and installation instructions. Once fitted, it's very easy to use.
How to use the Startport Wall Sling
Open both slings. Position on the ground then in two stages, connect the sling. Once connected, adjust the straps to level if necessary.
When not in use, the slings can be removed to leave your shed or garage uncluttered for other obligations. RAILBLAZA also has a solution when installing in tin sheds or sheds with minimal fastening positions. The RAILBLAZA Startport extrusion can be mounted to cross beams or frames, and the sliding track nut allows Starports to be adjusted to any position. This is ideal when different applications are required.
 
Storing Kayak using Portable Stands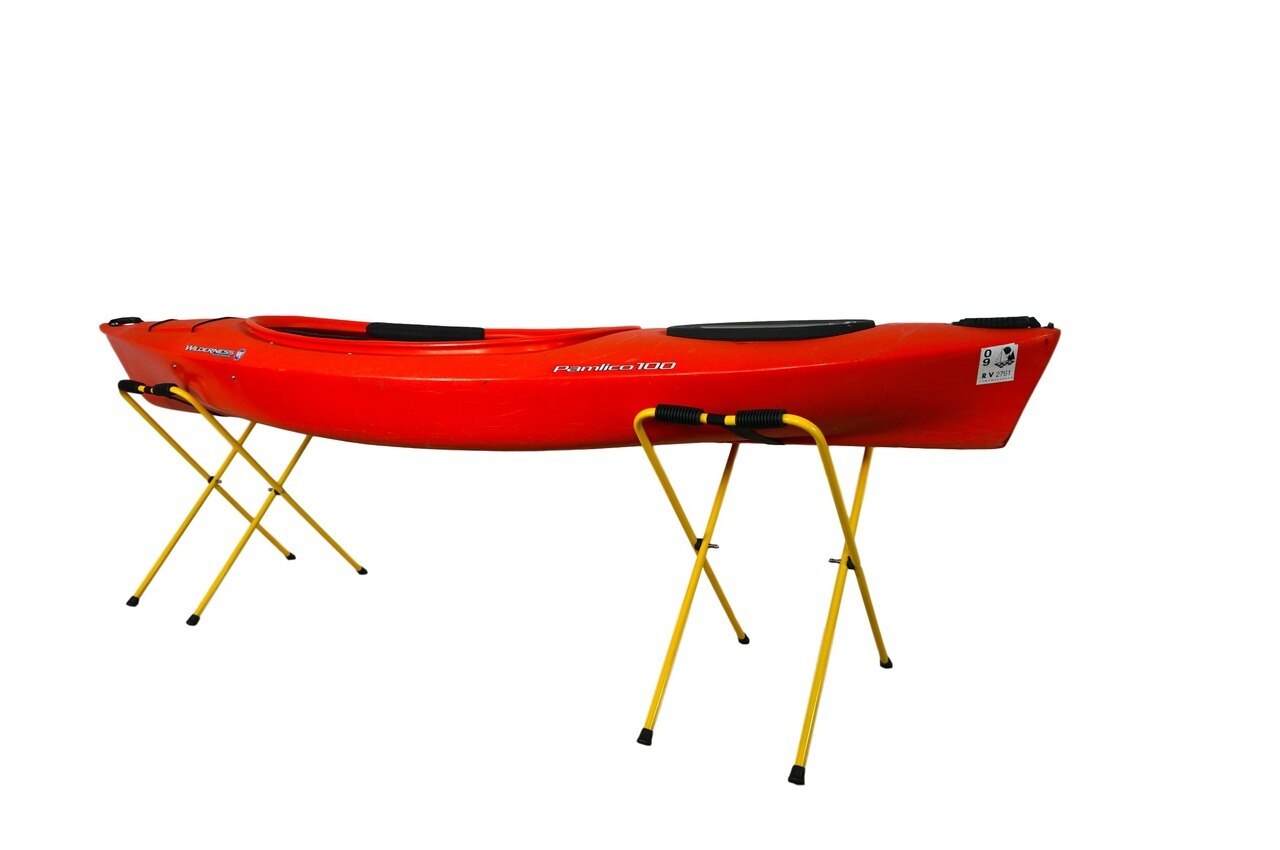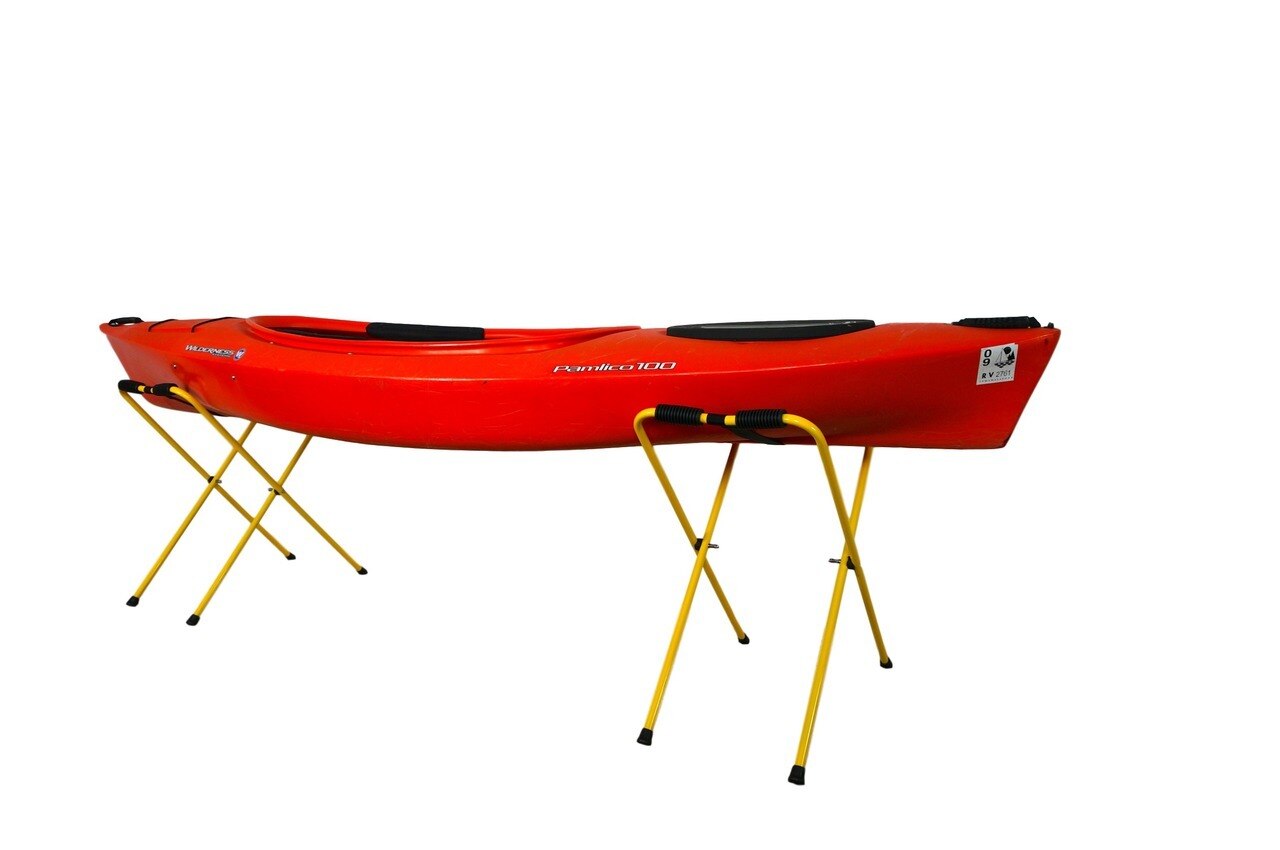 This is another great and cheap option for storing a kayak inside the garage. It does not save on a lot of space per se, but it does not occupy a lot of space either. This works great to store your kayaks or paddle boards or any other gear you need to get up off the ground.
Recommended Product (Suspenz Universal Portable Stand, Large, Yellow)

It comes with a set of two stands.
They fold up really easily.
They're portable.
They've got padded rubber bumpers to protect your kayak, whatever you're storing and set them up however you want.
Setting it up
The set up is very simple. Open them up, set them on the ground, space them whatever length you need and got your set up here for your kayaks.
They come in three different sizes. They're 18 inch tall version of 23 inch tall version and extra large, 28 inch tall Virgin stance. Â You can use it in your garage. You can take it outside, clean your kayak, do some maintenance underneath your boat and any other reason you need to get your kayak up off the ground.
Using Ceiling Storage Racks to Store your Kayak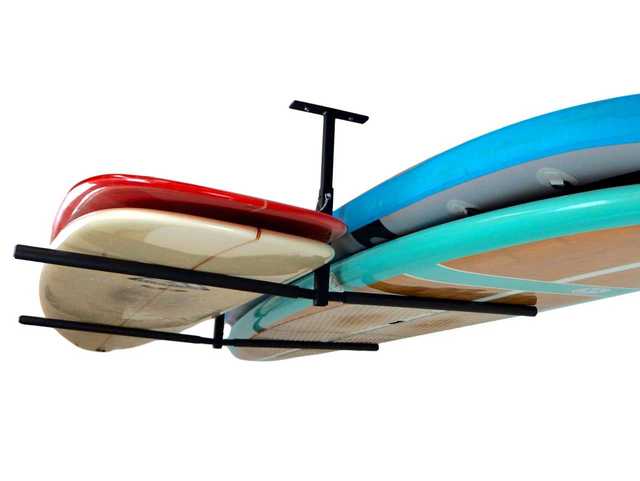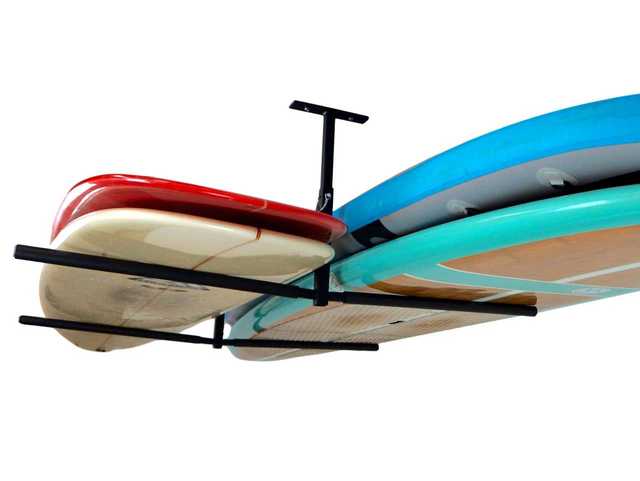 This is an excellent universal solution for all your gear, including kayaks, paddleboards, surfboards, even winter gear, such as skis and snowboards.
Recommended product overview (Hi-port 2 Ceiling Rack)
One of the unique things about ceiling rack is that it utilizes the ceiling space at home or in your garage, one of those underutilized spaces in your home doesn't require any further wall space yet to get your gear off the floor up out of the way and prevents that any further damage.
Each rack comes with two ceiling mounted brackets, as well as four padded support arms for your gear. Ceiling brackets are made from solid steel and can hold up to 150 pounds as well as come with upgraded hardware to mount into your ceiling if you need to hold all 150 pounds of your gear.
Another unique piece is that it is also able to mount in two different directions. Base can rotate 90 degrees based on which direction your ceiling joists run in your garage, that we can ensure a nice secure installation of the rack into your ceiling.
The mount is adjustable from 10 inches to 18 inches down from the ceiling. Very quick, easy installation with the support arms. Simply slides on and locks with a locking pin. Each arm comes with a very high density padded foam to protect your gear as well as provide a little extra grip.
These arms are available in both a large size at 25 inches wide, as well as an extra large size, which is 30 inches wide. We recommend that for larger kayaks, possibly fishing kayaks if you want to ensure a more firm base for your geared hold onto. This is a great way to get your gear up out of the way at home in your garage.
Use of Ceiling Hoist to Store your Kayak
This is an excellent solution to get your gear up out of the way towards the ceiling, with a very stress free loading experience. It is perfect for kayaks paddle boards, surf boards, or any other gear you have around your house or garage that you need to get up out of the way, but don't want to lift by yourself up onto a ceiling rack.
Product recommendation overview (Hi-Lift Kayak Ceiling Hoist)

The hoist provides a four to one mechanical advantage to store your gear even those heavier kayaks is available in both a pro as well as a classic design option. The pro version includes a center connecting strap which is adjustable as well as square loading brackets for the straps.
This provides a much more secure system for kayaks or canoes or paddle boards that have a more tapered end to each side, so it prevents the straps from wanting to walk or wiggle each direction, keeps them nice and secure in the center, your kayak.
The standard option uses the exact same ceiling hoist system, only a hook design instead of square brackets, same concept using the loading straps only it allows for quicker loading and unloading of your kayak.
How to use it
The system is a very easy to operate, comes with a wall tie-down clique to wrap off and anchor down the excess rope. Pull down straight down below the rope to release it and lower. Simply let go to the side for gravity to grab the brake again and secure security boat. And once again, pull straight down to release on both ends of the rope to lift.
The hoist comes equipped with these heavy duty tie down straps with protective rubber casings on the clips here. Excellent way to handle all the weight as well as makes it very adjustable for whatever board or gear you need to hoist up into the ceiling .
It is even handy enough to lower this directly down onto your car in some cases in a garage. Take the straps right onto your car rack, strapped your gear down. You're ready to hit the road.
Conclusion:
Storing a kayak can be quite a headache to many homeowners who have a garage full. Well, we have helped you to come up with ideas on how you can safely store your kayak in your garage. Leave a comment below and share which methods you prefer to store kayak in your garage.
How to Store Bikes in a Garage: pros and cons of each