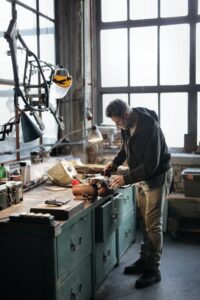 According to research, close to 60% of people with garages for two vehicles actually, don't have enough room to park their vehicles inside. While this can be daunting to contemplate, the facts never lie.
But why is it so? Well, the simple answer is that instead of creating room for their cars, a vast majority of people horde different items-mostly unused- to their garage spaces. This way, they tend to lack enough room even for a single vehicle.While the actual process of clearing a packed garage space can be daunting, would you believe if you were told that it can simply be told over the weekend?
If you are ready to do away with your garage hoarding behavior, then now's the time to level up to the challenge. With only a few simple organizational steps, you can actually make your dream come through.
Related: Best Vacuum Cleaner for Garage (Reviewed 2021)
How to Clean Out a Hoarders Garage
Many people don't like to throw away their used items, regardless of whether they are new or old. Whilst this is not a common thing to do, many owners tend to fall into this trap.
The good news is that this article will take through a step by step process of cleaning your cluttered garage space. This process is not only painless, but it is quick as well. Read along to find out.
1. Clear Your Garage Space
Before delving into the actual cleaning of a hoarded garage space, it's of utmost importance to first declutter your garage space. The idea behind clearing everything from your garage space is to effectively sort out what hoarded items are inside your garage.
First, identify a section of your garage and clear everything onto the driveway. Thereafter, go through the process of sorting out through all the items. Thereafter, proceed to the next section till everything is cleared out.
Apart from making the entire process easy, this step the size of space that you have. Additionally, you will also be able to determine what type of items that will best fit in the space you have.
Related: 5 Best Cleaner for Garage Floor (Reviewed 2021)
2. Develop a Criteria for Identifying What to Keep
Throwing everything out of your garage is not enough. You have to set some ground rules to help in deciding what to keep and what not to keep.
Just like the first step, developing a criteria will help in not only making the entire process easy, but it will also save you from agonizing on what you should keep and what to do away with.
So, how should you go about this step? First identify the purpose of each item. Ask yourself whether or not each item is worth keeping. Thereafter, sort out what you've decided to keep and what not to keep. If an item falls into the latter, go ahead to decide whether to get rid of it or find use for the item.
Related: How can I make my Garage Smell Good?
3. Decide what to do With the Clutter
Once you identify what to keep, it's time to determine what to do with the items that don't make the cut. The rule of thumbs is that you should not keep anything you don't really need around your garage.
After setting aside what you should keep, start going through the remaining items that didn't make the list. First, make up your mind on which items you should sell and which ones to donate. While at it, ensure to have cardboards, plastic bags and bags to pack these items on. This way, it will be easy to keep them away in an organized manner. After all, you don't want to clutter your garage floor again in a messy way.
Related: Can you Power Wash your Garage?
4. Thoroughly Clean Your Garage Space
Although you may have cleaned your garage of any unwanted items, it is a good idea to thoroughly scrub it clean before returning any essential items. In a nutshell, it is worth cleaning your hoarding garage space from top to bottom.
Kick off this exercise by dusting all your shelves, refrigerator and cabinets. Then go ahead to thoroughly clean your garage walls, roof and doors using a wet piece of cloth and any household detergent. This will go a long way in making your garage space sparkling clean.
Once you are done with your walls, cabinets, refrigerator and shelves, go on to sweep your floor. This will ensure that you get rid of any dust that you may have shaken off. Finally, mop the floor thoroughly and allow it to dry for at least 3 to 4 hours before putting your items back.
Although thoroughly scrubbing your garage space is utterly important, you may as well think of repairing any damages in the process. Identify any broken shelves or cabinets and get right on fixing them. Additionally, repair any damaged floor. This will save you time and money in making these repairs in the future.
Related: How Do I Get Rid of Dust in my Garage?
5. Organize Your Garage
The final step in cleaning your garage is to simply organize it. Now that you've removed any unwanted items, cleaned and repaired any damage parts, it's time to organize your garage space.
Organizing your garage space will prevent you from hoarding items again. But how should you organize your garage? Ideally, there is no textbook rule for organizing your garage. It all boils down to your particular needs for your garage. Even so, here are a few pointers to help you out.
Place all frequently used items on the shelves. This is to guarantee easy reach while retrieving.
Store all less frequently used items in a closet or a cabinet.
Utilize a pegboard to hang all your hand tools such as hacksaws and hammers. This way, your tools will be organized and you will be secured from any harm.
Install and place larger tools such as shovels and rakes on wall hooks. You can as well place these items on a study bin that is large enough to accommodate them.
Maintain a steady formula of arranging your tools and items. This way, you can always access them with ease. At the same time, you will easily place them back once you're done using them.
10 Best Propane Heaters for Garage (Reviewed 2021)