Over the last couple of years, health awareness has significantly increased. However, joining a gym can be intimidating, and many do not have the time to go to these places. Therefore, the need to have a personal workout space has popularized the market for half garage gym Ideas.
Besides the financial (avoiding expensive gym membership) and physical benefits these gyms bring, they are pretty easy to set up and do not require professional help. 
You only have to keep a few essential things in mind (like safety and hygiene) and you are ready to work out.
Me and my friends have experience in creating half garage gyms, and here are a few exclusive pointers that you should look into if you plan to set up one.
---
Half Garage Gym Ideas: How to Prepare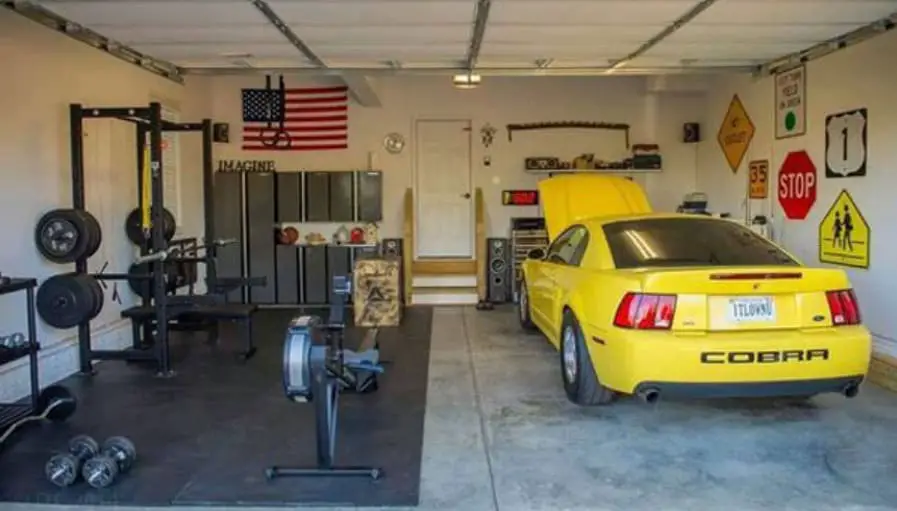 Be Aware Of Your Space
To create a workable half garage gyms, you will need at least a 10 x 10 floor space. 
However, not everyone has a floor space like that, and in such situations, it's essential to maximize the available space as much as possible.
Thus start with the floor plan before installing the machines and amenities. Besides, get rid of all the junk you have to make space for the exercise equipment.
Hacks to Open Up Your Extra Space
A garage gym will definitely not have a regular gym space; however, using some hacks, you can rise above this drawback.
Installing mirrors on the wall can make the space look bigger. Mirrors reflect and magnify light which will make your garage-gym look bigger.
Additionally, sliding doors and metal frame glass roofs are a few other areas you can explore to enhance your gym space.
Set Up Proper Gym Floor
Your garage flooring is surely made from concrete. Indeed it's durable; however, concrete floor don't have shock absorption features. As a result, it will surely crack if you drop heavy equipment on it.
Thus, a protection layer is required coupled with insulation. 
For this purpose, purchase colorful rubber tiles. These mats are shock-resistant and anti-slip and are available in various thicknesses. You can opt for easy install rubber floor tiles so that you don't need to redo the floors right away.
Choose Your Workout Gear Carefully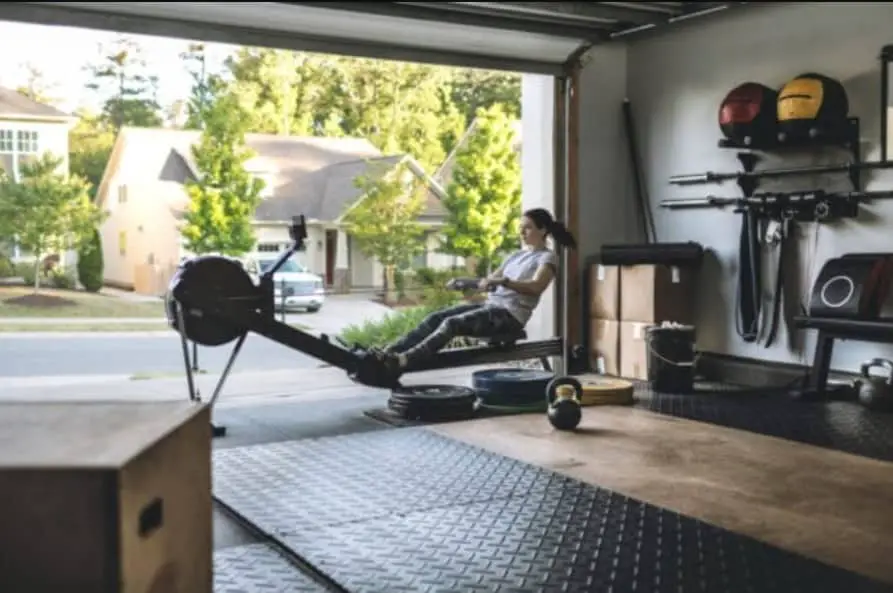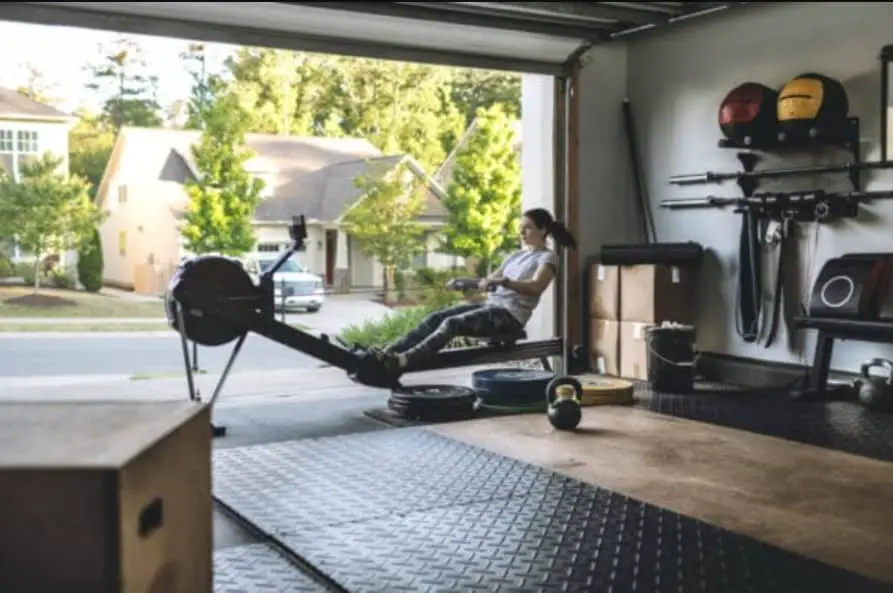 While purchasing your gym equipment, keep in mind the kind of routine you do. Ideally, stick to gear you are already used to. Basic workout equipment is ideal for half garage gym like squat rack, pull-up bar as you can do a lot of exercise using these without covering up much space.
If there is space, try adding primary cardio machines like a treadmill, stationary bike, or power press.
You can also make some DIY cable machines using resistance tubes. Finally, no matter what you do, avoid buying cheap workout equipment.
Space Saving Gym Equipment Recommendation 
Note: By any means avoid cheap gym equipment to avoid accident.
Install Proper Ventilation:
Airflow in your garage gym is crucial. In the absence of proper ventilation, all the sweat build-up, smell, and car exhaust smell will lead to disease-producing microorganisms' growth.
While state-of-the-art gyms have air conditioners, humidifiers and purifiers installed, if these exceed your budget, install a ceiling fan and exhaust; these distribute the air evenly. 
Know Your Ceiling height:
It's essential to get the ceiling height before you buy any piece of equipment. So get a measuring tape to measure your ceiling before you purchase your racks. You don't want a rack that barely fits. Besides, you want enough height to do pull-ups.
Utilize Your Walls and Ceilings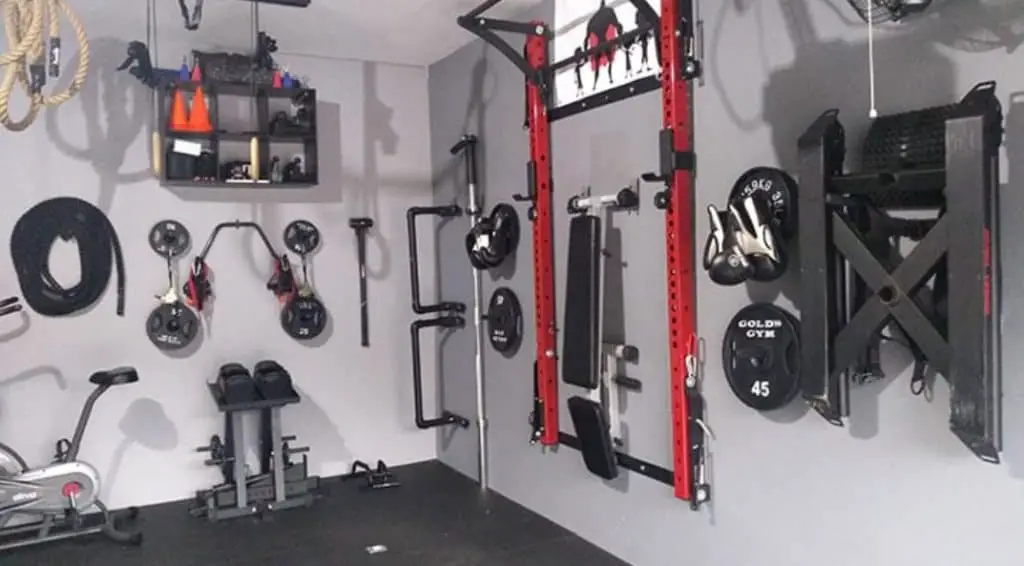 If you have a small space, it's essential to utilize the walls and ceiling to get the maximum benefit. For instance, you can hang things on the wall so that you get lots of room for your equipment on the floor.
This will also make the garage look more organized. Additionally, you can also use ceiling joists to hang other piece of equipment taking space on the floor.
Note: Look into ring hangers, and climb ropes to hang from the ceiling.
---
Other Important Factors to Consider to Execute Half Garage Gym Ideas
While selecting the color of your gym walls, keep in mind that you want the gym to look bright and spacious. Thus choose bright colors or classic white wall to make your gym look open and spacious.
Personalize Your Gym Space:
The most significant benefit of having a garage gym is that it's your own space! You can spice it up any way you want. For instance, you can select a floor plan that is different from all the other gyms you have been to.
The lighting and the placement of it can be of your choice. You can also select the kind of music you want to play. You can have pictures or graphics commissioned on the walls and liquid chalk for weightlifting to add more personalization elements.
Cleaning and Maintenance: 
Since you will be spending some time in your gym daily, you must ensure that it's clean. Besides, the machines and gear should be cleaned regularly to ensure durability.
Furthermore, you want the space to be hygienic and not the breeding ground of diseases. Thus, regular sanitization and cleaning are necessary. You can use a vacuum cleaner or leaf blower for that purpose. If you have some risky chemicals in your garage, it's essential to remove them or lock them up in storage. 
Rarely are garages as big as bedrooms; thus, you need to make every conscious effort to save as much space as possible, and therefore storage is essential.
Your yoga mats, dumbbells, and foam rollers cannot be on the floor all the time; you need cabinets and pegboards to keep these.
However, instead of buying expensive storage, opt for solid but inexpensive products. Get creative, use tire hangers to place your weights, or use heavy-duty hooks.
---
Half Garage Gym Ideas on a Budget:
Who says you cannot make a gym on a budget? Below are some fantastic pocket-friendly methods you can use.
Make DIY Gym Machine:
If you do not have the funds to buy expensive machines like a treadmill, bench press, or an elliptical trainer, save money and make some of the equipment.
You can make a plyometric box using glue, screws, and plywood. The making cost is a pocket pinch, and the product is highly versatile. Similarly, you can make a machine ball or a power rack using household items.
Save in Shipping: Take advantage of FREE shipping
Naturally, gym gear are heavy and take up a lot of space. It might get pricey if you get them delivered; thus, check if the brand has an Amazon store. If they do, at times, they ship equipment for free if the gear is already in the Amazon warehouse.
Start From Basic: Avoid buying everything at once
Start purchasing the basic equipment first, and avoid getting too many things at once. Ideally, your starter pack should have a good quality barbell, bench, weight plates, and dumbbells. Then, as you save up, you can add more things to your collection.
Buy Low Sell High:
Try finding out garage sales options before you go to a posh store to buy equipment. For example, many people have gyms at home that they don't use; thus, you can find a lot of gear for these places. All you need is good negotiation tactics to get a killer deal. Similarly, if you are good at selling, you can make some profit on top of your investment.
Sell the Unused Equipment:
We all fall into the trap of advertising gimmicks sometimes or the other. So, if you have slipped once and have bought some piece of equipment that you don't use, it's understandable. But instead of keeping it, sell it for a better price.
Thankfully the value of pre-owned gym equipment is relatively high, and you can make most of your money back and invest in other things.
If Possible, Buy in Bulk: 
If you have the money available, it's advisable to buy a few things in bulk to save up on the delivery charge. However, buy gear that you need and not the ones that only seem fancy.
---
Frequently Asked Questions
Is a garage gym worth it?
A garage gym is ideal for those who train on a consistent basis. A garage gym, in this case, is both time and cost-saving. Of course, gym memberships are common, but there are additional costs involved.
The cost is gas, the time required to go and come back from the gym, and of course, the wear out on the car. This money and time can be saved and utilized properly by having a garage gym.
How much does it cost to turn your garage into a gym?
The price required to turn a garage into a gym will depend on how you want it. For instance, if you want fancy décor or expensive equipment, the price is sure to go up.
However, if you are working on a budget and open to buying resale gear and trying out DIY changes, the cost can be somewhere between $500-$1000.
Do you need planning permission to convert a garage into a gym?
If you turn your garage into a home gym, there is no need to attain planning permission; besides, if you keep the garage door as it is, the structure of the building remains unchanged, requiring no permission.
In this article, we have stuffed a bunch of ideas that you can use to turn your garage into a fully functioning gym.
Most fitness brands are now creating gear to fit into home gyms and garages, so this is the time to turn your garage into a place for your physical development. So, go ahead and make the changes happen.