Besides the food we eat, the quality of the air we breathe also impacts our health. If we inhale a lot of airborne particles like dust, smoke, organic compounds and pollen, it can lead to respiratory diseases.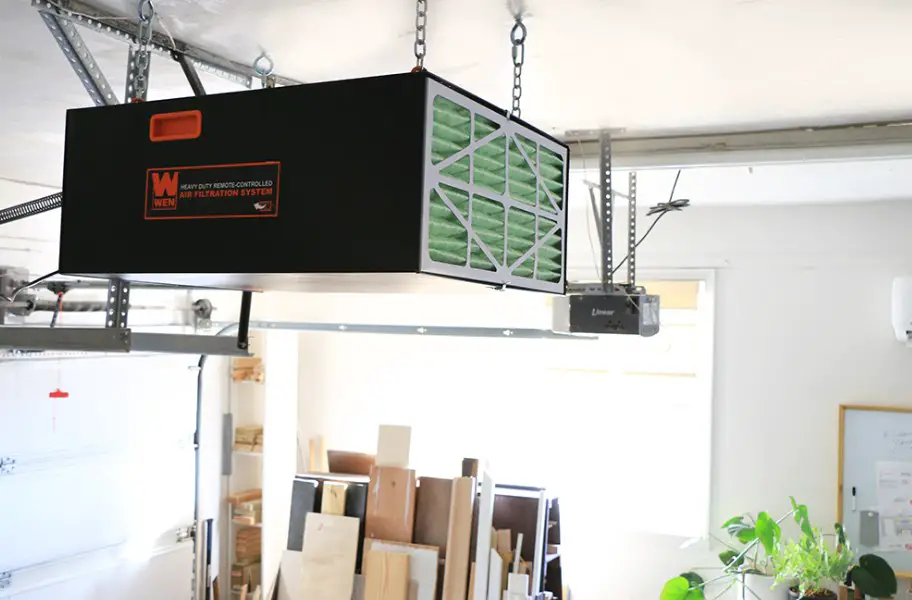 The situation gets worse for those with respiratory problems. But thankfully, with an air purifier, you will not have to worry about such occurrences. 
This article will discuss the top 5 air purifiers for Garage on the market so you don't get spoilt for choices. 
---
Do air purifiers prevent dust buildup?
Yes. Most air purifiers are designed to remove dust particles from the air. Many modern air purifiers have mechanical filters which capture pollutants, harmful particles on the filter.
Each dust particle sticks to the filter or is trapped within the filter fibers. HEPA filters are one such example that removes dust particles from the air. 
---
Do air purifiers work in the garage?
The short answer is yes. Air purifiers work in an enclosed space, and a garage is no exception. Nowadays, people don't use the garage only to park vehicles but also as an additional storage space.
Many people also store chemicals in the garage, and the dangerous fumes from the airborne chemicals and the car may rise and enter the house if an air purifier is not installed.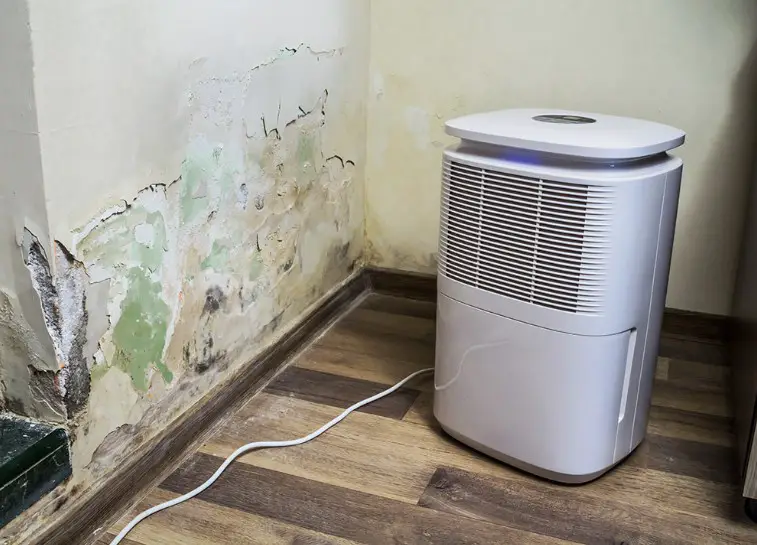 Since the garage is the primary entry point to your home, if such fumes are not removed, they will enter your house and reduce indoor air quality. Additionally, your grilling and exercising activities in the garage will also be affected if the air quality or air circulation of the place is not ideal. 
---
Best Air Purifier for Garage: A Detailed Review
Features
It comes with H13 HEPA filters for improving air quality
Provides efficient purification and features a LED touch panel.
Noiseless unit.
It includes three fan speed settings.
Energy saving and has six timer setting.
The unit can function as an aromatherapy diffuser.
Energy saving is significant to everyone; thus, after running for a while, the LED screen of the unit shuts down to reserve energy. This is an automatic shut-off option to save power. However, you can display the screen again by touching any button on the LED panel. 
The unit features a three-stage filtration system with a pre-filter, HEPA filter, and an additional activated charcoal filter. This filter is one of the top models that can purify VOC, pollen, smoke, pet dander, and much more. 
You can also alter the speed of the unit as per your requirement. The unit runs on low speed and is absolutely noiseless. The minimum noise emission is 18 dB at the lowest setting. You can select the fan speed accordingly.
The unit also has a six-timer setting 2H, 4H, 6H, 8H, 10H, and 12H. It uses a low voltage DC adapter making the product safe for kids elderly, and pets. 
Finally, the unit also comes with an in-built essential oils sponge. You can add a few drops of your essential oil to the purifier and enjoy clean air and a refreshing fragrance.
Pros
✅ Feature packed product.
✅ Super easy and quick to replace the filter.
✅ Easy setup.
✅ Perfect for those with allergies.
Cons
❌ The filter does not have a space to rest.
❌ It does not clear odors.
---
Features
Provides filtration up to 2,000 sq.ft.
Complete control panel.
Highly safe.
Durable and stackable.
Daisy chain.
The unit comes with a superior CADR of 500 CFM maximum airflow, which offers quality air filtration to spaces up to 2,000 sq. ft. It includes an advanced 3-stage filtration system HEPA filtration system that kills about 99.9% of particles, no matter how small. Overall, a compact air purifier. 
The unit has an onboard auxiliary GFCI outlet, and the HEPA air scrubber allows one to connect the product to 3 units and create a maximum of 1500 CFM Airflow range.  
For additional versatility, you can duct this industrial unit to use as a negative air machine. 
Even though the unit has multiple features, it's effortless to use them all through the intuitive control panel. Thanks to the three-color indicator, you can understand the air quality by looking at it. 
You can adjust the unit's speed easily with the variable speed knob, and the red indicator glows when you need to change the filter. The unit also allows timer settings. 
To keep your family safe, the unit has been designed to keep safety in mind. It includes a circuit breaker and GFCI to protect the unit from industrial hazards. So, the unit shuts off automatically if more than 12 amps of energy run through the circuit. 
The purifier can withstand extreme temperatures and rough impacts made out of rotomolded plastic. 
Pros
✅ Almost noiseless.
✅ Value for money.
✅ Removes dust smoothly.
✅ Highly powerful heavy-duty unit.
Cons
❌ There are some technical glitches.
---
Features
Provides maximum coverage.
It includes H13 True HEPA filters.
Four fan speed settings.
Easy to use quality assured.
This filter is one of the most potent units ideal for use in a large space. 
The unit can function effortlessly in any room up to 800 sq ft, which is basically a big living room, a small basement, or even a studio apartment.
Medify MA-40 Air Purifier comes with four-layer H13 True HEPA filters that remove up to 99.9% of particles. So you can use this unit to remove smoke, dust, pollen, or anything.
The unit is quite big, around 22 x 9.9 inches; thus, you will have some space to set it up. 
Another problem with the unit is that it is not as noiseless as the other options on the list so far. While operating, the unit produces volume up to 60 DB, so you don't want to run the unit all the while.
The unit buttons are placed on the top so you can choose amongst the fan speed easily. You can also activate the child lock feature to prevent your kids don't from messing up the settings. 
Pros
✅ Ideal for curing allergies.
✅ Easy to use.
✅ Filter fits nicely.
✅ Sleek and stylish.
✅ Includes an easy function pad up top.
Cons
❌ The product is loud.
❌ Very large unit.
---
Features
The UV-C light technology
For spaces up to 167 square feet
It circulates and filters air four times faster per hour.
weighs 11 pounds only
Easily remove home air pollutants
This CARB compliant and Energy Star certified for in one device does not only purify air, but also captures allergens, kills germs and reduces odor. The HEPA filter easily captures dust mite pet dander and pollen up to 99.97% efficiency and improves poor air quality.
The UV-C light technology uses titanium dioxide that effectively kills airborne bacteria, viruses and mold spores. It also has charcoal filters that remarkably lessen odors from smoking cooking in pets. Overall, it significantly improves garage air quality. 
This elegantly-designed 28 inch tall device is ideal for spaces up to 167 square feet. It is AAA germ-verified which means that its air cleaners can easily remove home air pollutants based on clean air delivery rate CADR circulation. It circulates and filters air four times faster per hour.
This compact tower weighs 11 pounds only making it easy for you to transfer it from one room to another. Its digital display panel allows easy selection of functions which also include an eight-hour timer and filter change indicator.
The five speed allergen control lets you set it on high speed down to super quiet sleep mode. To keep your air purifier working well for a long time, replace the filter every six to eight months using filters see model FLT500.
It's also important to use model FLTE28CB4 poor carbon filtration replacement. Use genuine spare parts from Guardian technologies if there is a need.
Pros
✅ Good quality.
✅ Energy efficient.
✅ Modern design.
✅ Odor removal.
---
Features
5-stage filtration system
Purify rooms up to 350 square feet
Delivers 5.7 air changes per hour ACH
LCD indicator
Stops the fan to save energy after 30 minutes
It is one of the high performance and visually appealing products of Callaway that explicitly enhances the living condition of many homeowners.
This compact, but mighty purifier is backed with cutting edge features that outperform other brands and improve garage air quality. It has an advanced 5-stage filtration system which is capable of eliminating air pollutants and harsh odors.
It's rated and HEPA certified purify rooms up to 350 square feet with standard eight foot ceilings. On high setting this powerful device delivers 5.7 air changes per hour ACH in the area filtering the air continuously and rapidly every 10 and a half minutes.
For a smaller area like bedrooms it is said it is in a medium setting to gain 7ACH an efficient quiet operation. In this setting, the HEPA filter cycles the air every nine minutes with 41 decibel whisper like sound emission.
Another impressive feature of this exceptional purifier is the air quality indicator that is powered by Particles Sensing Technology. It automatically kicks into full gear when necessary and stops the fan to save energy after 30 minutes when it doesn't detect air pollutants.
There's a colored LCD indicator that makes you aware of how dirty or clean the air is inside your home anytime of the day. To prove its superior ability, it was used in the 2018 New York City real world test. In high setting, it amazingly reduce the particulate level by 99% within 35 minutes.
Pros
✅ 4-stage filtration.
✅ Sturdy build.
✅ Vital ion system.
✅ Great value.
---
Best Air Purifier for Garage Buying Guide
Shopping for the best air purifier for garage can be confusing and frustrating. The market is crowded with misinformation and confusing claims about smart air purifier.
That's why we've sorted through all the information for you, and we'll guide you through the process of deciding on an effective air purifier for your home and family.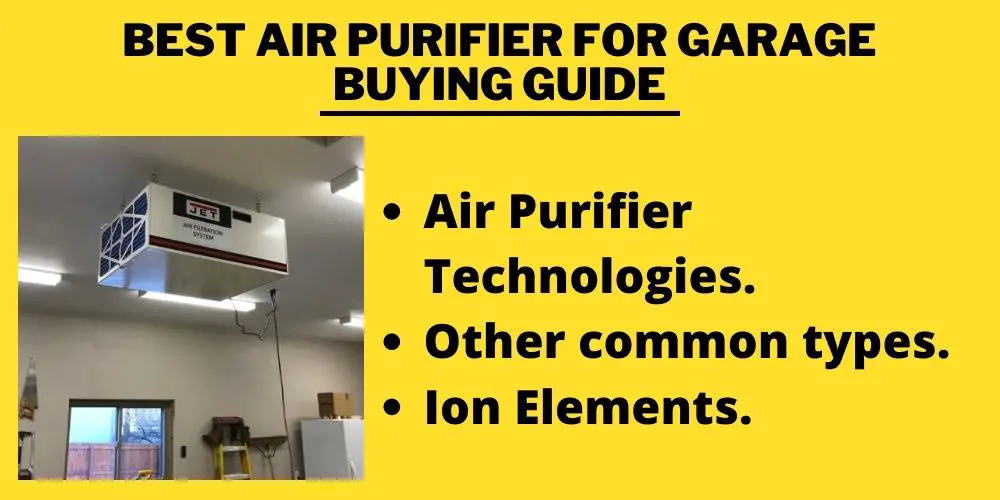 💁Air Purifier Technologies
There are three air purifier technologies commonly marketed HEPA type filtration, Electrostatic Precipitation and Ozone Generators. These technologies vary greatly in their ability to effectively purify the air.
After years of testing and collecting thousands of customer reviews, we only recommend high efficiency HEPA type filtration which is widely recognized as the most powerful for air purifier units.
Brands like Austin air, Allen, Blue air and Aller air all use high efficiency air filters in their units to capture airborne particles.
Related: Can I Vacuum my Garage?
These filters will remove 100% of common allergens like dust, pollen, pet dander and mold spores. Basically, a high efficiency HEPA type filter is mandatory if you're looking for a truly effective air purifier.
💁Other common types
Now, in addition to HEPA type filtration, there are other filter and air purifier technologies that can help with different types of indoor air pollutants. An ionized helps remove pollen, bacteria, odors and chemicals in the air.
However, an ionic-only air purifier provides an adequate filtration. Some air purifier even comes with washable filter these days. 
Ionizers are added to HEPA units to improve their performance, but shouldn't be used as the sole method of filtration. Pre-filters will capture things like hair and larger dust particles. When you add a pre-filter to your air purifier, you can actually extend the life of your main HEPA type filter.
Activated carbon is recognized as the most efficient and widely used material for treating gases, odors and dangerous chemical toxins especially from common household items. Activated carbon is so effective.
It's used in military gas masks. So if you're concerned about odors or chemicals in your home, look for an air purifier with an activated carbon filter.
💁Ion Elements
The silver iron element is one of the most advanced Sterilization Technologies used for removing microbes. A filter with a silver iron coating will greatly reduce the presence of fungi and bacteria.
In general, look for an air purifier with a high efficiency HEPA type filter first and foremost.
If you're concerned with anything other than removing particles from the air, for example if you're concerned with eliminating chemicals or odors from your environment, go head and pick out one of these additional technologies to complement your high efficiency HEPA type filtration. Other than that you should also look for energy efficiency.
---
Conclusion
We hope you can pick the best air purifier for garage from our list. After going through multiple resources and talking to active users, we have handpicked these three highly promising wonders. A exhaust fan will also assist a air purifier to do its job. So go ahead and make your pick.