A ceiling fan is a versatile home appliance that boosts the air circulation inside of your home, garage or office. It's a cost effective alternative to an air conditioning unit and works better than a standard desk fan.
It distributes the air more evenly across the garage allowing every corner to stay cool during those warm days or nights. If you're on the hunt for the best ceiling fan, then we can help you find it.
For someone who loves spending a lot of time in a garage, and don't have the proper insulation like evaporative coolers, then a ceiling fan would do the job just as the same. The following are the best ceiling fans for a garage.
Hunter Fan 52 Indoor Brushed Nickel Ceiling Fan.
It has remarkable features and great performance. This 52-inch fan has a classic look though at a touch of elegance to your home. The brushed nickel compliments any type of interior accents and is a great advantage for people who like simple, beautiful aesthetic designs.
What's also great about this ceiling fan is the reversible blades which are of a maple finish on one side and walnut on the other. You can easily switch from dark to light color or maybe create a combination of the two for a more versatile look.
For garage with a limited ceiling height, it can be installed as a flush mount. The high performing motor provides adequate coolness in the garage. It offers three speed levels with a guarantee of 4670 cubic feet per minute of maximum airflow.
The multi capacitor of the top notch ceiling fan offers a smooth and quiet operation while optimizing air movement in a garage up to 14 by 14 feet in size. It's primarily designed for indoor use only. It comes with an opal frosted glass light fixture that uses nine Watt medium base LED bulbs.
The bulb is not included upon purchase. It's energy efficient which is another sign of why it's so popular in the market. The motor is backed up with a lifetime warranty.
Pros:
Reliable motor.
Energy efficient.
Elegant design.
9-watt LED bulb
Kensgrove 72 inch Indoor/Outdoor Ceiling Fan.
This 14 by 14 by four inch fan uses a nine speed DC motor optimizing the wind motion three times the capability of traditional ceiling fans. If you're concerned with a possible increase in your home power consumption, there's nothing to worry about with this ceiling fan.
It's Energy Star rated and runs on 31 Watts only making it a cost effective blade rotating home appliance. The weather-resistant highly efficient blades utilize that quick blade system for more convenient installation in the AQ arm blade arms.
The eight sturdy blades can produce 10,484 cubic feet per minute of airflow. It is ideal for large living rooms, bedrooms or garages. There are decorative coupling and canopy ring that effectively conceal the screws giving it a neater more polished look.
The dome style lighting fixture which is set at a warm white 3,000K temperature uses a 16 Watt LED bulb and its frosted Opal dome. There's a three speed setting in the hand-held remote control that helps you control the ceiling fan and dim the light according to your preferences.
Batteries are not included in the package. This espresso bronze finish ceiling fan is great for indoor and outdoor use. The manufacturer offers a lifetime warranty on the motor and a guarantee that gives you peace of mind to customers are looking for that dependable quality brand.
Pros:
Indoor/outdoor.
Weather resistant.
Dome style light.
Remote control
Stile Anderson Ceiling Fan.
It has a brushed nickel frosted LED light fixture. The dual functionality of this fan is made easier with its battery-operated remote control it uses 500 DMA BL lumens of a 24 Watt LED light which are deniable and long lasting. This kind of light eliminates the constant hassle of having to change the Volt.
The compact wobble free design of this 22 inch fan is a perfect addition to small residential or commercial spaces that require maximum air circulation. The aluminum blades with their silver finish can produce 1,437 cubic feet per minute of airflow.
It offers reversible rotation for year round usage. The heavy duty motor boasts of 1,400 revolutions per minute. This trendy ceiling fan provides a nice ambiance to interior spaces and covered outdoor areas. The variable 3-speed setting lets you find the ideal amount of airflow that sustains the coolness of the room.
Its damp-rated so using it outside poses no problem. And because there are no exposed blades which give that light strobe effect, it's safe to use in children's rooms. It's also CSA listed, SCC listed and 1UL listed which are positive indicators of its quality and safety.
It's backed up with a 90-day return warranty, a 12-month warranty on the unit and a lifetime motor warranty.
Pros:
Indoor/outdoor use.
Enclosed fan.
Dimmable LED.
Remote control
Altura 56 Inch Indoor Ceiling Fan.
It has a traditional tropical design with oil rubbed bronze housing the metal and wood construction give it a charming look with the province of excellent functionality. This Energy Star rated ceiling fan is powered by a durable motor that delivers cubic feet per minute of maximum airflow, giving a relaxed ambiance instantly.
The wide handcrafted five walnut blades add a touch of sophistication to any room. The design optimized air circulation interior rooms that measured 12 by 12 feet or up to 18 by 18 feet.
The easy-to-use remote control has a three speed selector allowing you to find the perfect setting to provide a cooling effect in the round. It's also equipped with a fan speed control, a light control for dimming on and off functions and a reverse function.
The screws in hardware are carefully concealed to create a more seamless clean look in the ceiling. It features a four and a half inch down rod. This versatile ceiling fan can be mounted on the angled ceiling with an extension down rod that sold separately or on a flat ceiling.
Installation is easy; just follow the instruction manual that comes with the package. This 120 volts ceiling fan is compatible with universal lights, so you want to maximize its dual functionality.
Pros:
Hard-carved wood.
Traditional style.
Interior use.
Remote control
Roanoke 48 inch Ceiling Fan.
This 48 inch features five reversible plastic blades in white and maple finish. The amber glass dome light fixture promotes the ceiling fan's transitional look and uses to nine and a half Watt LED bulbs for illumination. Bulbs are included in the package you purchase.
The weather-resistant blades are constructed with flush mount installation and a thirteen and a half degree pitch for easy installation, so ceiling height won't be a problem at all. The blade pitch also maximizes the air movement for the entire area.
It utilizes a smart bracket set system that eliminates wobbling and noise and hastens the assembly and installation project. However, the ceiling fan cannot be installed without assembling the light kit.
Its classic style enhances the interior of any room in residential or commercial spaces. Flipping the blades can transform its look. It's also suitable for outdoor use since it's wet-rated to withstand humidity and other harsh elements of the external environment.
This 1UL listed ceiling fan is powered by a 3-speed reversible motor which comes with a lifetime warranty. The motor provides 185 revolutions per minute of speed allowing it to bring enough coolness to small to large rooms. It's backed up with a three-month return warranty.
Pros:
Simple design.
Easy assembly.
Dome style light.
Great light
Best Ceiling Fan for Garage Buying Guide.
Location.
Is the fan for indoor or outdoor use? If you looking for an indoor fan, take your pick. Nearly all fans can be used indoors. If you need an outdoor ceiling fan, here's how to find the right one for your outdoor space.
There are two types of outdoor ceiling fans. Damp listed and wet listed.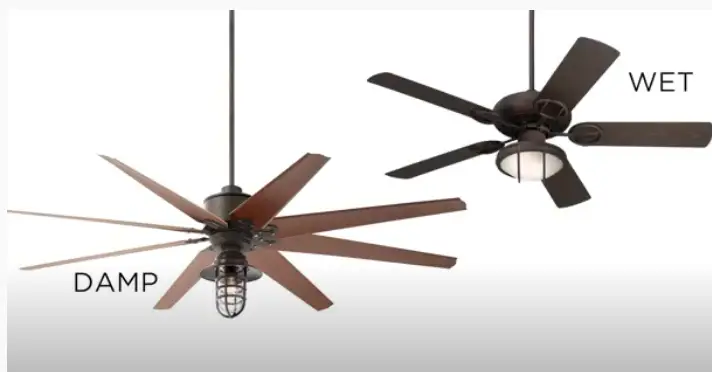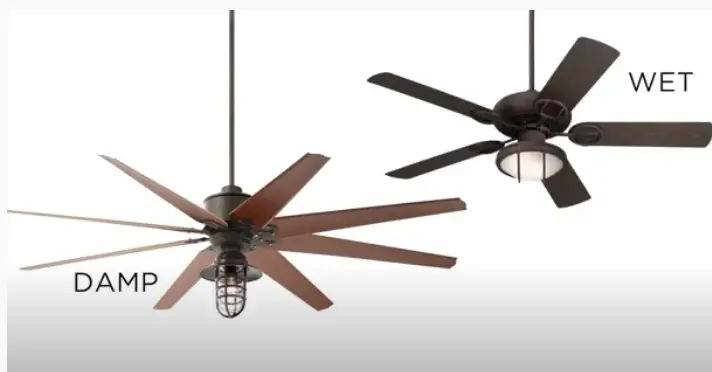 I suggest a damp list and fan for outdoor areas that are covered and not directly exposed to water. For example, covered patios or covered gazebo. But some outdoor areas such as open air decks and uncovered gazebos are exposed to water. For those areas, I suggest going with a wet listed ceiling fan.
Ceiling fan size.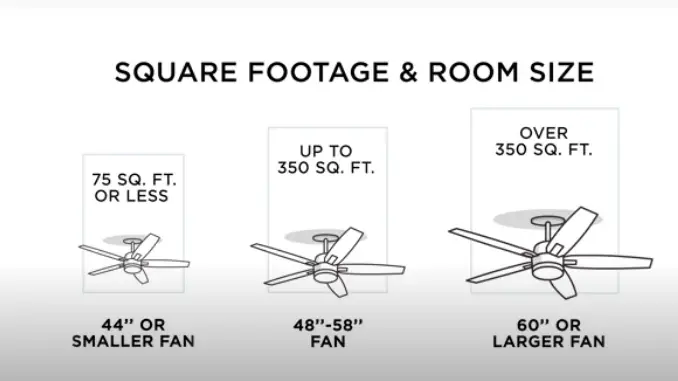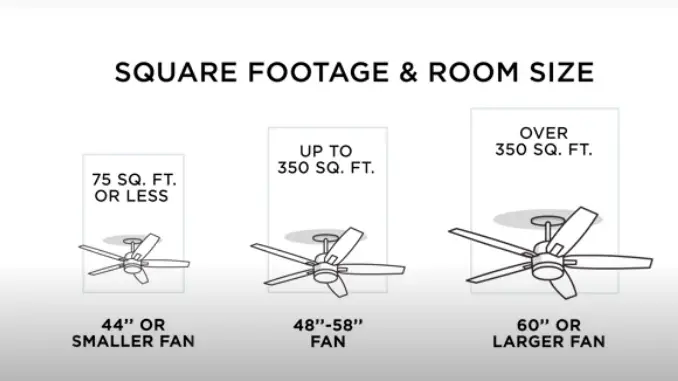 To find the right ceiling fans size, you'll need to know the size of your room. To measure your room, take the length and multiply by the width. This is the room size also known as the square footage. With the square footage on hand, you can now pick the right van size if your room. If 75 square feet or less, go with a fan 44 inches or smaller. For rooms that are up to 350 square feet, take a fan that is 48 inches to 58 inches. And four rooms over 350 square feet, go with a band that is 60 inches or larger.
Ceiling fan down rods and mounting types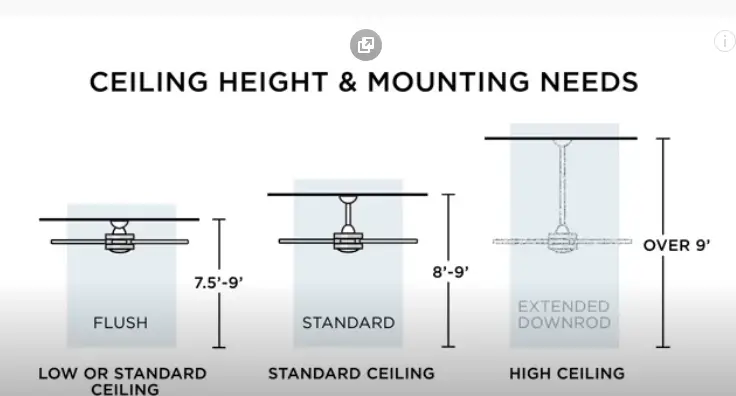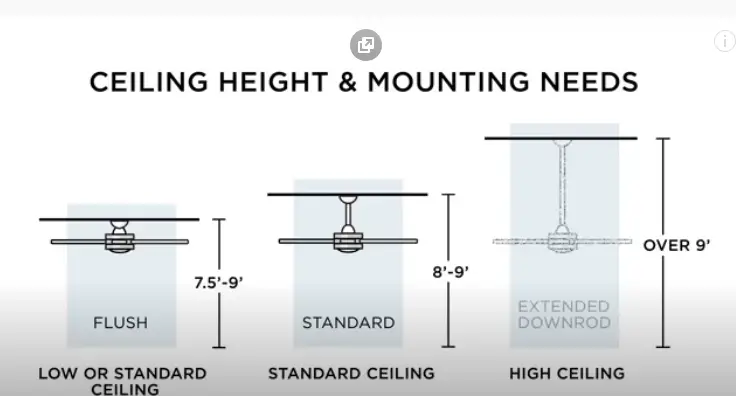 To pick the right mounting type and down rod length, you will need to know your ceiling height. Measure from the highest point of the ceiling to the floor. Now, pick the type of fan you need. For low or standard ceilings of 9 feet or lower, consider a hugger fan. Hugger or flush mount ceiling fans can be mounted directly to the ceiling without a down rod.
Low profile fans can also be used for a standard ceiling heights. Low profiles have a dual mount feature which allows you to mount close to the ceiling or with a down rod. For ceilings higher than 9 feet, consider adding a down rod for better airflow.
If you need a down Rod, here's a handy chart to help you find the right length.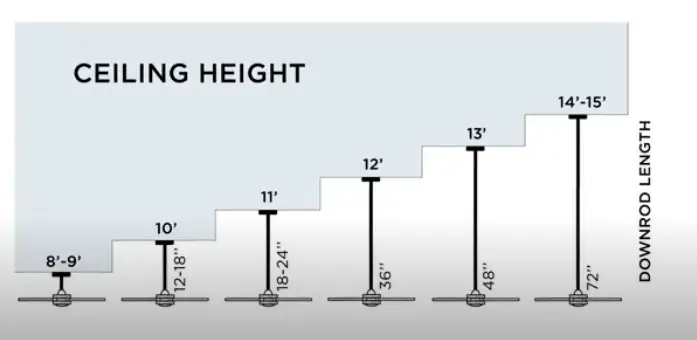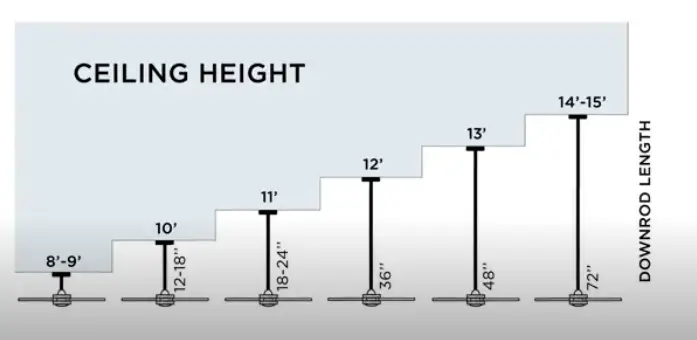 Using this chart for example you'll see that a 36 inch down rod is recommended for a 12 foot ceiling. For safety, mount standard blades at least 7 feet from the floor and metal blades at least 10 feet from the floor.
Ceiling fan controls.
There are 3 control options for ceiling fans: pull chain, remote control and wall control. The thing to know is that not all ceiling fans have all three controls. Pick a fan with the control or a combination that's right for you. Now you can buy the right ceiling fan for your indoor or outdoor space.
Conclusion:
Well, that's all for our 5 best ceiling fans. Hope the information provided will help you decide which one really fits your tastes lifestyle or needs. A ceiling fan is a good and cool investment that sustains excellent air circulation whether you're indoors or out helping you feel cool at all times.