Most people opt for roll-up garage door openers for the many benefits it offers. Besides added security, you get to operate a roll-up garage door opener remotely from the car, which is a massive benefit during the monsoon season or any other rainy day. 
While that is the most fundamental advantage, manufacturers these days have added multiple new features making these garage openers a must-have for roll-up garage doors.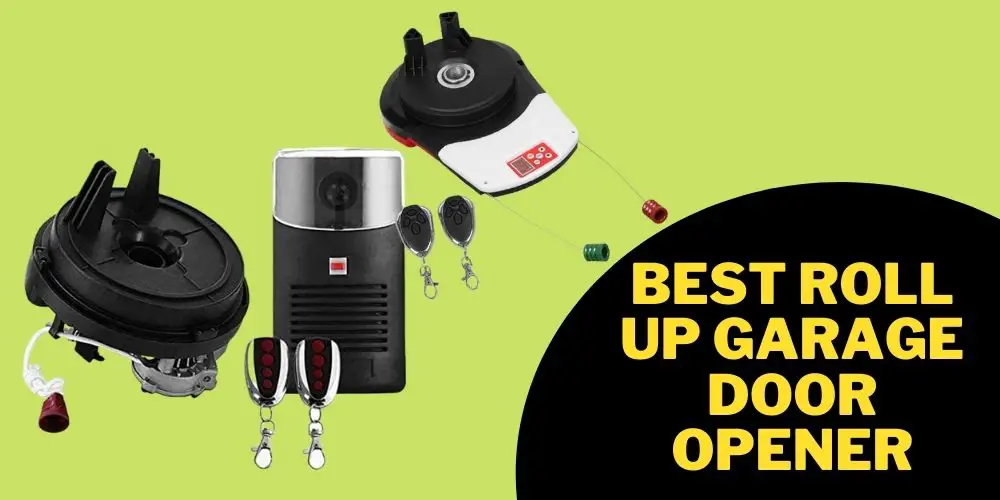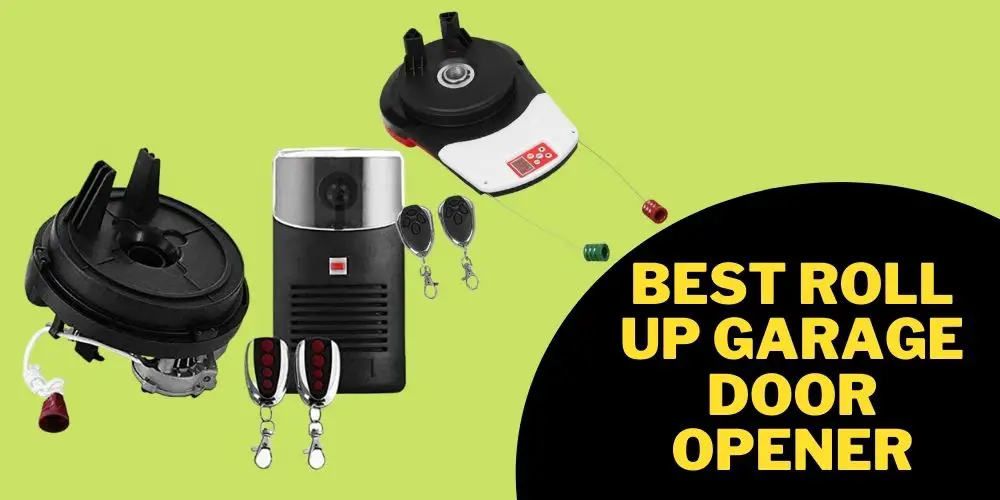 However, chances are, you might be spoilt for choices given the sheer number of options. To that end, we have selected a few top products in the market included in this article. Plus, we have added a few essential things that you must know in the buyer's guide section. So, let's begin. 
---
Types of roll-up garage door openers
These two openers are mostly divided into two categories: the roll-up sheet garage doors and the rolling steel garage doors.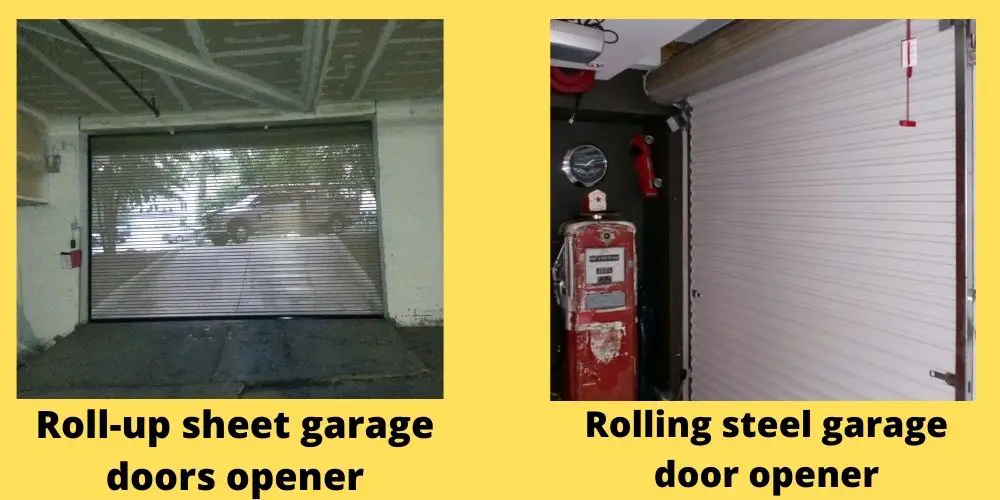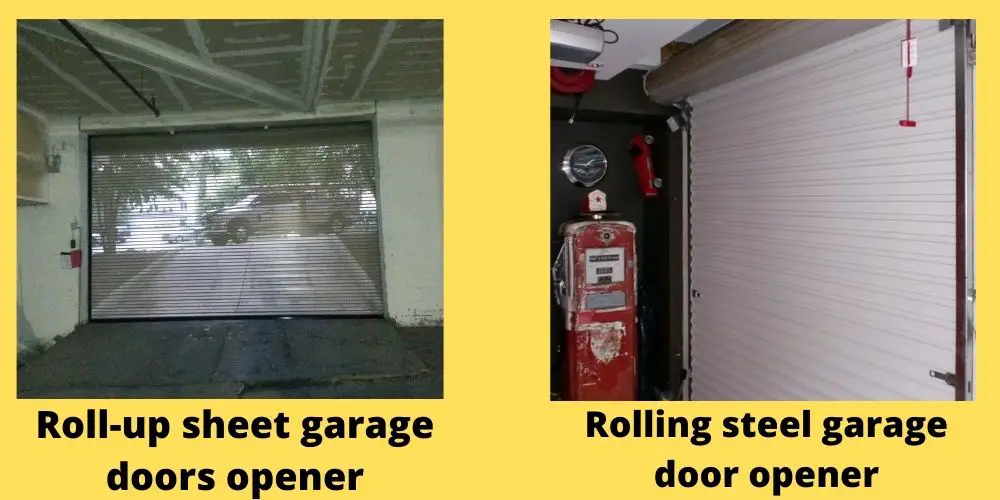 💁
Roll-up sheet garage doors opener
These doors are made from a single piece of steel sheet and are the most pocket-friendly option available for use in light commercial applications. 
Roll-up sheet garage doors are often used in backyard sheds, storage facilities, loading docks, small warehouses, and other business places.
💁
Rolling steel garage door opener
Through these doors look like sheet doors, but they don't operate similarly. Rolling steel doors are made from metal slats and not a single piece of big metal sheet. Such types of doors are used in industrial high-security places like pharmacies, factories, windows, and transit places. 
I have listed products that will work for both type of roll up garage door opener.
---
Best roll up garage door opener- Quick Review
---
Best roll up garage door opener- A Detailed Review
Features
Ideal for medium to high weight garage doors.
Premium quality construction.
Made for enhanced performance.
Easy to install.
Power-packed performance.
This auto garage door opener is ideal for steel doors that have springs. The best part about this opener is that it works smoothly and quietly. 
If you are looking for heavy-duty roll-up garage door opener, the Surpass Auto Garage Roller Door Opener is ideal for you as it can lift 172 square feet of rolling door with its 24V motor. The installation process is quite straightforward as well, thanks to its basic side room requirements and reliable casing.
You need to ensure a standard 11.8-inch clearance between the door curtains and the mounting brackets. The unit has the necessary power to lift a rolling door up to 16ft. It also comes with two remote controls to control the openers from 50 ms away. 
In addition to all the cool features, the door opener is also paired with a low power consumption LED light that starts to function as soon as the door is activated.
With the Surpass Auto Garage Roller Door Opener installed, you can rest assured about security. The door also comes with a manual release option in case of a power failure. 
Pros
✅ Comfortable installation.
✅ Works quietly.
✅ High power performance.
✅ Can be operated remotely.
Cons
❌ Requires better instruction for DIP switches and control box.
It is ideal for those looking for an automatic door opener with DIY installation facilities.
---
Features
Works quietly.
Enhanced safety features.
Easy to set up.
Perfect rolling door opener.
It can be linked to a battery.
If you have a garage door roller installed, you don't want to create a racket each time you leave and return home. Thankfully, with the Surpass Garage Roller Door Opener, you can have quiet entry and exit. The quiet lift connection of the unit is ideal for steel rolling garage doors connected to living rooms. 
The manufacturer has taken safety concerns to the next level by adding a soft start and stop operation, which comes in handy if you have toddlers and pets at home. The door automatically stops if it detects any movement beneath it. 
Users opine that installing the unit is pretty straightforward and can be done without much fuss. The instructions provided are pretty comprehensive, covering all required pointers. However, for emergencies, users recommend connecting the opener to batteries to keep the operation smooth. 
Pros
✅ Good product in an affordable price range.
✅ Provides required safety.
✅ Easy to install.
✅ Operates quietly.
Cons
❌ No negative points as such.
 It is an ideal garage door opener for steel doors at an affordable range. 
---
Features
Barrier detection made possible.
Code encryption.
Security code transmitter.
Features a double operating system.
Simple operation.
Like the Surpass Garage Roller Door Opener, this one too has an intelligent barrier detection mechanism. Owing to this feature, if the door's passage is restricted in any way, it reverses and opens automatically. Similarly, if the door opens and is obstructed somehow, it closes automatically.
The DIYAREA Roll Up Garage Door Opener comes with encrypted coding to take the security features a notch up. So every time the remote control transmits a signal, the encryption coding changes.
It's impossible to guess the possible password combination each time. The high-end technology used in this unit is similar to those used in transmitters. It's possible to store up to 30 codes at a go.
The door opener also includes a manual disengaging system. Using this feature, you can shift from the automatic to the manual mode by pulling the string if there is any need. The soft start and stop feature also comes in handy to reduce the impact while the door is operating.
In automatic mode, simply discharging the release button will automatically open and close the door.
Pros
✅ Enhances security with code encryption.
✅ Barrier detection facility included.
✅ Easy operation.
✅ Affordable price point.
Cons
❌ Require a bit of modification.
This garage door opener is ideal for those looking for an enhanced safety garage opener door at an affordable price point.
---
Features
Powerful built.
It can be operated remotely.
Offers smooth operation.
Easy to install.
Customer satisfaction guaranteed.
The DNYSYSJ Roll Up Garage Door Opener is a robust rolling garage door opener that can lift doors up to 269.1sq.ft; and like all the other options mentioned so far, this unit too features obstruction detection and LED light. 
You can control this electric gate opener from a distance of 160 ft, making it comfortable for you to stay within the safety of your car in case the weather outside is getting too rough. 
Be rest assured about security with this unit. Thanks to the rolling code technology that comes with the remote, the security code changes with each press. Thus hackers can't guess the correct code. 
As mentioned earlier, this model too features automatic safety obstruction. You can also use the manual option during power outages. 
The installation process is also simple and reliable. Overall the product assures 100% customer satisfaction.
Pros
✅ Easy to set up.
✅ Works as advertised.
✅ Value for money.
✅ It functions quietly.
Cons
❌ The remote controller requires some work.
❌ It requires a bit of adjustment.
Though the unit requires a minor adjustment, it provides the required value for money. 
---
Best Roll Up Garage Door Opener Buying guide
Though we have included the top roll-up garage doors in the list, a buying guide will help your streamline your search if you want to branch out from the options mentioned. 
💁
Smart option
Since every gadget is getting smart, why shouldn't your garage roll-up door? These days, many garage doors have smart features like smartphone integration and pair well with other devices like Google Home or Alexa. 
Some options also have smart lights available, which can help you save a lot on your electricity bill while keeping you safe.
💁
Horsepower
The garage door's weight will determine the lifting power of the opener. Rolling steel garage doors are available in three categories that require openers of diverse horsepower. 
Lightweight roll-up garage doors:

These doors are ideal for spaces that are not used frequently or have less demanding operations. Owing to the frequency of use and weight, these doors require very low power openers. These are the least expensive option. 
Medium duty garage doors: If you want a roll-up door to work well for both small and large vehicles, you can choose this option. The medium-duty garage doors provide the required amount of balance between the lightweight and heavy-duty garage doors. These doors are perfect for standard commercial spaces like warehouses and function well as a regular garage door opener. This type of garage door can take up more frequent operations than the lightweight options. 

Heavy-duty garage doors:

As the name suggests, these doors are engineered to take up heavy usage. You can use them for multiple and demanding operations, making them perfect for flight terminals and industrial buildings where regular and frequent usage is required.
💁
Safety and security
The safety features are not the same for all roll-up garage doors; they vary from one model to another. Most modern garage door openers have automatic reverse features designed to prevent the door from crashing and causing an accident. 
In many places, it's mandated by the government for garage roll-up doors to have automatic reverse features to sense an obstruction and avoid threats. Thus, you will most likely find this basic safety feature included in all roll-up garage doors. 
---
Benefits of roll-up garage doors
If you are wondering why you should invest in roll-up garage doors and openers, you must read this section.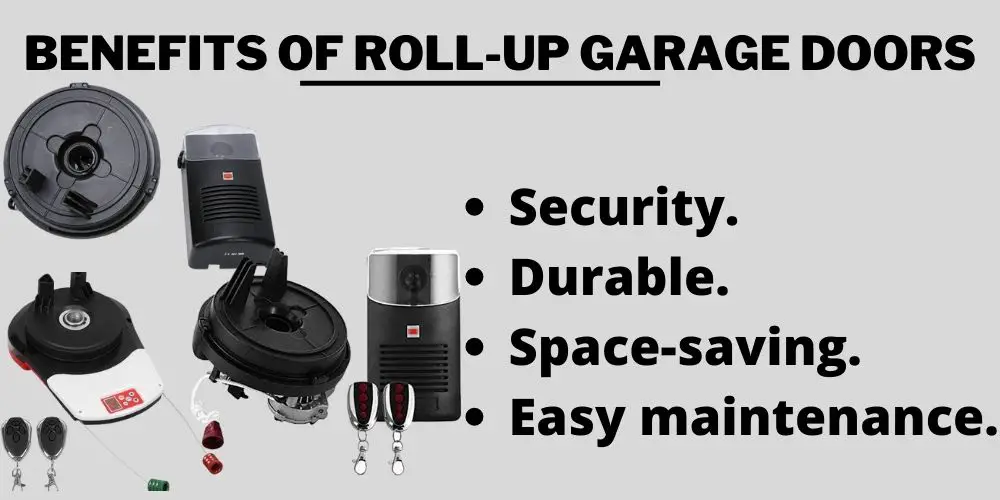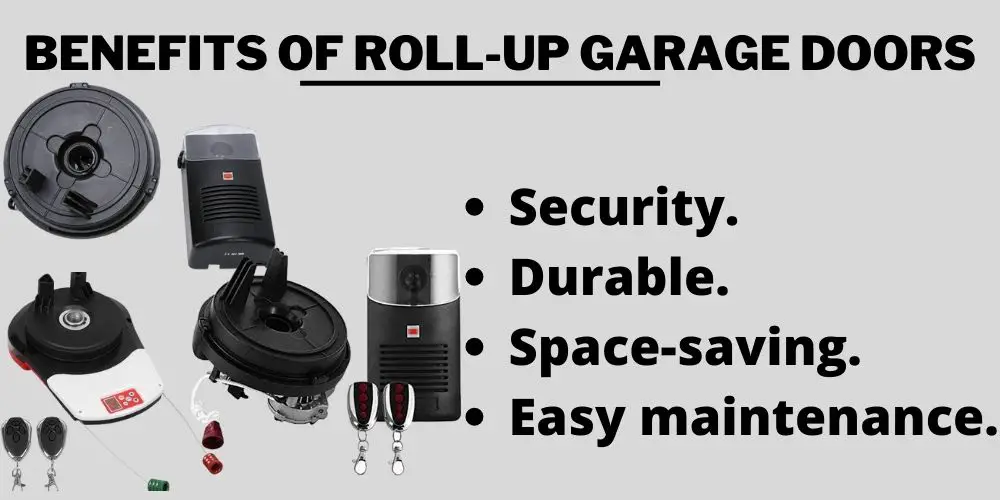 💁
Security
Roll-up garage doors provide an enhanced level of security compared to sectional doors, mostly for the material used in the construction. Due to the steel strength, intruders will not be able to break in, and your things will be kept away and safe from prying eyes. Steel doors are rarely vandalized and are incredibly resistant to fire breakout. 
💁
Durable
Thanks to the durability of steel, your garage door can withstand any weather condition and regular wear and tear. Thus, your roll-up garage doors will surely last longer than the standard options. 
💁
Space-saving
Roll-up doors get rolled and don't open on tracks, thereby saving a lot of space. While sectional garage doors are primarily pulled inward, roll-up doors are often drawn into small spaces and require very little overhead. 
💁
Easy maintenance
Unlike the other types of garage doors, roll-up garage doors require a minor level of maintenance. To clean it, you only need to use a high-power wash tool once or twice a month during the rainy seasons. 
You also require minimum lubrication. Overall, once you install these doors, you can stay relaxed for decades without bothering about it. 
---
Frequently Asked Questions (FAQs)
1. What size garage door opener do you require?
Most garage door openers are designed to work with all sizes and types. However, if your garage door is more than 8 ft, you will require a garage door opener with a long rail to accommodate sufficient height. Additionally, if it's too heavy or requires additional support, you will need a door opener with added horsepower.
2. How to program a garage door opener?
There is a 'learn' button on all garage door openers. By pressing that button, you can pair your remote with the system. This will activate an indicator light that should stay on for 30 seconds to 1 minute. When the light is on, press and hold the main remote control button, and the overhead light starts to blink. The blinking light shows that your garage door opener is programmed.
You may also find useful: Best Garage Door Opener Under 200
Wrapping up: 
Roll-up garage door openers are famous for their space-saving option. Besides, you can set these up without any additional help, so the overall installation cost is also less. This article has covered all that you require to choose best roll up garage door opener and to make your garage door operation easy and time-saving.